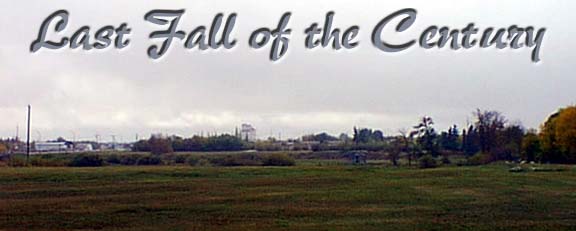 FTLComm - Tisdale - September 19, 1999

Mid afternoon Saturday was a time to look at this community as fall is definitely here. More then half of the gardens have already been cleaned up and the trees throughout the town are wearing their Technicolor foliage Low scud tumbled over the town all day long bringing sprinkles and at times steady rain as the temperature continued to decline until it reached 4 degrees by early evening.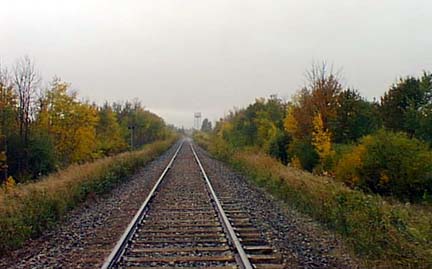 This sequence of pictures takes you from highway #3 past McKay Park and the golf course. I paused on the tracks to catch this glimpse of Tisdale looking West from the golf course. The fresh ballast is reflecting the dim light of the afternoon as a steady drizzle dampens everything.

A year ago today the rain that came was welcomed as harvest was over and there was a need for some moisture. But today it is a much different story with much of Saskatchewan only about one third through harvest this precipitation needs to be dried out now so
t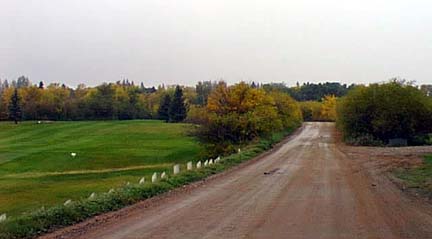 hat the crop can be recovered.
Less then seventy percent of Tisdale area crops have been harvested.

But there is no point pouting when you can be putting. The fairways at the golf course are lush even though the trees have changed colour. The conifers provide the sort of constant support all of us need as they stand out declaring their indifference to the changing season. Perhaps golfers are the human equivalent of the evergreen tree. Always ready in whatever adversity to try and make do even if it means by playing by winter rules.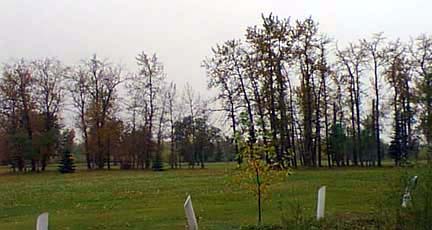 This stand of trees which I have photographed season after season with snow about them, spring floods and now they stand already naked having shed their leaves ready to face another winter.

Below this group of duffers are making their way around the course oblivious to the rain that was falling pretty steady at the time this picture was taken. The second golfing picture is of the same group on looking at them from the North as we look down the fairway toward them.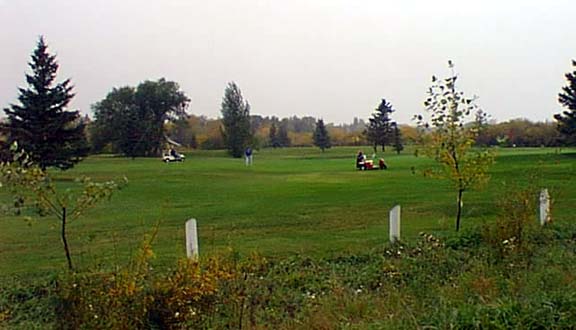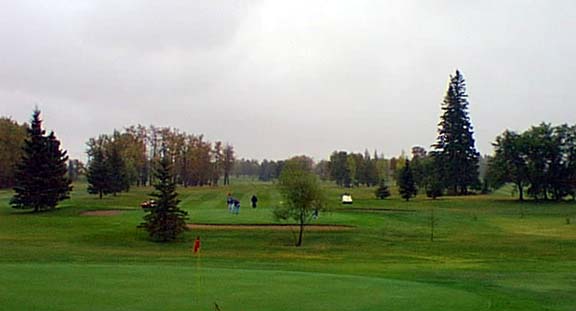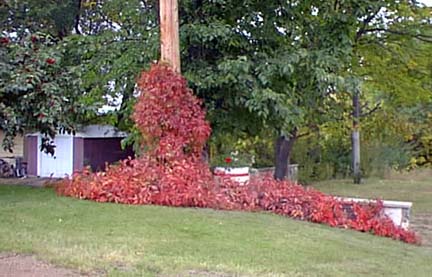 Over across from the former hospital park I spotted this great display of red leaves in this yard. Fall leaves in Tisdale tend to be a bright green so finding some red ones is a real delight.

Speaking of red, along the creek bank the house below was having a yard sale and I dropped in to see if I could find a wheel barrow but found instead this great display of coloured leaves and the widest assortment of birds. The trees in this yard were completely fluttering with all manner of sparrow and several types of warbler. But there was no wheel barrow but the picture certainly shows I got a bargain.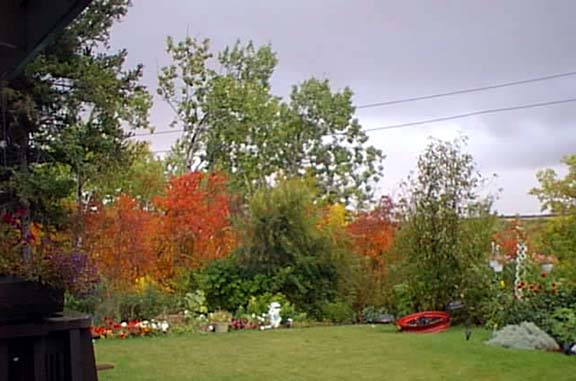 The picture below definitely shows signs of life. No less then five bicycles and a riding toy can be found in this image and by the size of the vehicles these must all be small riders. The afternoon rain had sent everyone inside but the toys and bikes are evidence of active busy kids. Fall is not an end of summer any more then it is the beginning of winter it is in itself a time to delight and adventure. Just as childhood is not the end of being an infant or the preliminary to being an adolescent it is a time of intense experience and development, wheels and fantasy dreams and mystery.