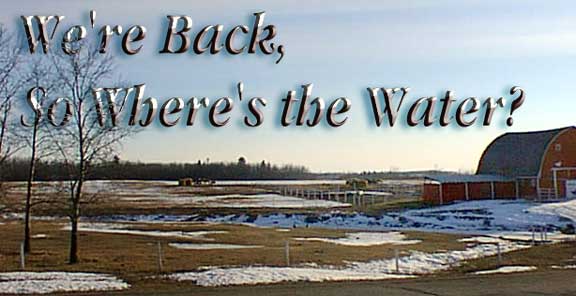 FTLComm - Tisdale - March 12, 2000
Last week we saw many of the summer sailors standing around fields West of Wakaw but yesterday the two just visible at the edge of the creek and their two friends who are standing on the ice, pondered the absence of water and discussed temporary travel plans. Canada geese are remarkable and tenacious creatures able to handle remarkable adversity and prevail. Their remarkable increase in numbers here on the prairies in this last two decades is nothing short of phenomenal as there seems to be few sloughs or dug outs without summer resident families of geese.

One year ago today Ensign reported on the opening of Best Value a subsidiary store owned and operated by Zellers. It is remarkable to the extreme that rumors are making the rounds that Zellers is distressed at the volume of sales at its two Best Value stores in Tisdale and Weyburn and plans are underway to convert these two Best Value outlets into Zellers stores.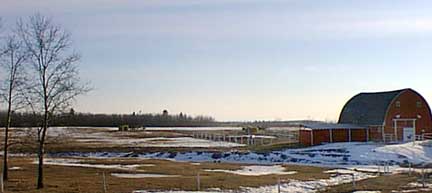 The one year life of Best Value would amuse the geese as they live in awe and wonder at the remarkable nature of the humans with which they share this planet. In discussions with geese we have learned that they are intensely entertained by human activity and explain that they often delay departure in the fall and return early in the spring just to see what crazy things humans are up to. Though it is never that much fun being the source of humour even for geese, we humans have to admit that we are pretty funny and it is understandable that the geese would make so many jokes about the way we do things.

Top ten things geese find funny about humans:
10. Nests, humans definitely get carried away when it comes to shelter.
9. Walking, though geese walk pretty funny themselves they consider it pitiful and
outrageously funny that humans can not fly.
8. Motor vehicles, humans spend up to one third of their income on buying and
operating machines that give them a legal operating speed just about as fast as
the average goose flies.
7. Roads, because humans are stuck on the ground they have to build elaborate
networks of surface paths in order to move themselves and things about.
6. Work, toiling away often without conceivable positive results is one of the
funniest things people do.
5. Play, humans play games outside and inside and even pay money to watch
each other do these things.
4. Farming, they love the grain produced but can not understand why people
grow crops that cost more to produce then they earn from their sale.
3. Drinking from a straw, going to a seven eleven is funny enough but buying
buckets of carbon dioxide enriched water and sucking is hilarious
2. Two species, sure there are differences between moma and papa goose but
humans are simply ridiculous especially since there are no eggs.
1. Golf, hardly considered a game but rather an obsessive way of life, geese like
to stand around the course watching and giggling at the antics of golfers.