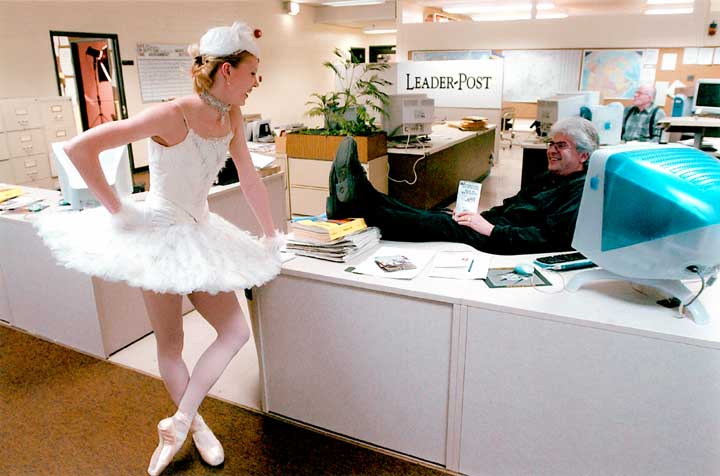 Leader Post Photo
Royal Winnipeg brings the Beauty to Saskatchewan
FTLComm - Saskatoon - Tuesday, March 27, 2003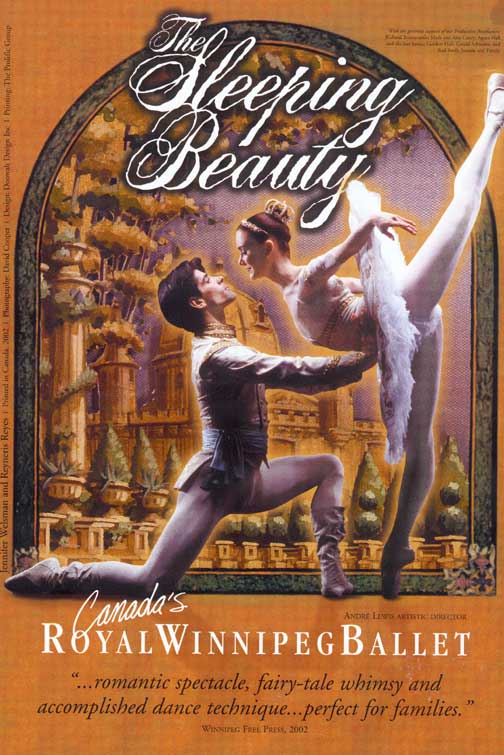 Last night's performance of Sleeping Beauty by the Royal Winnipeg Ballet was yet another triumph as it was reported by R. W. Shire that the Centre of the Arts in Regina was packed and the performance was breathtaking. He had been able to see this ballet performed last year in Winnipeg and remarked about the amazing consistency and superb high quality that the Royal Winnipeg brings to the stage each and every performance.

The Royal Winnipeg is a world class ballet company that not only performs here in Canada but tours the world showing the artistry and original interpretations of classic dance every where they go. Last spring they tour the Far East performing in China, Singapore and Indonesia. This past fall the company were making their way through South Eastern United States and they will shortly be back on the road to the Orient once again where the audiences are enraptured with the Canadian company with its world renown dancers. Dancers that include performers from the Ukraine, Cuba, China and Russia, some from the United States and all parts of Canada.

Carrie Broda, (top of page) was in Saskatoon and Regina last week promoting the tour to Saskatchewan this week. Carrie was born in Melville and grew up in Melville and Regina where she became involved in all forms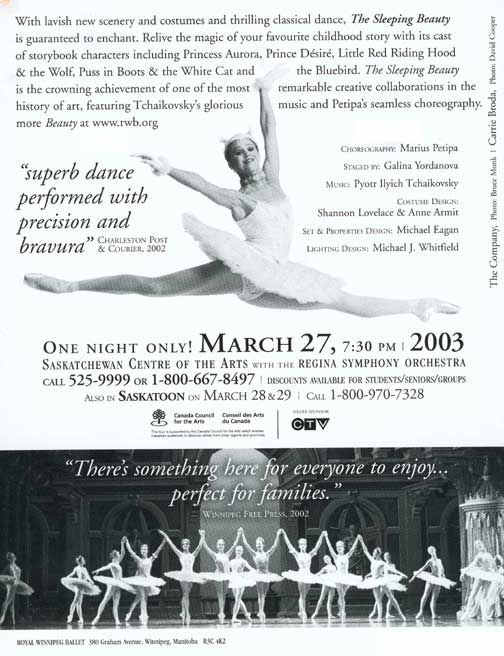 of dance but loved the Russian style of ballet the very best.

After several years with the Royal Winnipeg Ballet school and two years internship she is a member of the core and on Saturday night, when we will be in the audience she will be doing the duet in the "Puss in boots" routine that captivates and entertains with its pantomime and humourous, easy to follow antics that is almost the signature of the modern interpretation of classical ballet programmes by the company.

Ballet is, after all, considered to be pretty stuffy stuff, but in the last few years the artistic director of the company has introduced more and more entertainment into the productions so that each performance has elements for every taste, from the simple to the sophisticated.

In the fall Carrie Broda and other members of the company were involved in the highly acclaimed Dracula film shown on CBC as they brought to the small screen style and mystery to a classic story combining classic dance, old fashion story telling and cinematic effects to create an illusion with its own mystery and drama.

We will bring you some back stage pictures from tomorrow night's Saskatoon performance so you will be able to share in the excitement of meeting some of the most amazing performers in the world.
---
Return to Ensign - Return to Saskatchewan News
This page is a story posted on Ensign and/or Saskatchewan News, both of which are daily web sites offering a variety of material from scenic images, political commentary, information and news. These publications are the work of Faster Than Light Communications . If you would like to comment on this story or you wish to contact the editor of these sites please send us email.
Editor : Timothy W. Shire
Faster Than Light Communication
Box 1776, Tisdale, Saskatchewan, Canada, S0E 1T0
306 873 2004