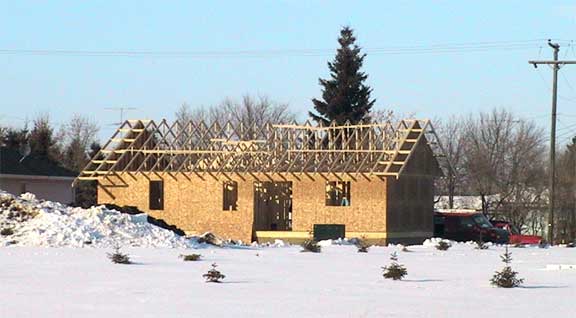 House number one for 2005
FTLComm - Tisdale - Wednesday, February 23, 2005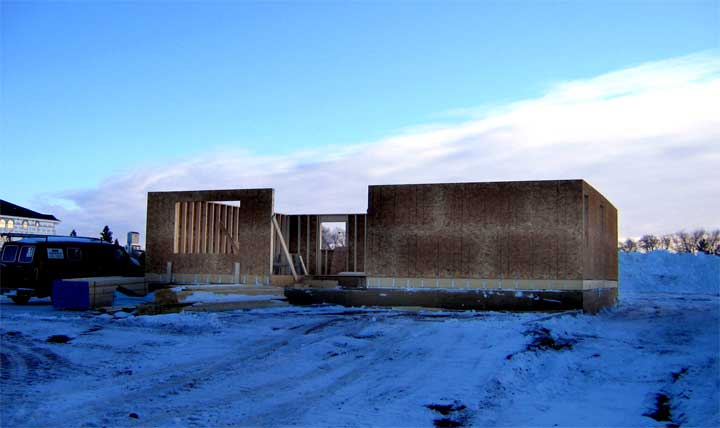 This house got its start November 17, 2004 when Chupa Excavation and Trucking put in the basement and we called it number 7.

Almost immediately Rise Construction built the basement added the main floor and sealed it up for winter.

Last Monday the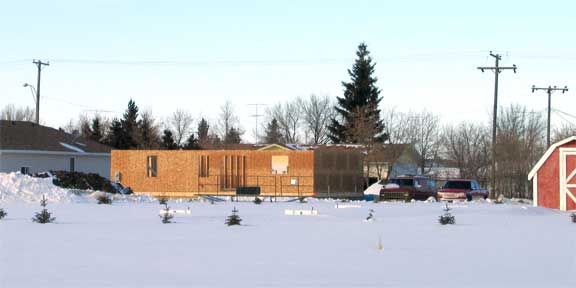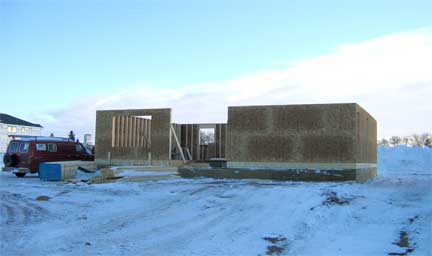 Chupa front end loader was back on the scene clearing away the snow and by Tuesday afternoon the outside walls were standing, the next day the garage was added and the interior particians went in Thursday and Friday.

This week the work has continued with the rafters and today the process of sheeting in the roof began. Even though the temperatures have been mild its tough working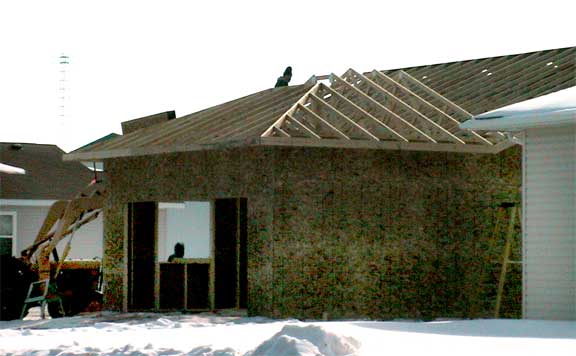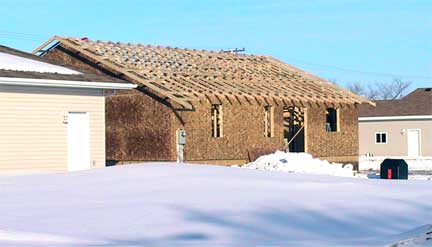 in below or near freezing temperatures all day so this house will soon have its windows and be closed in to make the work environment better.

Meanwhile across the field the finishing process on the Maple Ridge condominium moves along with carpet layers working their way from floor to floor.

2004 was a big year for housing in Tisdale with six single dwellings, a tri-plex and the 18 unit condo. As you drive around town there are some for sale signs but not very many and we can expect to see continued construction in this the centennial year.
---
Return to Ensign - Return to Saskatchewan News
This page is a story posted on Ensign and/or Saskatchewan News, both of which are daily web sites offering a variety of material from scenic images, political commentary, information and news. These publications are the work of Faster Than Light Communications . If you would like to comment on this story or you wish to contact the editor of these sites please send us email.
Editor : Timothy W. Shire
Faster Than Light Communication
Box 1776, Tisdale, Saskatchewan, Canada, S0E 1T0
306 873 2004