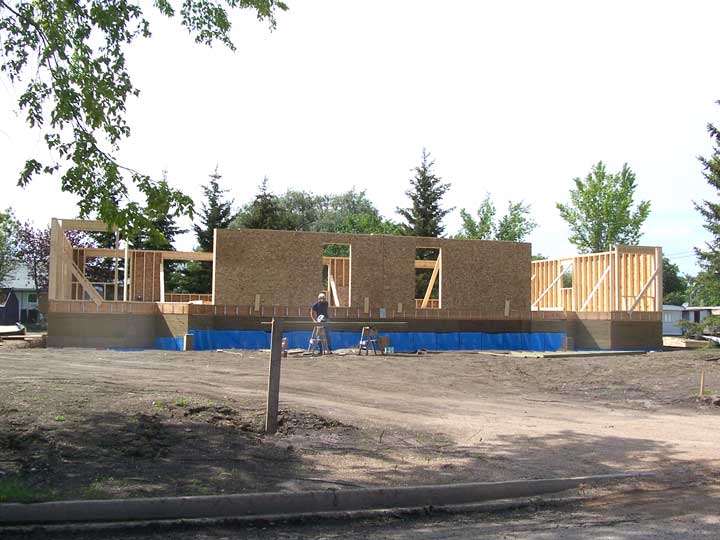 This is how this project looked at 2:40 this afternoon
Duplex, housing start eleven
---
FTLComm - Tisdale - Monday, July 13, 2009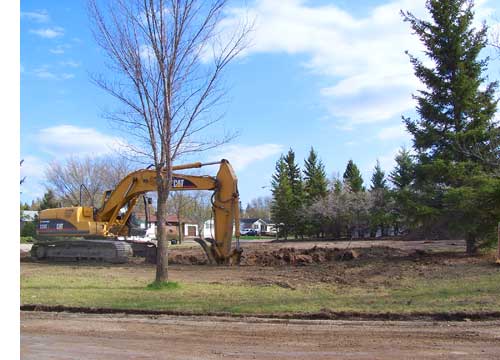 On the site of the former tennis courts on the north side of Tisdale work began with excavation for the project on Tuesday, May 26th. At 5:00 that afternoon Chupa Excavation had the first part of the project opened up (right). Much of the soil removed was haulled away immediately (5:08 that same day below) but a substantial pile of fill was left on the south end of the site for landscaping when the structure is completed.
This proejct will be similar to the project last year that saw a fourplex build near the RCMP detachment. Each unit is large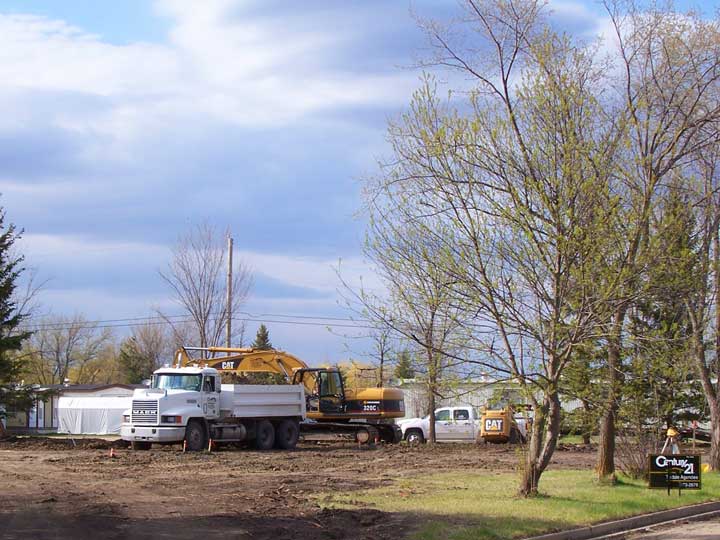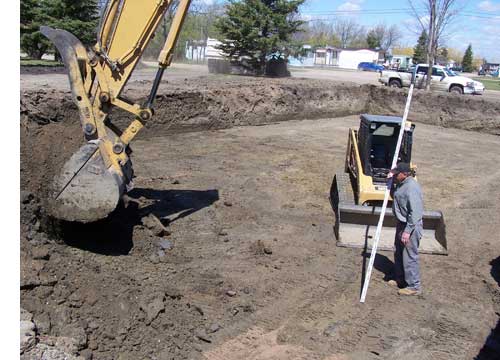 and sits atop of full basement. The other duplex and fourplex buildings in town are built on a foundation and crawl space. Just before noon on Wednesday, May 27th the final touches on the large excavation were being made (right).
It was a little after 2:15 on Thursday, May 28th (below) as the contractor was well into the process of building the forms for what would become the footings for the foundation of this large structure. In the subsequent days the forms were poured and work begun constructing the wood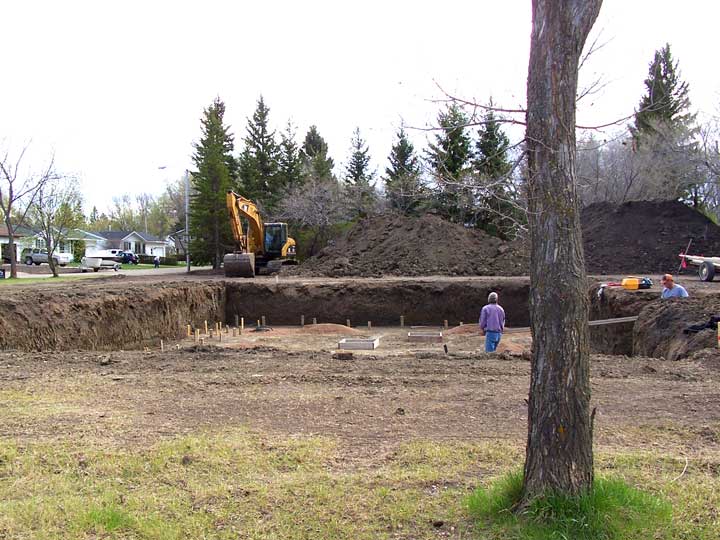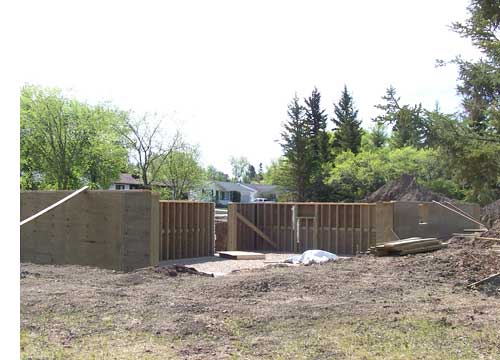 basement. However, this project did not move along swiftly at this point as the contractor was only on the site intermittently. On the right is how the project looked with the basement still incomplete on Sunday, June 14 a full two weeks later. The slow progress on this project puzzled me and I speculated that perhaps it was because of the small workforce involved in the work. More than a week later at 10:30 on June 24th (below) the basement was complete and the floor in place as they were beginning the process of assembling the walls. It was at this point that I realised why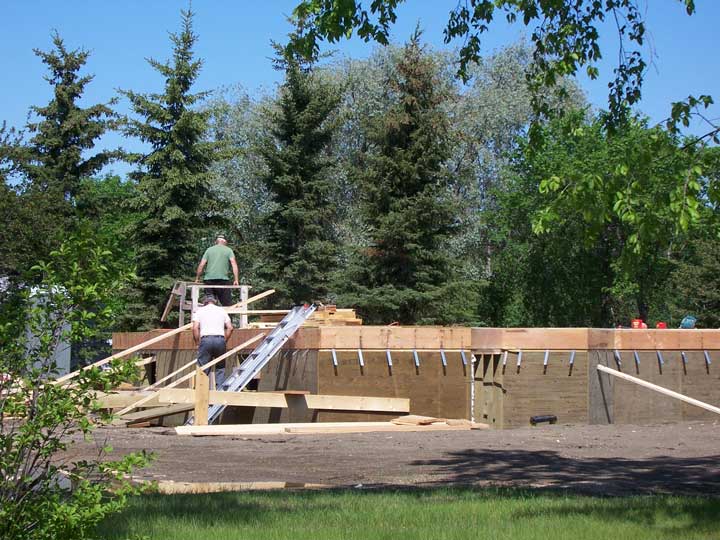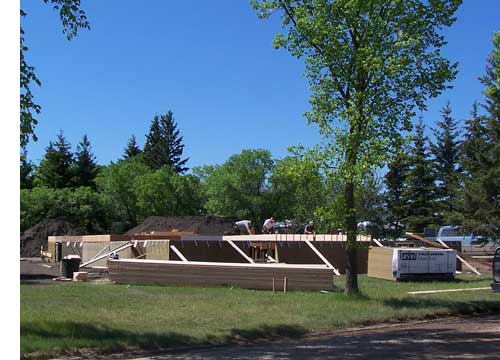 things seemed to be moving so slowly.
In this picture (right) taken on Thursday, June 25th you can see that work is progressing on the assembling of the vertical portion of the building and from the pile of lumber it is abundantly clear why it was taking so long. This is quite simply a very big and complex structure. The equivalent of two regular homes being built at the same time.
Below is how it looked yesterday afternoon. This duplex is the first of two such buildings slated for this site.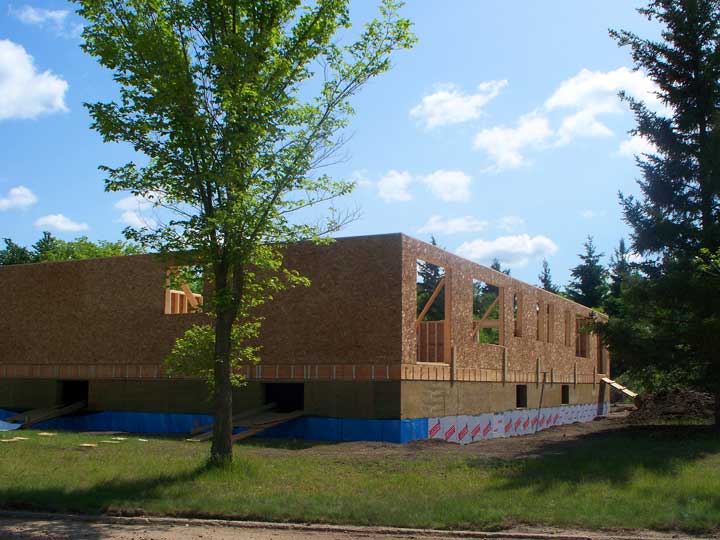 ---
Return to Ensign or Saskatchewan News
This page is a story posted on Ensign, a daily web site offering a variety of material from scenic images, political commentary, information and news. This publication is the work of Faster Than Light Communications . If you would like to comment on this story or you wish to contact the editor of these sites please send us email.
Editor : Timothy W. Shire
Faster Than Light Communication
Box 1776, Tisdale, Saskatchewan, Canada, S0E 1T0
306 873 2004