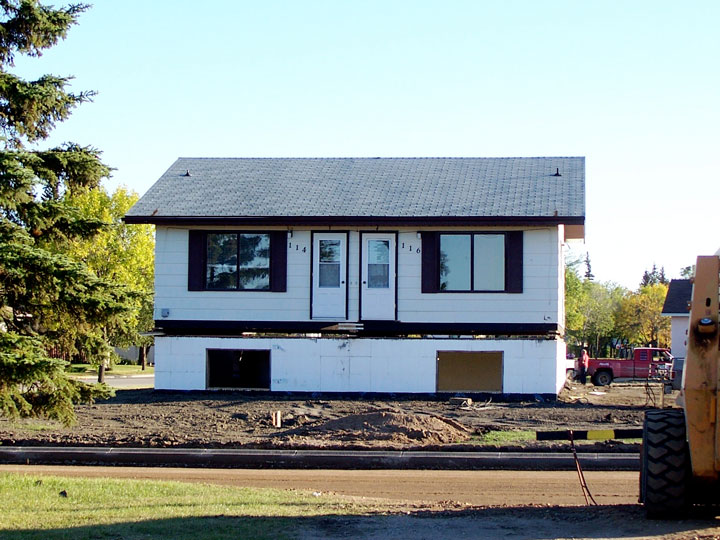 Facing north on the corner of the street to the hospital this afternoon
Building number sixteen moves in
---
FTLComm - Tisdale - Wednesday, September 23, 2009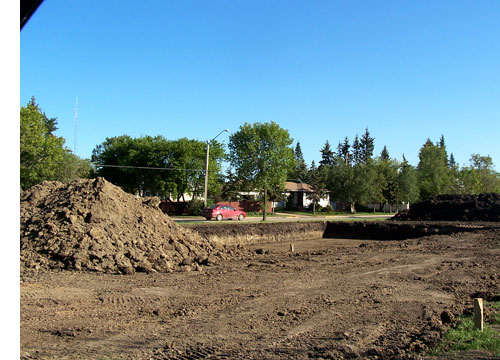 On the right is how this site on the northeast corner of what was once the primary school playground looked at 5:00PM Tuesday, August 25th.
Water and sewer services had been installed and Chupa Excavation and Trucking had cleared a basement for what appears to be a large building.
The picture below was taken near 1:30 on Thursday, August 27th with the forms for the foundation in place ready for the cement to be poured.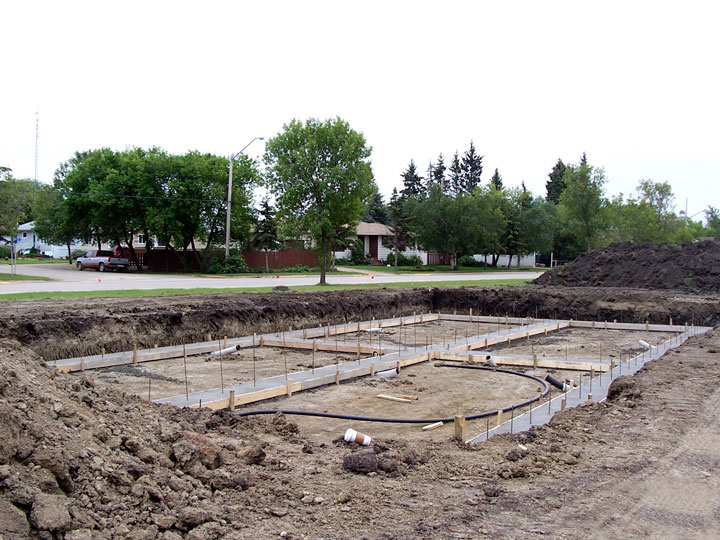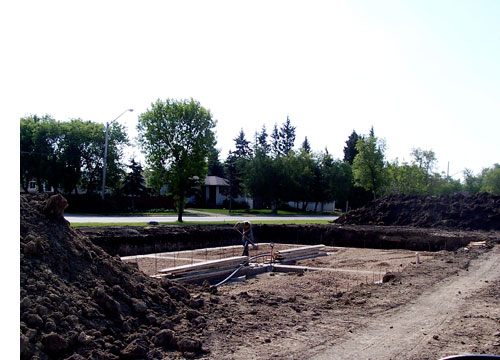 The picture on the right shows the gravel being smoothed out at 10:44 the following morning with the cement in place and the forms for the foundation removed.

On Monday, August 31st (below) at 11:15 the foam forms had been delivered and the basic structure already fitted together. This method of building a concrete basement produces not only a fully insulated project but a very strong one as the concrete is reinforced with rebarb which can be seen in this picture.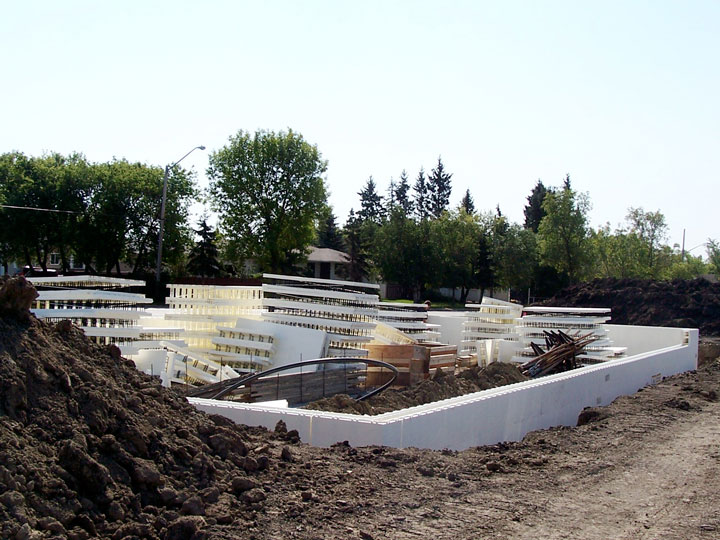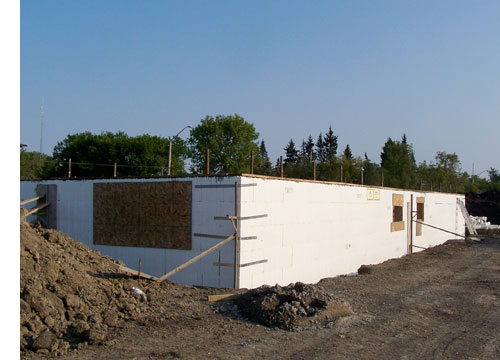 By Wednesday, September 2nd the basement has been poured and is ready to be giving a protective coating. With these basics looked after all that need to be done was the coating applied then the backfill put in place and the lot cleaned up. This was completed earlier this week and the basement portion of the project completed.
At 5:20 this afternoon one section of the building was sitting on the foundation and the other (below) sitting in the field ready to be position and the transfer made from moving beams to the basement.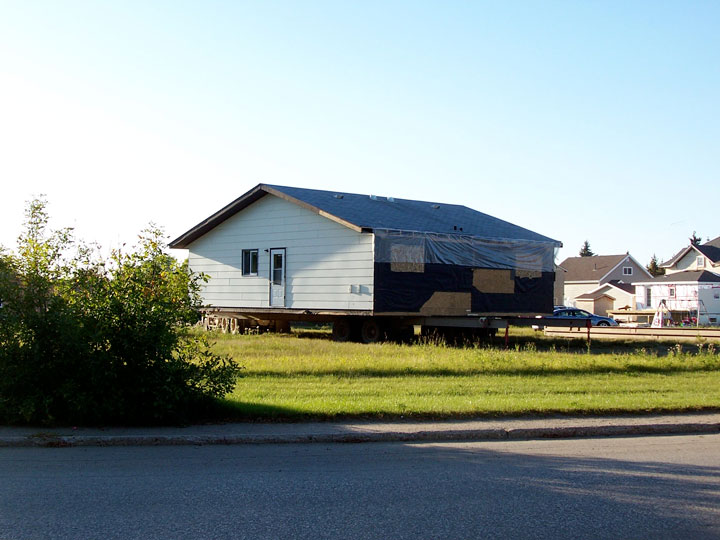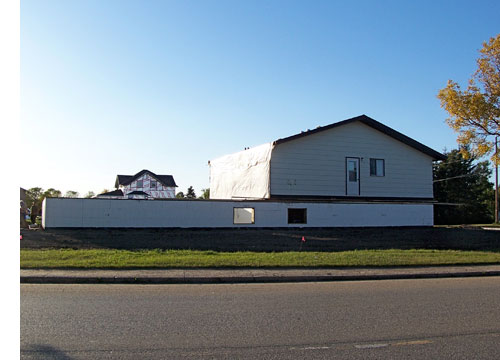 At this time it is not known as to where the building was transplanted nor is it clear if it is a duplex or a four plex. With the street closed on the north side and the east side of the site being main street it was just not possible to stick around and ask the questions that need to be answered. In the picture below you can see the one half of the structure in place looking at it from the south with the moving dollies about to be removed. This project will have the two halves mated together and sharing the basement by Friday when we will try to answer some questions.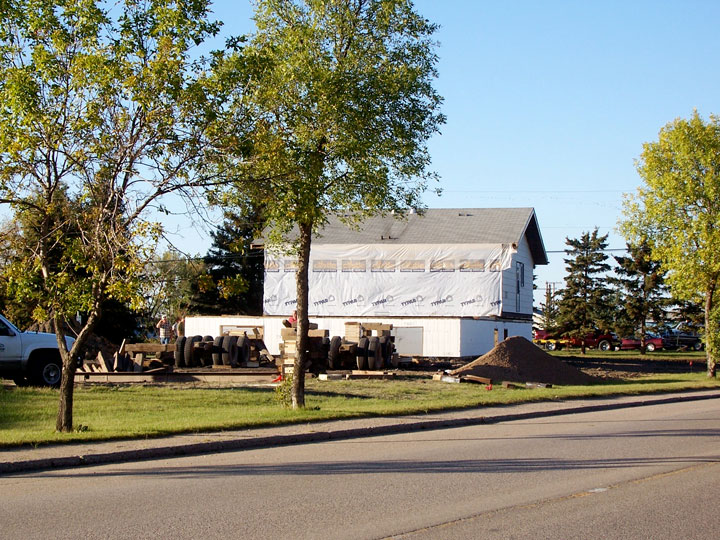 ---
Return to Ensign or Saskatchewan News
This page is a story posted on Ensign, a daily web site offering a variety of material from scenic images, political commentary, information and news. This publication is the work of Faster Than Light Communications . If you would like to comment on this story or you wish to contact the editor of these sites please send us email.
Editor : Timothy W. Shire
Faster Than Light Communication
Box 1776, Tisdale, Saskatchewan, Canada, S0E 1T0
306 873 2004