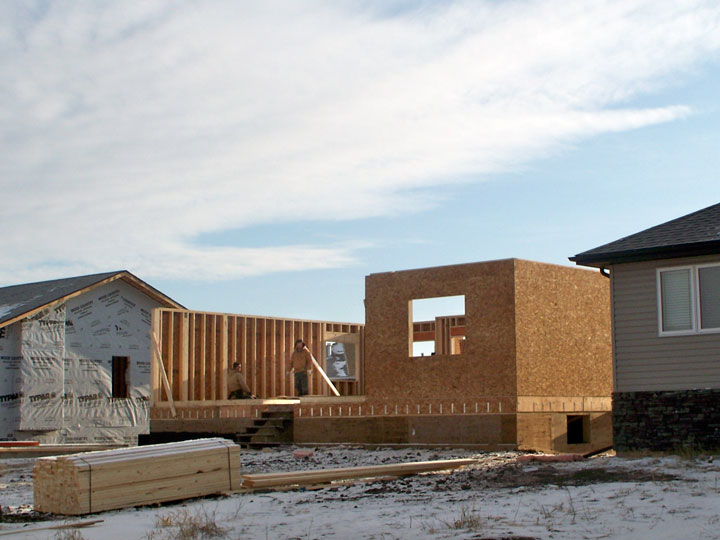 At 1:23 Thursday afternoon house #19 had most of its walls standing
House number nineteen
---
FTLComm - Tisdale - Friday, December 18, 2009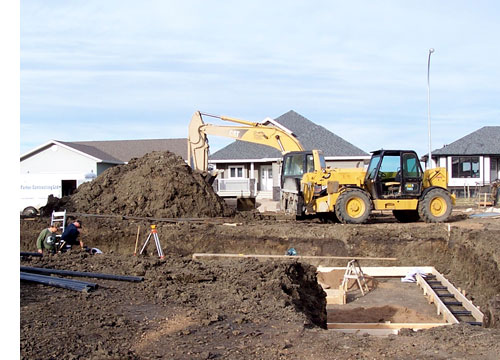 It was 2:00 in the afternoon of Tuesday, November 17, just a month ago and by then Chupa Excavation and Trucking had already done the water and sewer install, the basement was dug and Farber Construction already had the forms for the footing of the new house on the North loop of Forrester ready to pour.
This house fills in all but one empty lot on Forrester. Three corner lots still are available for development.
The scene below is also from the back alley but shows the new house filling the street.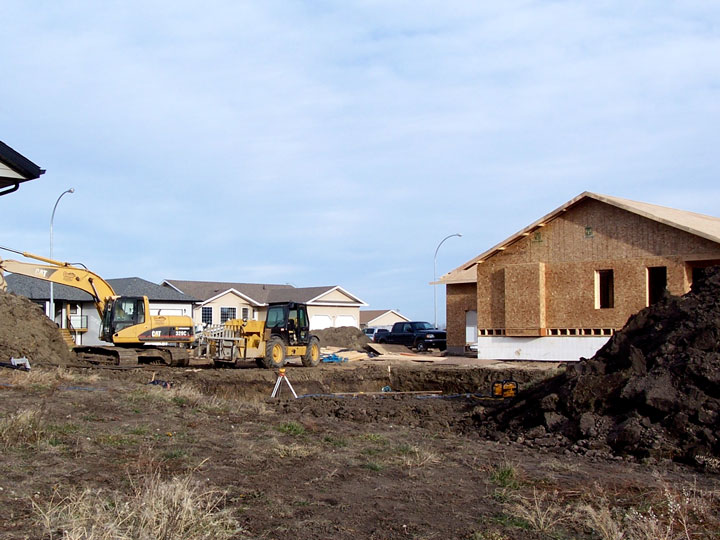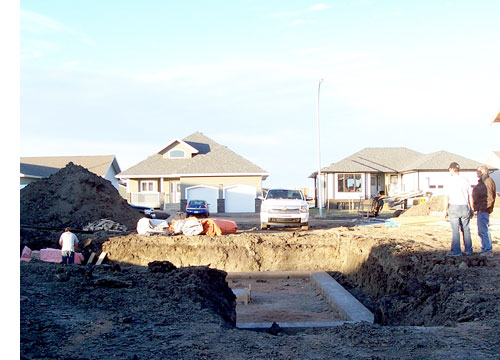 This the scene (right), close to 4:00 on the afternoon of Wednesday, November 18th. It is so easy to forget, but the weather in November was outstanding and made it possible for this project to move along quickly.
Below, Friday November 20th at 3:30 the new wood basement was almost complete and the area for the garage was marked out. In this picture you can see that they had coated the basement as they were assembling it so that they would be able to backfill the area around the new structure almost immediately.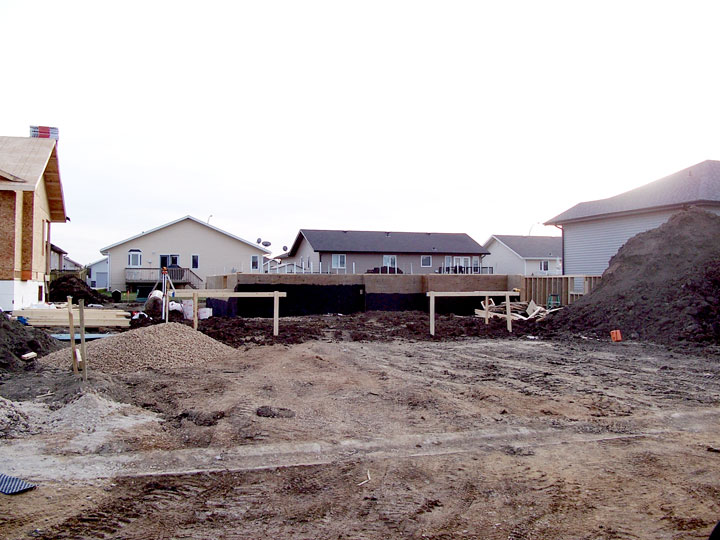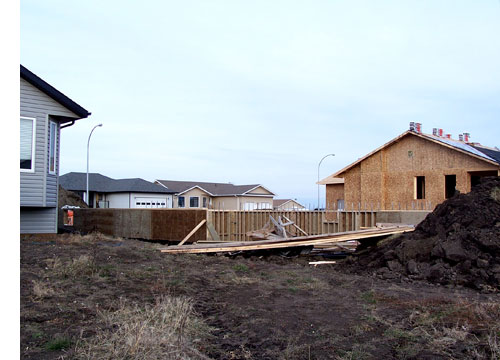 This picture (right) was taken at the same time as the one above on Friday from the back alley.
On the following Tuesday, November 24th (below) at around 3:00 in the afternoon the basement is now completed and the forms are in place for the garage. The pleasant warm weather was about to end but work forged onward pouring the foundation for the garage and then assembling the new house's main floor.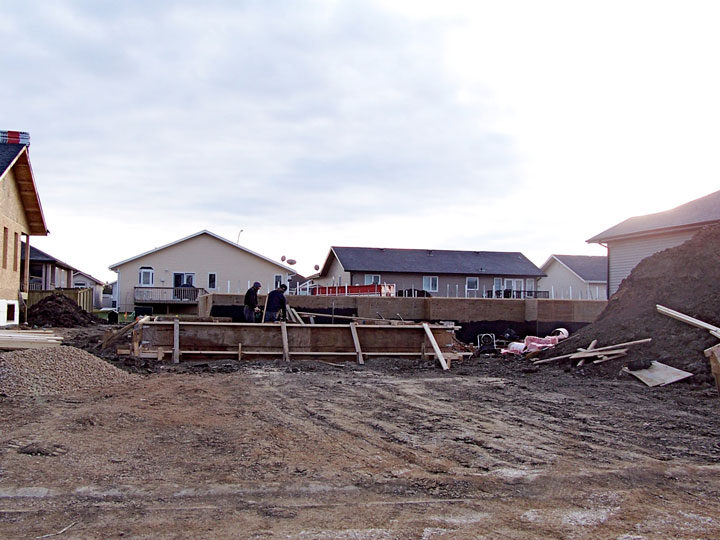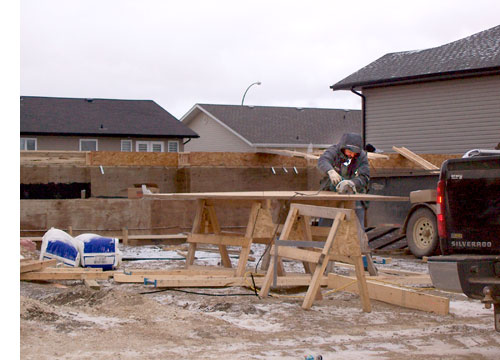 From this picture (right) you can see that house building in the winter has its hazards and difficulties. At this point, Tuesday, December first at 4:00 in the afternoon work was underway assembling the main floor. During the next week you will remember the temperature took a dramatic nose dive and work on the project was simply unable to go forward.

This week began cold but has warmed up enough to get the walls assembled and erected so that we could see rafters before Christmas day.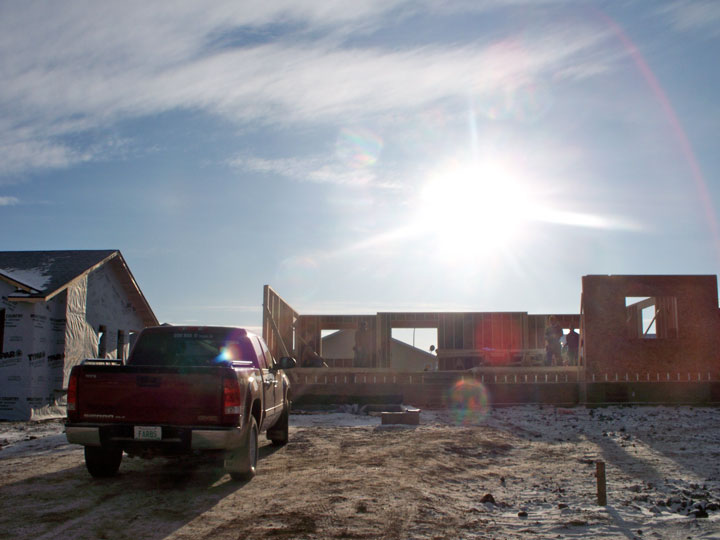 ---
Return to Ensign or Saskatchewan News
This page is a story posted on Ensign, a daily web site offering a variety of material from scenic images, political commentary, information and news. This publication is the work of Faster Than Light Communications . If you would like to comment on this story or you wish to contact the editor of these sites please send us email.
Editor : Timothy W. Shire
Faster Than Light Communication
Box 1776, Tisdale, Saskatchewan, Canada, S0E 1T0
306 873 2004