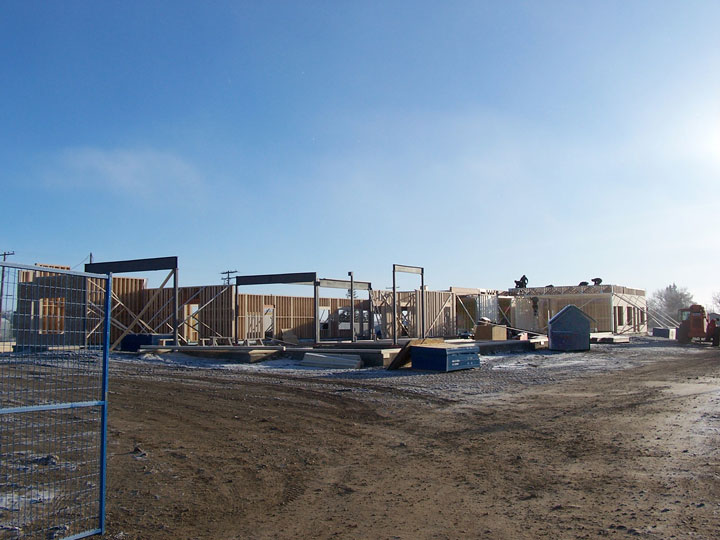 most of the walls for the first floor of the Canalta motel were standing at 2:07 this afternoon
Canalta gets its first floor walls
---
FTLComm - Tisdale - Monday, December 21, 2009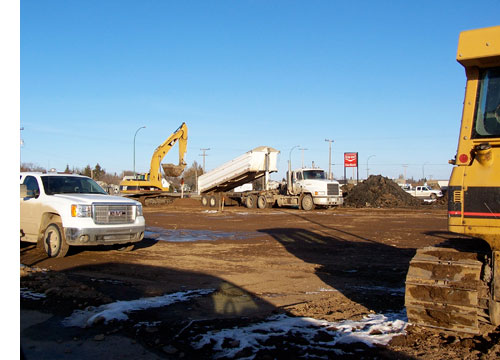 We showed you some of this project's beginnings on October 22nd and since then the project has been grinding along. We begin this episode on November 3rd as Chupa Excavation and Trucking looked after the installation of the water and sewer sevices. At this point the whole site had been prepared for construction as the surface material was taken away and a solid base of compressed gravel was put in place.
Below on November 5th the sevices excavation was backfilled and packed down.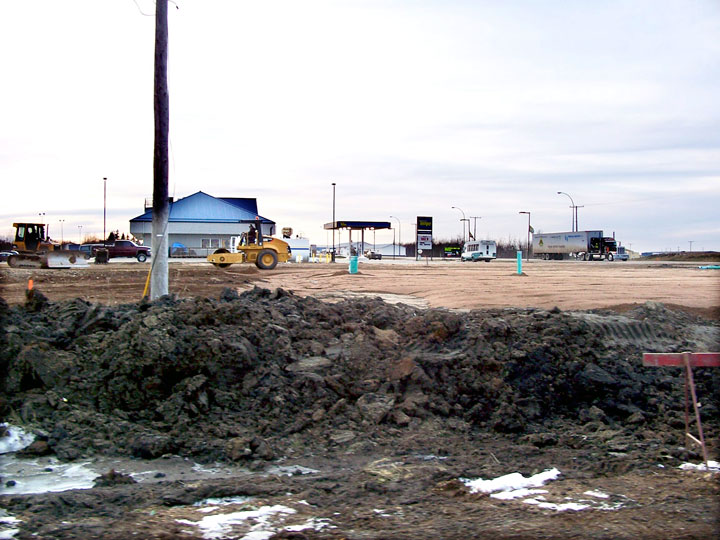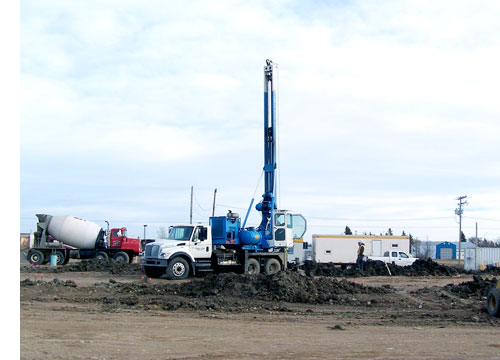 This the scene (right), was at 2:13 on November 17th as piles were drilled and poured to provide a solid base for the foundation to come.

Below at 11:41 on December 2nd the foundation forms were in place and a giant snorkle unit brought in to deliver the cement to the forms. With very low temperatures the filled forms had to be covered and heated to cure the cement and prevent it from freezing. It seemed obvious to wonder why this project was not begun a few months earlier, no doubt those struggling in the cold were thinking that also.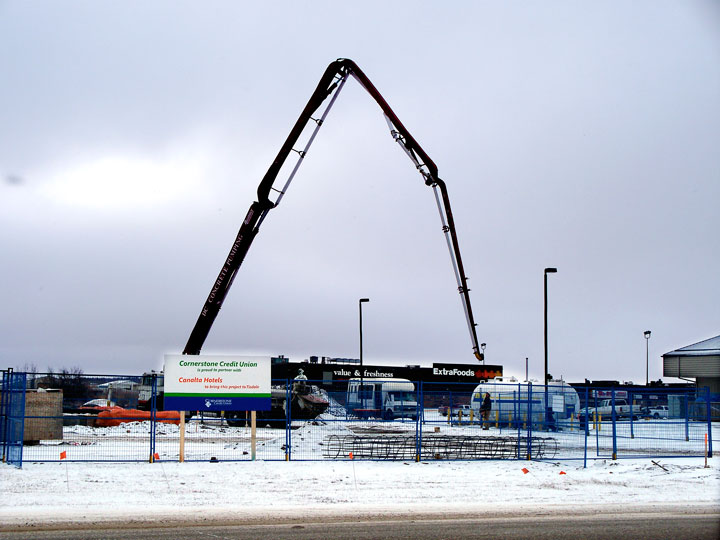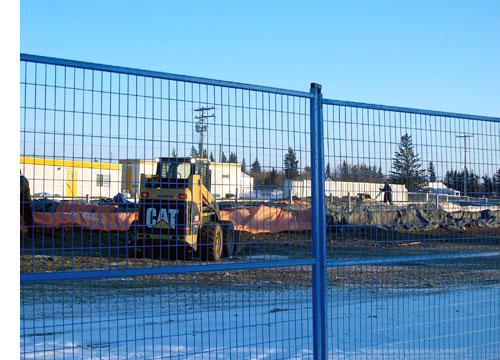 This picture (right) was taken the next day at 4:00 in the afternoon and you can see the work of trying to keep the damp forms warm.
The image below shows the first steel being erected on the site. This is how things looked at 1:00 in the afternoon of December 17th. That arctic air was brutal during this part of the process and it is surprising to see the progress that had been made. At this point the lumber and floor trusses were piled up on the site and the work force tripled.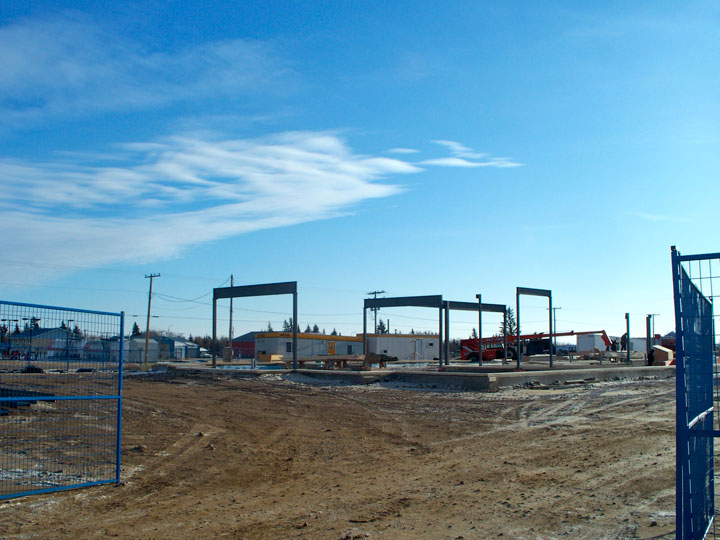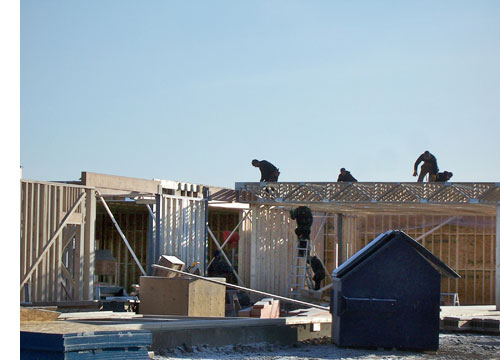 At 2:00 this afternoon the east and south sides of the first floor were in place with the floor trusses for the second floor being installed.

In a project like this involving wood construction the preparation appears to drag on forever then it seems a miracle as the wood framing begins and the building just shoots up. With modern techniques and equipment wood frame construction can take place at a remarkable rate.

We will keep you posted with this project as it continues to develop.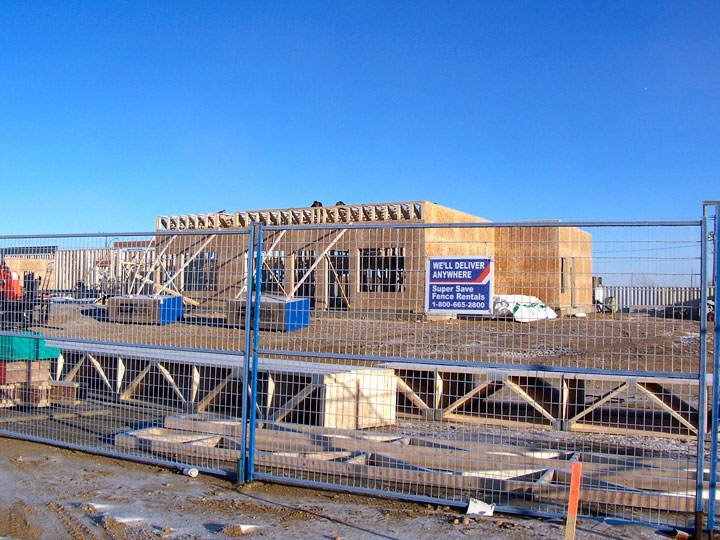 ---
Return to Ensign or Saskatchewan News
This page is a story posted on Ensign, a daily web site offering a variety of material from scenic images, political commentary, information and news. This publication is the work of Faster Than Light Communications . If you would like to comment on this story or you wish to contact the editor of these sites please send us email.
Editor : Timothy W. Shire
Faster Than Light Communication
Box 1776, Tisdale, Saskatchewan, Canada, S0E 1T0
306 873 2004