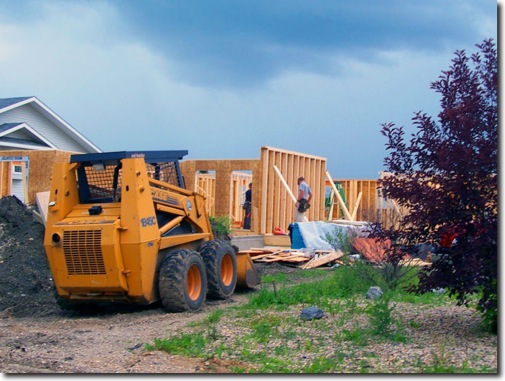 Housing start eight, a duplex
FTLComm - Tisdale - Tuesday, July 20, 2010

This project got underway on May 31 when Chupa Excavation and Trucking installed the water and sewer services then excavated the area for the footings. This and other similar structures are built on a single level without a basement but as part of the construction pilings are drilled and concrete filled to form a solid base for the footings. This was done on June 15 then on June 23 they assembled the foam forms for the foundation. The next step involves putting coating on the foundation after it is poured then a floor is installed on which the partitions and walls are installed.

Though the weather has been less than co-operative this project has not moved along as quickly as others with a whole week at a time sometimes going by with no progress.

The next step will be to develop the foundations for the garages and erect them before the rafters are installed. Shingles, windows and siding will come quickly thereafter.

This duplex is located immediately south of the Golden Age Senior Citizens Centre and next door to the Maple Ridge condo.