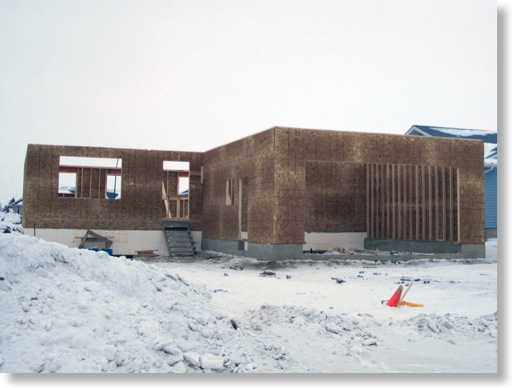 House seventeen
FTLComm - Tisdale - Monday, December 27, 2010
This project got underway just over a month ago on November 24, when Chupa Excavation and Trucking cleared the corner lot at the north intersection of Forester and Newmarket. The water and sewer lines were installed the basement dug and soon there was a foam farm in place to pour a concrete basement.

One December 22 the walls were in place and today the walls for the garage (above) have been completed. As the new year begins this house will see some additional backfilling then it will get its rafters.

Let's class this as the last house of the 2010 construction year. This was the seventeenth residential building this year to be constructed right in town. When a lot is clear for construction a file is opened begun for the project and it is given a number. One lot was readied for construction and designated number five but the project did not go ahead so we have actually had sixteen housing starts this year. Of those housing starts two were duplexes.