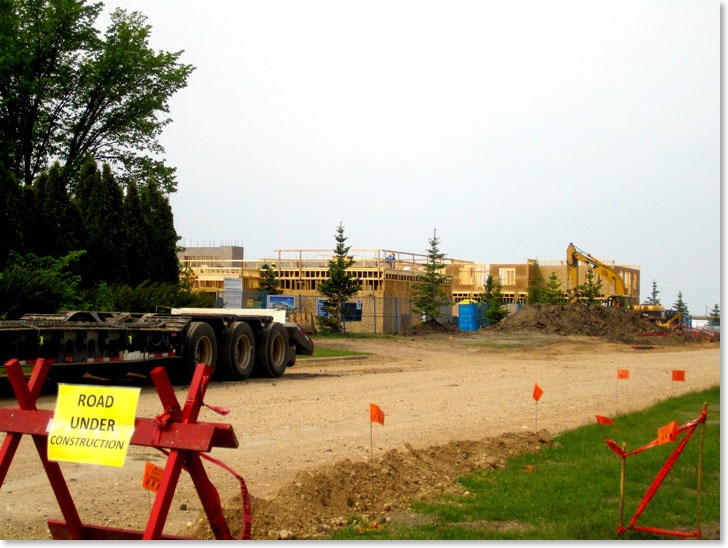 From playing field up - Caleb Village
FTLComm - Tisdale - Friday, June 10, 2011
The construction of Caleb Village Tisdale is a big deal. The project loudly supported by the Mayor and council of Tisdale was promoted heavily in the fall and by January 25th it had enough signed up customers to go ahead.

The Caleb Group claims to have begun in Saskatoon but the web site is remarkable short on details. They do not list or name any officials so much so that their web site suggests that they definitely have something to hide. They have projects in Regina, Saskatoon and several other Saskatchewan communities with a push right now to develop something in Melville. Their three smaller communities are Tisdale, Humboldt and Kindersley. In 2009 they tried to get a project going in Moosomin but could not sell thirty units to have a solid base to begin. Humbodt has just opened with their stage of development at the landscape stage. Kindersley appears to have been far less than a successful operation. The Caleb Group built four projects in Winnipeg, one in Edmonton and have a development underway in Chatham Ontario.

Of the twenty-five original people who began working in Kindersley (pdf) when their place opened all but two had left when one of the two original staff members was fired for talking to a union. This appears to be an odd development because three of Caleb's city operations are unionized. It will be interesting to see if the company takes an anti-union stance here in Tisdale.

The one name associated with the sale of suites here in Tisdale is Ron Folstad, former mayor of Nipawin and a losing legislature candidate in 1982 when he ran as a member of the somewhat confused bunch called the Western Canada Concept Party. He received 873 votes in the Prince Albert Duck Lake riding.

The Caleb web page featuring the Tisdale Caleb Village (pdf) has some excellent pictures taken throughout the construction process. The pictures have been taken by Caleb Construction and they of course have access to the site so their pictures give you the inside details. The pictures I have taken are from the time the snow was cleared from the site until today. The time and the date of each picture chronicles the development of one of the biggest building projects in Tisdale in the past fifteen years.

A large building with many residents requires heavy duty services and for more than a month the sewer and water services have been upgraded under the street that provides access to Tisdale Hospital which sits immediately across the street from the construction site which is on the North side of Tisdale Elementary School's playground.

We will continue to document the progress of this building complex and get you an update later in the summer.