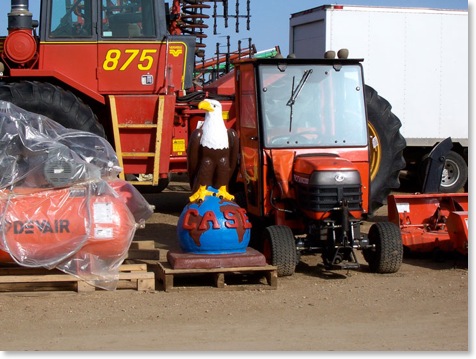 Schapansky April 20th Sale

FTLComm - Tisdale - Monday, April 19, 2010

Bruce Schapansky Auctions hold several large sales each year but the kick off of the season, the sale in April is the one to watch as it not only tells us how the agricultural world is churning along but it also is a strong indicator of the economic climate.

Among the allotments included in this sale are several complete farm inventories of equipment, farms that are going out of operation. This is a continuous process as larger farmers grow smaller farms come on the market as their owners retire. In this case the farm equipment on offer seems of outstanding quality with a large number of late model tractors and combines.

This sale also reflects the diversification of the agricultural economy as large semi trucks are now a regular part of the compliment of equipment that make up the tools that are needed to carry out a modern large scale farming operation. This sale has a large number of highway semi tractor units.

Another facet of an agricultural economy of this era is the growing dependence on heavy industrial earth moving equipment. A large dozer and a big front end loader are part of this sale's inventory.

To round off this very large sale, and the pictures that accompany this story only show a fraction of what is available, the sale includes riding mowers, ATVs, tools of all kinds and a wide range of construction materials. There is a health number of boats and other recreational vehicles and hidden among the rows and rows of machinery a few remarkable antiques like a 1948 DeSota and a marvellous Farmal tractor with a fresh coat of paint.

The sale gets underway at 9:00 Tuesday, April 20th at the Schapansky Auction yard.