It is not an easy task operating a retail business in rural Saskatchewan. The advertising and hype of the big box stores attract rural customers to the cities and the community businesses are often forced into being little more than convenience stores. Realising that this was the main problem for business in a small town Martin Doyle set about creating a business that would offer his customers first class products at prices that would rival and compair with those in the cities. A tall order but one that he built is reputation upon. The margins in business today are very slim and the only way to maintain competitive prices with high quality products is to increase the volume of sales and offer the customer the widest possible range of merchandise available.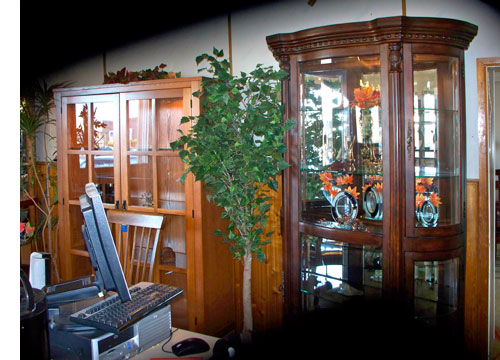 When Ensign first began posting, Martin's was a record shop that sold TVs and stereos. But since then, it has expanded to being one of the biggest retailers in the community. After forty years in business, Martin Doyle has decided it is an excellent time to quit. The business just opened its fourth outlet in August (below) and is flourishing. It's always a good thing to step away when things are going good.
A few weeks ago Martin sold the business to Colin McPeak and his wife but he is going to be around for a while working on in the business helping the new owners through the process of learning the business plan that has made this business outstanding. For it is the business plan itself that is the business. Providing the customer with outstanding value, backing it up and supporting the products so that the customer comes back and brings his or her friends.