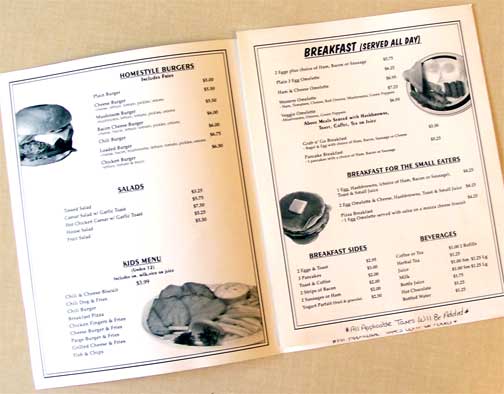 With the closing of Hannigan's at the end of September in 2003 Tisdale has been in need for a great place for breakfast. Yesterday morning Clayton, Kathy and Tiffany Woolsey re-opened the Coffee Shoppe at 6:00 AM and the problem of where to go for breakfast has been solved.
My breakfast this morning was a delight; freshly ground coffee, perfect bacon, two large eggs, the right amount of non-greasy potatoes and toast. To make it even better, a sliced strawberry on the side of the plate. A nutritional perfect breakfast and the two wattresses never let my coffee get below half way down the cup throughout the meal. All for $5.75 plus tax.
The Coffee Shoppe had lots of happy customers this morning and will have even more tomorrow when Chicken Delight ends its breakfast service and does not open until 10:30. But the Coffee Shoppe will be open at 6:00 every weekday morning and will stay open until 7:00 PM each evening with its main focus on breakfast, weekend hours will be shorter with an early closing Sunday afternoon. Besides the family, the restaurant will have part-time people and a full time cook.