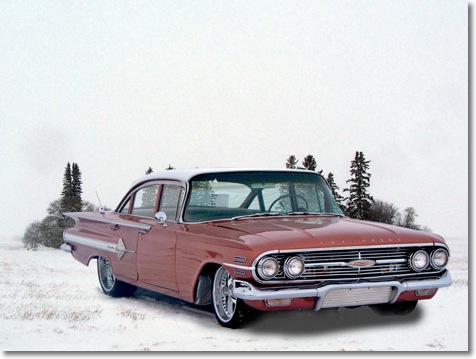 1960 Chevrolet Impala
FTLComm - Tisdale - Friday, November 19, 2010
General Motors began a serious modernisation of its most popular automotive line in 1955 and each year they used essential the same power train and worked on the chassis actually lengthening the car in 1958 then in 1959 the Chevrolet division came out with a spectacular roof line on the sedan and two door and followed that with soaring swept fins. The company decided that perhaps they went to far with the car;s design and in 1960 they toned things down a bit by getting rid of the large cat's eye tail lights and putting a flat bend in the swept tail fins. There were other sheet metal changes but most of them were al to make the vehicle just a little more subtle.

Though collectors treasure the convertibles of the era the smooth tapered roof line of the sedan and two door really defined the car. Surprisingly the four door hard top was a sort of box and looked pretty bad.

As I looked over the pictures of this example parked at a Tisdale auto body shop I remember vividly washing a 1959 hard top and a 1960 hard top and both had that interesting curve between the tail lights and the horizontal fin. As a teenage I thought that was really cool. Also what was cool was the young lady who took me with her in her fathers 59 and 60 black hard tops which had as much interior chrome and embedded plastic logos then the car's exterior.

You see in a car culture the machine, the vehicle, is really not all that important. It is the statement that it makes with its design and curb appeal. Pity that essence seems to no longer be apart of the little fuel efficient things of today. However, the pickup still has that masculine charm and individualality.