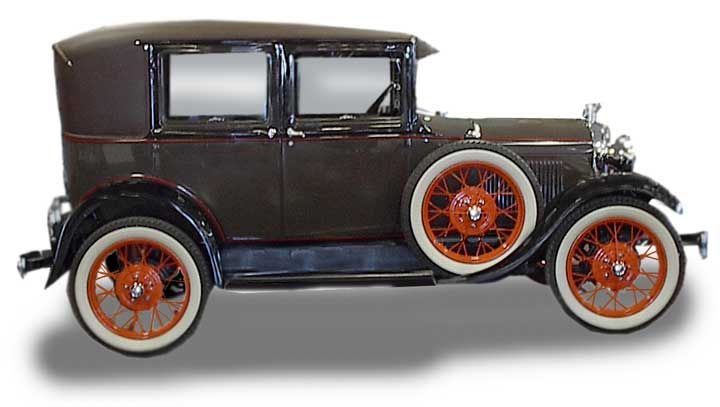 The Ford Model "A"
FTLComm - Naicam & Prince Albert - Saturday, September 11, 2004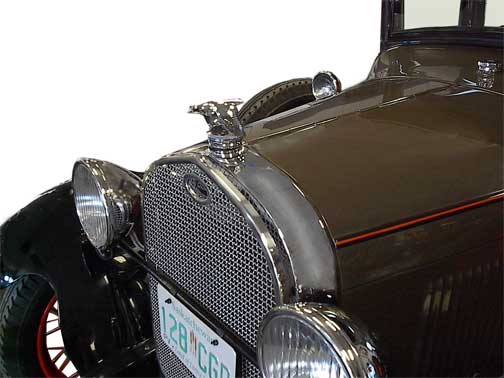 This remarkable example of a 1928 four door Ford Model "A" is on display at Cropper Motors in Naicam. The owner, Paul Thompson, has posted two signs on the car telling the story of its restoration and of its place in history. The Background documents is shown below:

The car is a 1928 Model "A" Ford-4 door, with a leatherback body by Briggs. (In 1928 ford arranged with Briggs to build the body's for some of their production) This was built in Saskatchewan and was the 8557th Model "A" built in 1928 shown on the Oval registration plate we found fastened to the door sill of the car. We discovered that this is a RARE MODEL as few were produced.

I purchased the car in 1966 (while in grade 11) from a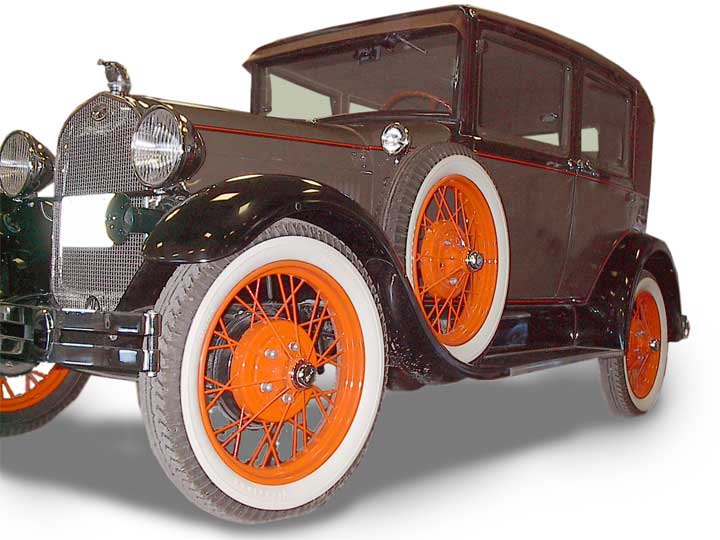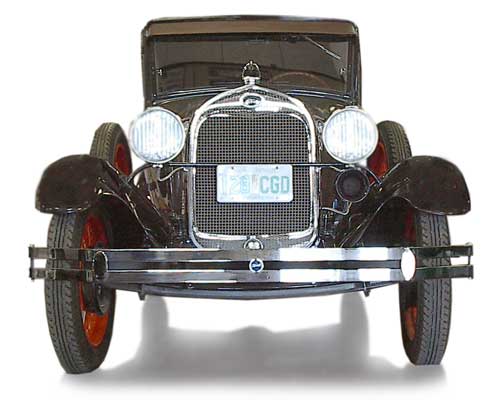 collector in Nipawin Saskatchewan for almost nothing as it was not running and in very poor condition. In 1985 I took this car to Lloyd Griffith's Classic Restoration in Bangor Saskatchewan (telephone #728-5543), he is a perfectio9nist as I am and he began the long, long process! We decided that everything must be original and that no part of the body or frame could have any welding therefore, any parts needed must come from a similar Model "a" somewhere in the world. This is in fact what we did, so today everything is original to this model and year and nor repair welding was done. The body was oak framed so all of this was redone in oak by hand to fit perfectly. We feel that the car is actually better today than when Henry Ford released it in1928, because of the massive number of hours of time spent in redoing by hand this entire car.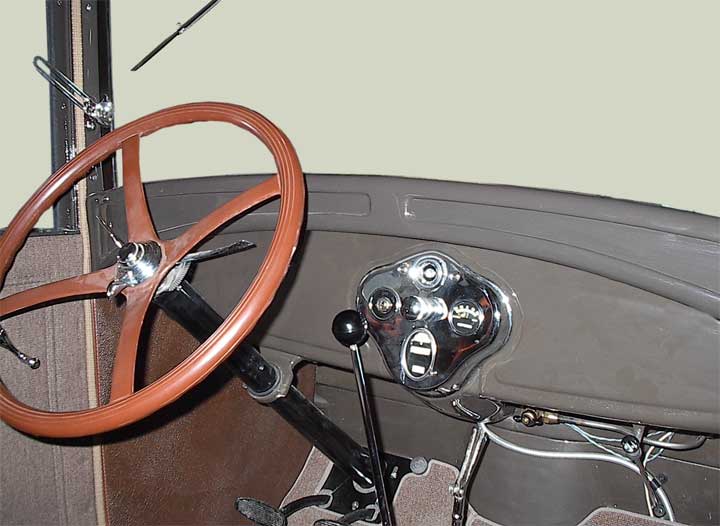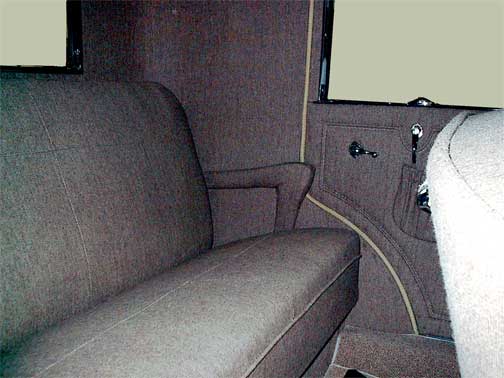 At the start of the restoration we removed the body from the frame and sent the frame, wheels, brakes, springs, engine, transmission, and differential to John Dyck - 633 Henry Street Estevan, Saskatchewan. He rebuilt all these parts again with original replacements where needed. He spent over 200 hours on this part of the project alone and then returned it to Lloyd Griffith in Bangor. I sent the windshield motor to Pete Brewer in Shelter Island, New York State for restoration. From this point on Lloyd Griffith with assistance completed every part including the re-upolstery work. Lloyd completed the last details in August of 2004 including the floor carpets.

This Model "A" has every extra that was available in 1928 and is perfect (better than new) condition. I have a complete list of all parts we installed
and where we got most of them plus the hours of labour over the past 19 years.

The second document is a description of the parts and restoration specifics,
click here
to see this page.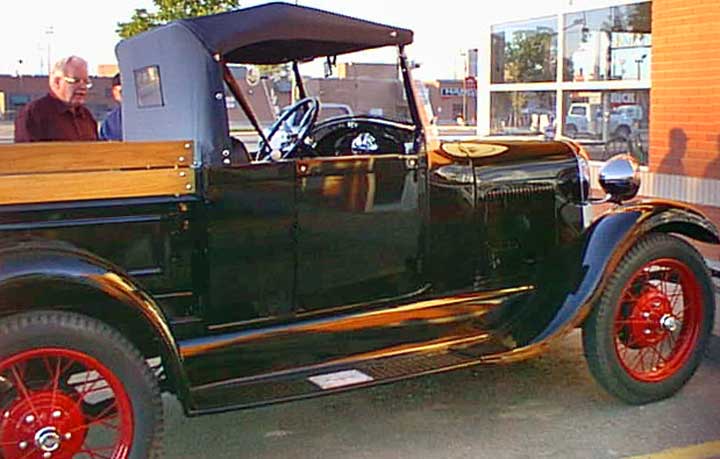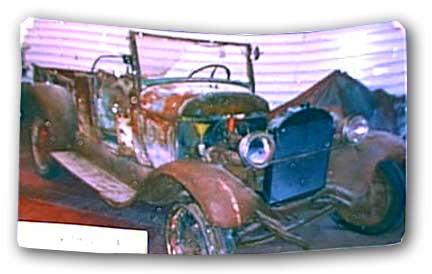 Friday, late afternoon, Judy Shire stopped at the bottom of the hill Tim Horton's in Prince Albert and this Model "A" pickup was parked and the owner and rebuilder was showing off his vehicle. Judy photographed the pickup and the picture he showed her of the project when it began (right).

Each of these are remarkable projects and really tell us just as much about the dedication of the owners as it does about the nature of the Model "A" that would prompt someone to go to such lengths to rebuilt.

As a young child I so well remember my father's Model "A" and even more his Model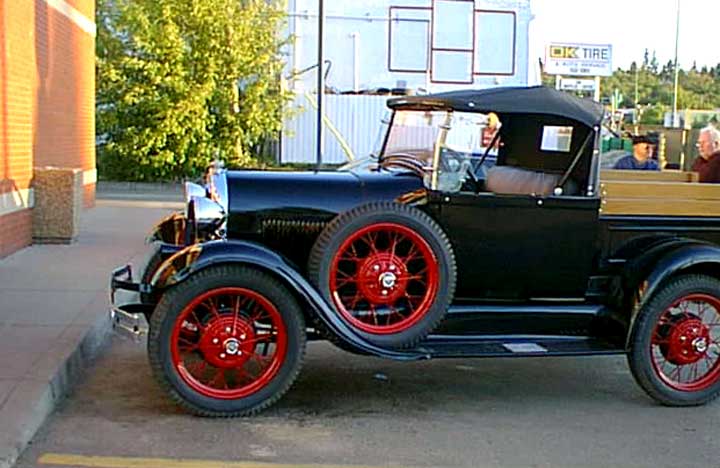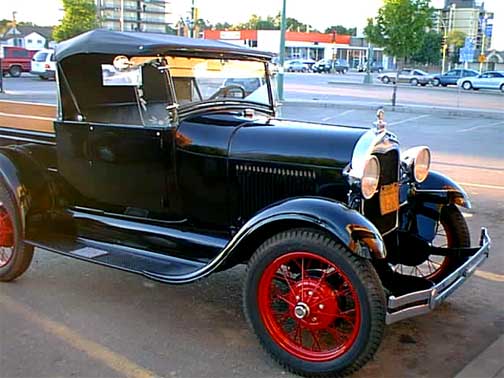 "B" coupe with its rumble seat. As I was cutting out the backgrounds in the first set of images I was surprised to discover how many of those shapes are part of my memory and my first hand experience. The shape of the fenders, the pull tab on the window ledge of the back door, the dashboard, all things that were a part of what I knew to be "car."

My very first job was working at the Langbank Co-op where one of my duties was pumping gas, at at that time, I actually did the pumping, pulling a handle back and forth to fill the gas bowser then filling cars from that. It was always a real challenge to fill a Model "A" because the gas tank is located in front of the windshield and you had to stand on the running boards to put gas into that centre filler spout. Of course, over filling meant a big mess and most likely gas all over yourself.

The thing about the Model "A" was its sounds. The engine had a kind of confused werrrrr to it and the horn was a kind of choked duck.

Modern restorations are really just recreations and can not capture the real spirit of these reliable but not to durable machines. They had a short engine life and lots of things would break without much warning. They did not have any chrome on them, the bright metal was "nickle" so the "original" claim by Mr. Thompson is a bit over stated with his vehicle dripping in chrome plate and acrylic paint which was not used on mass produced vehicles until after 1956. However, both of these restored vehicles show us the practicality of these cars of seventy-five years ago. They were able and suited to the roads of the time, now came only from then.
Return to Ensign - Return to Saskatchewan News
This page is a story posted on Ensign and/or Saskatchewan News, both of which are daily web sites offering a variety of material from scenic images, political commentary, information and news. These publications are the work of Faster Than Light Communications . If you would like to comment on this story or you wish to contact the editor of these sites please send us e-mail.
Editor : Timothy W. Shire
Faster Than Light Communication
Box 1776, Tisdale, Saskatchewan, Canada, S0E 1T0
306 873 2004