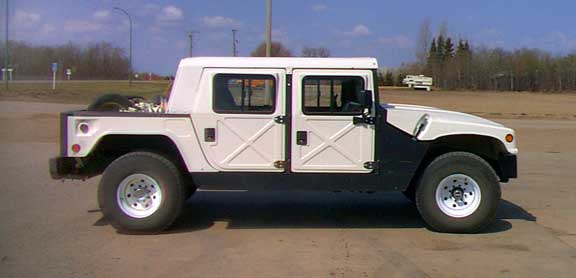 H1 AM General Hummer
FTLComm - Tisdale - Monday, May 27, 2002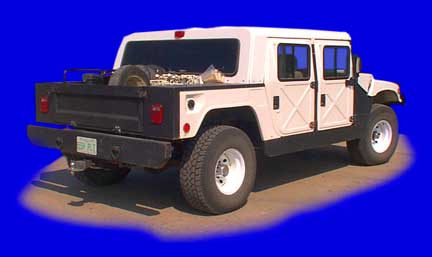 SUV (sports utility vehicle) and then some. The United States military needed a utility vehicle and made a fresh start coming up with this remarkable aluminum four wheel drive vehicle which they refer to as the "Humvee". Civilian versions of the machine were soon put on the market and have cornered the market on prestege vehicles.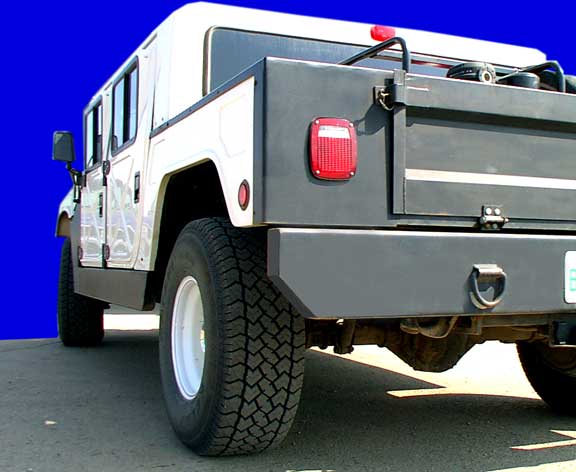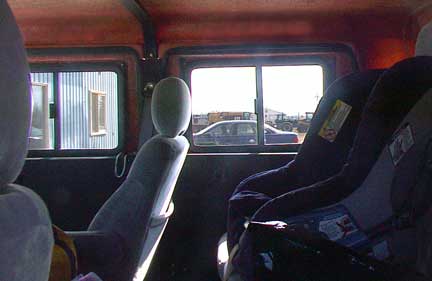 There are two basic models now sold this one is a hard top and in this interior picture you can see how the fibreglass roof is detatched between the doors.

Coach work is not one of the strong points of this only modestly civilised military vehicle.

There were gasoline versions but the standard machine is a 195hp diesel.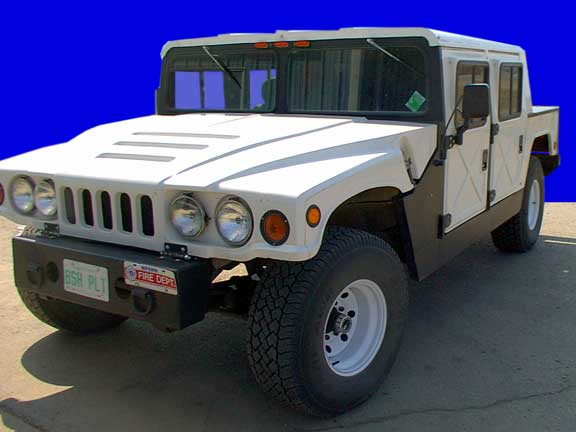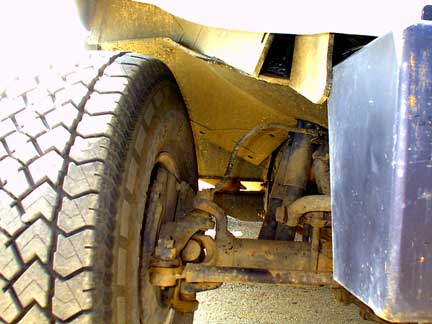 There is also the more civilised H2 version which is slightly smaller but is about the same price with very expensive interior.

Even used versions are about the price of a small house. The least expensive used one I found was a 1995 one like this with air and a gasoline engine and the asking price was $47,500 US at today's exchange rate that is $73,076.92 Canadian.

All new models exceed $100,000 Canadian.

Here is what the basic blurb from the manufacturer on the 2002 H1.
For 2002, AM General has trimmed the Hummer line down to two models, the Four-Door Open Top and the Four-Door Wagon. The Open Top model features hard doors, a removable vinyl roof, and rear tonneau cover. Both of these all-terrain vehicles are powered by a 6.5L turbocharged diesel engine that produces 195 horsepower and 430 lb.-ft. of torque. Power is delivered to 17-inch aluminum wheels via a standard full-time 4WD system. Additional standard equipment includes four-wheel ABS disc brakes, air conditioning, power windows, and a central tire inflation system which enables the driver to adjust tire pressure on the move. 17-inch Goodyear Mud Terrain tires and a 12,000lb. capacity Warn winch are available as optional equipment.

Base List Price: $97,806.00
Reference:
See the follow-up article that explains the mistake of identifying this as a "real" hummer.
As it turned out this example is a replica kit project built by a fellow from Nipawin, you can see his project as it was built on his web page on the project.
Retrun to Ensign - Return to Saskatchewan News
This page is a story posted on Ensign and/or Saskatchewan News, both of which are daily web sites offering a variety of material from scenic images, political commentary, information and news. These publications are the work of Faster Than Light Communications . If you would like to comment on this story or you wish to contact the editor of these sites please send us email.
Editor : Timothy W. Shire
Faster Than Light Communication
Box 1776, Tisdale, Saskatchewan, Canada, S0E 1T0
306 873 2004