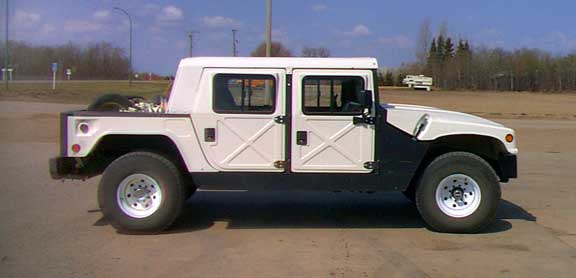 The pretend auto business
FTLComm - Tisdale - Tuesday, August 27, 2002
To preface this story I need to tell you a little about the way each story on this web site is developed. Essentially everything flows from a picture or set of pictures. I call this empirical based story telling. What I have pictures of is the basis for the story and since I want the reader to have a view and impression of what I have seen, I do not spend a lot of time interviewing and getting the details about the subject.
This is one instance where that would have been a good idea and there have been others. Some time ago I had these great pictures of a three wheeled Harley Davidson and contacted a friend who did some research and together we figured we had a specific model of the machine but as it turned out we were fooled the pictures I had produced were of a kit modification to a modern Harley and both of us had been fooled. Many readers have since told us of our folly but the way this web site is constructed once a story is created it is pretty much frozen in time and remains online warts and all.
It is the nature of this web site that also causes problems, the site now is more than half a gig of material and the various search engines that roam through cyberspace catalogue what they find and when someone is looking for something the seach engine spits out the specific page from this huge website so that the searcher comes to a web page without realising that it is part of a large web site. So far I have had at least five inquiries from people wanting to buy a kidney after I did a story about email I received with someone trying to sell a kidney. Two of those messages were from an East coast US television station.
Now to this subject at hand back in May I spotted this neat looking vehicle at Fairburn Tire and did a set of pictures of the vehicle. Now honestly it never crossed my mind that I was looking at a kit replica of the original. Over a decade ago I remember seeing and looking over upclose a US military version of the Hummer at an exhibition in Minot North Dakota and after I took the pictures of this machine I commented to my wife that I thought it was odd that this was a steel machine when the military version we had seen was all aluminum but I decided that perhaps this was just an inexpensive civilian version and hence was made of steel. The other thing that should have been a clue was this machine had no name on it anywhere. There was a third thing but that went well over my head.
This morning after being out and about getting some pictures for today's editiion there was a phone call on the messaging system from a fellow in California wanting to know about the pictures I had on my website. He pointed out that what I had was pictures of an Urban Gorilla kit vehicle and he was interesting in talking to the owner.
In only a few minutes I had tracked down the owner but was unable to talk to him because of the time. So I called up the California reader with what I had. Now this is were stupidity kicked in full time. I had taken the telephone number down incorrectly and could not get through. I called SaskTel to see if the deleted message could be recovered and that turned out to be a no go, deleted means exactly that. Two calls to California information and I had several numbers to check and left a message on one then with no results I thought I would try out some possible digit reversals I might have made and on the third try I got the guy.
This fellow was going to build himself one using one of the many kits on the market and he listed a few including a Canadian one which I was not able to locate on the web but in the references below are two of the most noteable of these.
In general the replica machines are based on full sized GM, Ford or Chrysler truck chassis the most popular of these being the four wheel drive GM Suburban. This was the most glaring error I made. When I photographed the vehicle I took a picture of the front end drive and should have recognised it as a GM system as the original Hummer has individual independent suspension with drive shafts angled down to the wheel axle. Heah, I knew that but, ignored it when I took the picture.
The interesting thing about these replica vehicles is that they add up to big bucks. The one at the top of the page costs $20,312 Canadian dollars before taxes and that is just for the kit. It needs a good vehicle to be dismantled and used as the base for it and then the work to do the assembly and you are looking at a vehicle almost half the cost of a new Hummer so this is not cheap project. It surprises me that the auto manufacturers have not spotted this market because apparently there are a lot of folks who would like a machine that is capable of the kind of tricks a Hummer can do.
References:
Alley Cat, $8,950 US from Stanton Texas
Urban Gorilla $12,995 US from Merino Colorado
This a replica kit project built by a fellow from Nipawin, you can see his project as it was built on his web page on the project.
Rocky Mountain Coachworks Ltd. this web site offers the most authentic kit but also the most work according to Jerome L. Gray who is working on one of these right now.
Canadian All-Terrain Vehicles Corporation, of Edmonton Alberta produces an all aluminum kit
---
Retrun to Ensign - Return to Saskatchewan News
This page is a story posted on Ensign and/or Saskatchewan News, both of which are daily web sites offering a variety of material from scenic images, political commentary, information and news. These publications are the work of Faster Than Light Communications . If you would like to comment on this story or you wish to contact the editor of these sites please send us email.
Editor : Timothy W. Shire
Faster Than Light Communication
Box 1776, Tisdale, Saskatchewan, Canada, S0E 1T0
306 873 2004