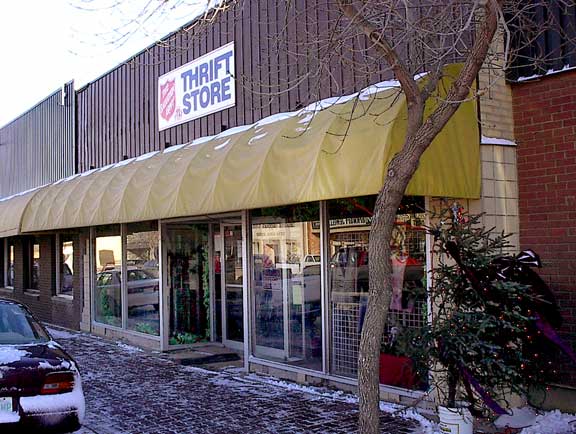 Salvation Army Thrift Store
FTLComm - Tisdale - Friday, December 5, 2003
It is surprising the way trends come and go. This past week the Star Pheonix carried a front page picture of rock star Victoria Beckmann (Posh Spice) wearing an older design University of Saskatchewan sweat shirt. It turns out that he got it from a "retro" store in New York.

Young fashionable types are pouring through stores like this one looking for that "just right" item that will make a fashion statement and help them to identify themselves in a rather difficult world.

The Salvation Army's outdoor tree has had a tough time, the wind has given in severe abuse knocking it over at least twice but it and the stallward support this organisation provides this and every community is just like that tree it gets back up again and hangs in there for those in need. When you are out shopping make sure you give your gift the Salvation Army's Christmas fund.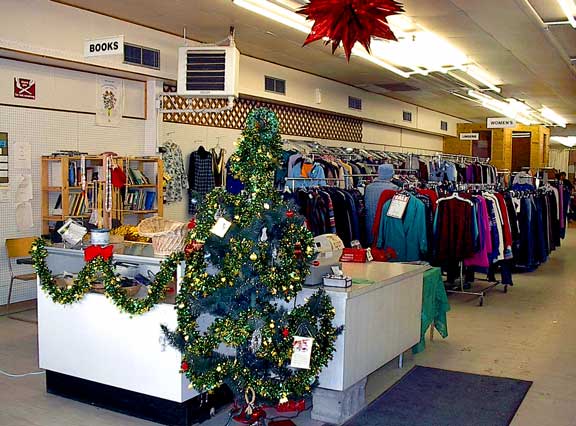 ---
Back to Shopping Tisdale 2003
Back to Pearson's
Next, to Royal Bank
---
Return to Ensign - Return to Saskatchewan News
This page is a story posted on Ensign and/or Saskatchewan News, both of which are daily web sites offering a variety of material from scenic images, political commentary, information and news. These publications are the work of Faster Than Light Communications . If you would like to comment on this story or you wish to contact the editor of these sites please send us email.
Editor : Timothy W. Shire
Faster Than Light Communication
Box 1776, Tisdale, Saskatchewan, Canada, S0E 1T0
306 873 2004