The monster
FTLComm - Tisdale - Saturday, December 18, 2004

I was a little overwhelmed when it came to unpacking my new G5 Macintosh computer out of its box Thursday afternoon. I had seen them in offices and in stores before but disregarded them physically since at each encounter I was more concerned about what they could do rather then what they were. But it was a struggle to get it out of its foam block and sitting on the kitchen floor I was immediately struck by its "heavy metal" nature.

Apple has always been known for its clever designs right from the very beginning and this design goes back to the very beginning with the pre-Macintosh Lisa which was also a heavy metal unit.

This is the entry level single process 1.8Ghz version all others have two processors and are almost double the price. But for my work producing web pages and graphics work this machine and its performance is more than adequate for the task. It was ordered with a 250GB hard drive and basic memory of 256MB as it is less expensive for me to add memory later. It can handle 8GB of memory and I will add a modest 1GB to it shortly.

USB, FireWire and sound in and out are on the front and back as well as optical sound in and out on the back. This machine has the upgraded ATI 9000 video card which supports two monitors. I immediately installed the ATI 7000 card I already had in the machine to give me my usual three monitors.

The physical dimensions of this machine are large 8 x18 x21 and no screws. With it open it becomes immediately apparent why it is so large. The clear plastic baffle is design to move the air where it suppose to go and despite its fans (nine of them) it is utterly silent. The design is to make this machine completely upgrade able by the owner. Hard drives slide in and connectors click in place, the optical drive which is a DVD and CD burner slides out for replacement and the memory sit in their own bay for additions and replacements in pairs.

Thursday afternoon after studying the manual (only 105 pages) I lugged it downstairs and hooked it up to a single monitor and began the process of sorting through the data transfer from the old 1997 G3 which had been converted to from its 300 speed to a 500 G4 with its five internal hard drives and 764Mb of RAM. I transferred most of the stuff to a 120MB external FireWire drive and simply plugged it into the new machine. I had a few glitches Thursday night mainly because the G5 and its architecture are much more rigid in terms of its use of the OS Panther operating system and things have to go exactly where it wants them. A UNIX based system is like that.

By noon Friday I was a bit frustrated because I had made a mistake and replaced the wrong "Library" file, my Apple technician son sorted me out on that and by mid afternoon the new applications were being installed and after a break for supper I had the monitors resorted out and it had become the main machine with the old one now working off a single monitor to support addition transfers. Before I went to bed at midnight it had already begun its chores and there were some seriously positive surprises.

The first of these was how well it handled the iSight camera and online video chatting. The second surprise was its rapid launching of applications. But it wasn't until this morning when I put it to work doing the regular duties in this office that I discovered its real power. Adobe software flies in it but its low memory must be fixed to access files quicker.

After working it for a day I am thrilled with its performance and know this one is going to be along and happy relationship. But, it has a hard act to follow. The machine it is replacing has worked for almost seven years going from system Mac OS 8.1 to its present Mac OS 10.3.7. It has stumbled along, ate the odd hard drive and still can turn out the work. It will be interesting to see if the G5 can put in seven years of upgrades and system changes.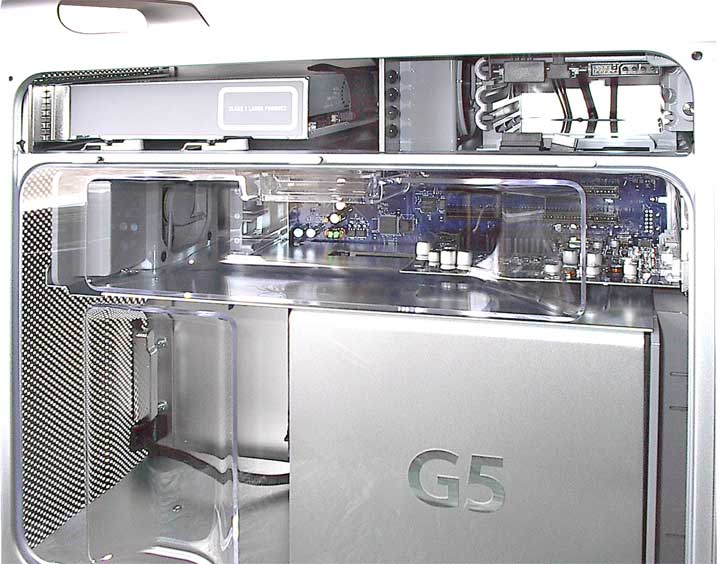 ---
Return to Ensign - Return to Saskatchewan News
This page is a story posted on Ensign and/or Saskatchewan News, both of which are daily web sites offering a variety of material from scenic images, political commentary, information and news. These publications are the work of Faster Than Light Communications . If you would like to comment on this story or you wish to contact the editor of these sites please send us e-mail.
Editor : Timothy W. Shire
Faster Than Light Communication
Box 1776, Tisdale, Saskatchewan, Canada, S0E 1T0
306 873 2004