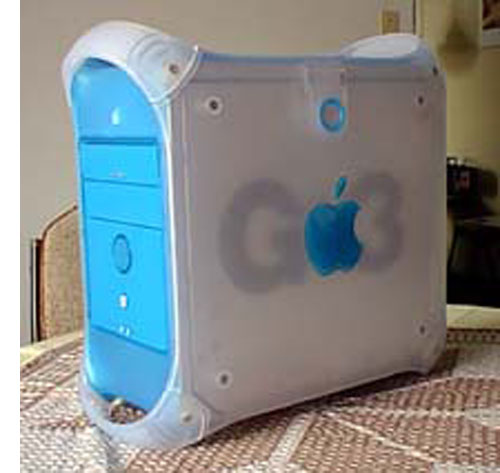 The machine that you work with each and every day in many ways becomes a part of you and the tendency has been to go bigger and better each time around as a machine reaches the time to retire or move on to other less demanding tasks. In February of 1999 the G3 "Yosemite" became the main workhorse for me as Ensign was then about a half a year old and for seven years and upgrade after upgrade this machine crunched right along. It was working hard up to only a few months ago as the web server that dished out Ensign and our other web sites that we host but after ten years of hard work it is now sitting silent. The main feature of this machine was its incredible durability and the way it was upgrades and continued to work just fine.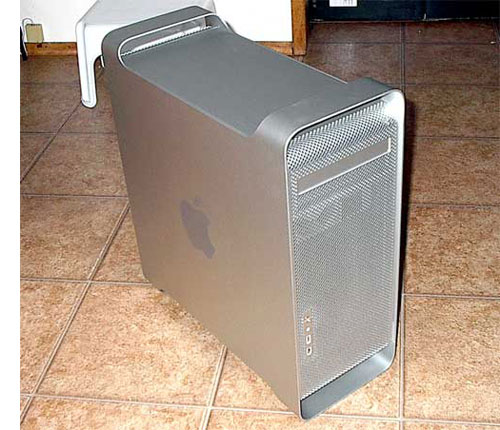 In December of 2004 the G3 was replaced with the all metal, to big for my desk, Mac Pro G5 with its single core IBM processor and humming along on OS 10.3.7, called Panther. This machine is five years old and works just fine. It has one short coming. Apple's news version of its operating system Snow Leopard OS 10.6 requires an Intel processor. Fitted with 2Gb of RAM and two terrabyte drives it is a formidable computer but there are new upgraded versions of software that will come along that will not be able to be run on the 10.5 software so it was time to move on.
In January, 2005 Apple introduced the Mac Mini. Simple, small and inexpensive the mini was really intended to be a sort of living room computer/entertainment related piece of hardware. The version I hooked up yesterday is a dual core Intel based computer with full support for two monitors and will easily do the work I do each and every day. With the Mac Pro G5 running perfectly we are going replace its operating system with server software and put its massive storage to work to compliment the Mini's processor and operating system.
One of the vital features of modern Macintosh computer systems is a thing called "Time Machine" which each hour backs up your work so that you can move back to any state saved and make use of the files as they were at that time. Though the reliablity of the Mac is outstanding users often make mistakes and even having that capability now and then makes a stupid mistake vanish and the cost involved is ignored.
The transistion yesterday from the old machine to the Mini was surprising. I shut the old machine down connected another monitor to it with a keyboard and mouse. The plugged everything from the old machine into the new one. Then I ran a FireWire 800 cable from the new machine to the old one. I booted up the old machine holding down the letter "T" (for target). The brought the new machine to life. It spotted the two monitors then did its connection with the new mouse and asked me if I was transferring from another Mac. I indicated I was, a menu came up to set the process underway and for the next four hours the new machine adapted. When the process was over it seemed that I had just sat down to the old machine only it was about five times faster.
Last night I checked out a few things but it wasn't until today that I began putting it to work and discovered it was much faster and only a few sorting out details need to be dealt with. The scanner is not showing up so I will have to get it going tomorrow. One can always expect a few glitches with a complex system and so far I have been amazed at how straightforward everything is. Normally when you change machines there are a lot of issues with getting your applications back up and running but not this time, everything just works fine and faster.
One piece of software has occupied much of the day and will continue to do so. Apple has upgraded the iPhoto software with facial recognition capabilities and that is really cool.