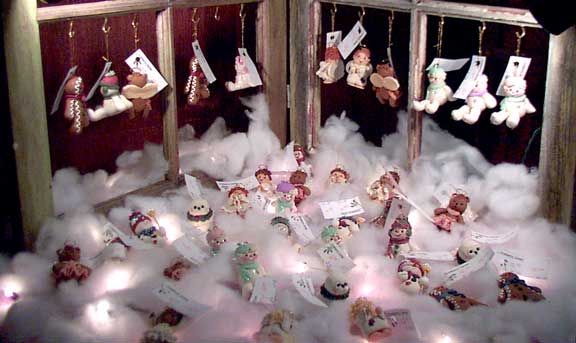 Cranberry Corner 2002
FTLComm - Tisdale - Sunday, November 17, 2002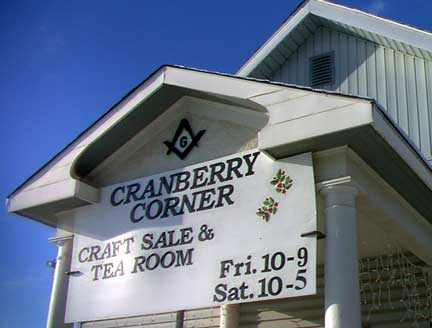 It was November 22, 1998 that I first visited the mythical Cranberry Corner, a collection of craft and artists who had come together to market their products.

Last November the group felt they did not have enough participants to go ahead with a show but with twenty-two contributor they were open for business Friday and Saturday with steady flow of customers who came and looked over the great displays and made their purchases.

Like the show last week the setting is perfect for this kind of an event and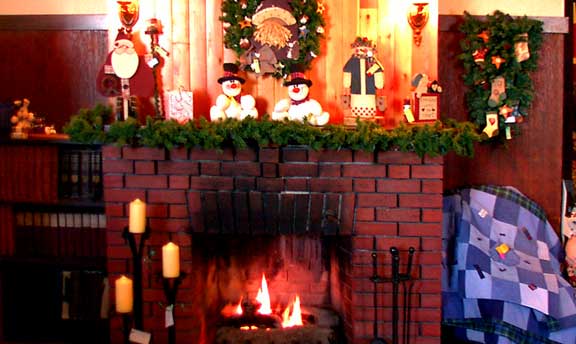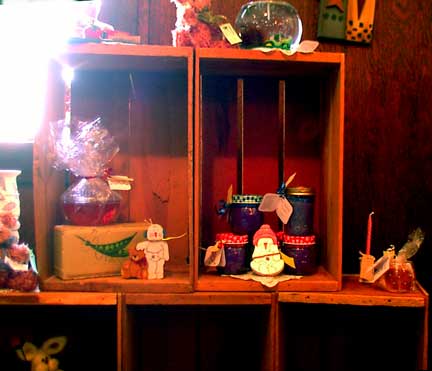 just as was the case last week the folks at Cranberry Corner really added a special setting to the surroundings to show off the exceptional products offered for sale.

The flaming hearth greets you as you come in the door and in the front lobby displays line the walls with the special one of a kind items that make Cranberry Corner a unique experience.

This year's products include several very large items like the couple standing below which are about two feet tall and the bottom picture shows a wood snowman set are about the same size.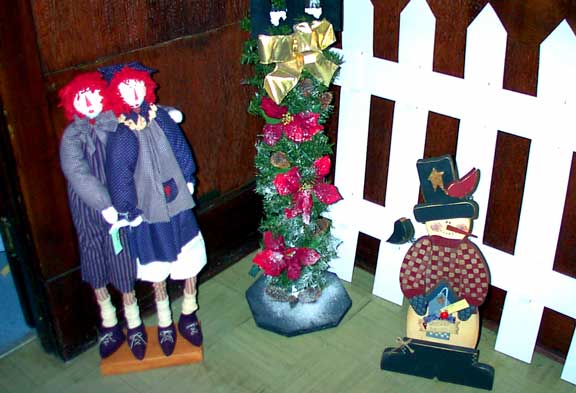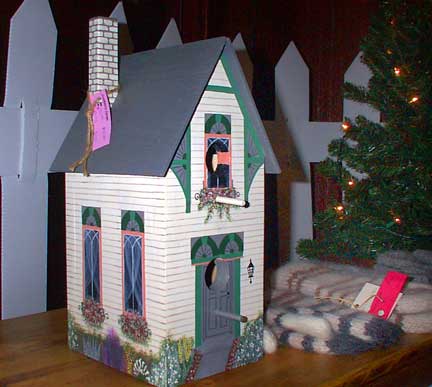 The era of the crafted and elegantly painted bird house is definitely a feature of many yards and an ideal one of a kind gifts.

The marvelous knitted Alpaca wool products by Violet Allan and Leslie Bodenstab were featured on several displays and the light softness are a delight to the touch as well as the eye.

One feature of this year's stuffed toys are stylised rabbits. In the pictures on this page you will see rabbits in various costumes sitting all over the place.

The parson's bench below is one of several that was on display.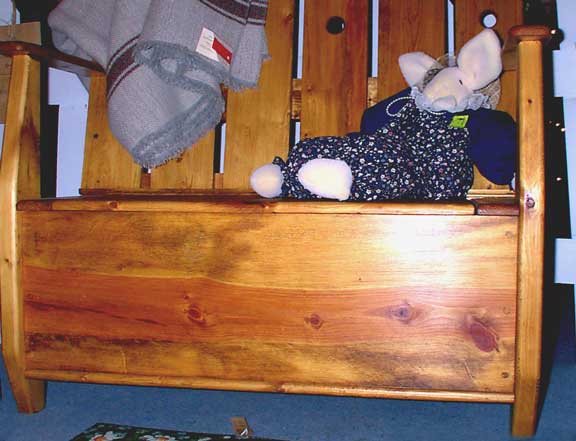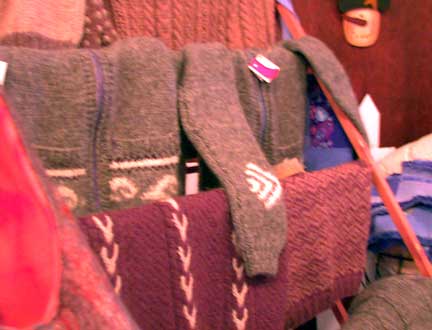 This is a good view of some of the Alpaca knitted items.

Here is a list of this year's contributors to Cranberry Corner:
Kelvin Manton - Ridgedale Wrought Iron

Gail Lowe - Tisdale
Folk Art painting

Lavella Shaw - Saskatoon
Fabric Folk Art

Deanna Girod - Saskatoon
Folk Art Plus

Betty Mutch - Ridgedale
Jewelry

Dawn Marleau and Joan Broughton - Tisdale
Soap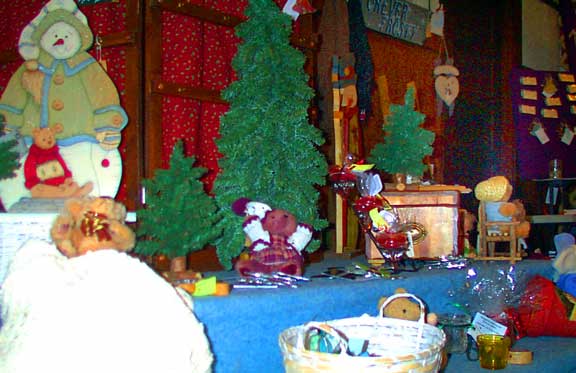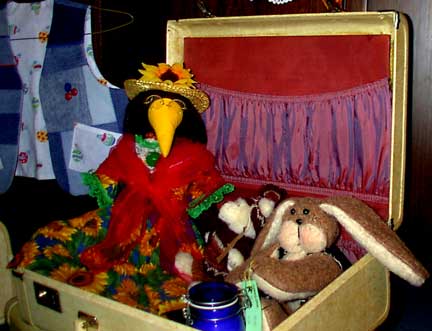 Sandra Gronvold - Tisdale
Candles

Louise Gel - Prairie River
Stuffed Rabbits

Violet Allan and Leslie Bodenstab - Tisdale
Alpaca Wool products

Laurie Hooper - Tisdale
Folk Art

Sharon Cross - Carrot River
Sewing

Murray Gray and Debra Janzen - Aylsham
Woodwork

Anne Poggemiller - Tisdale
Folk Art

Cindy Nelson - Melfort
Stained glass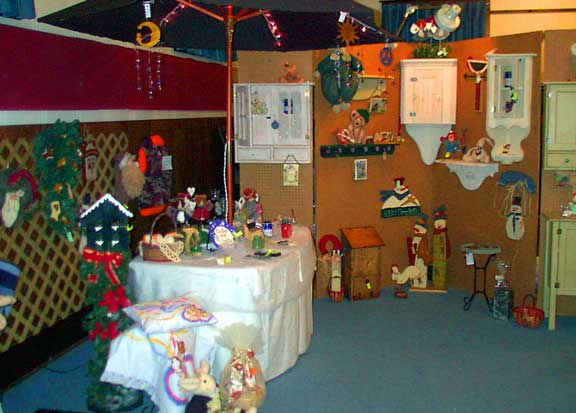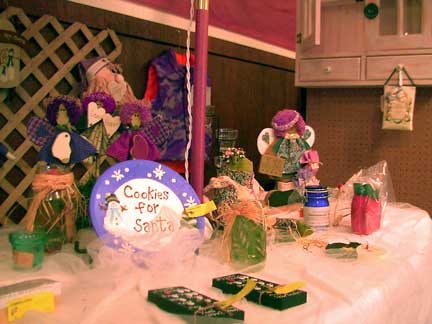 Lorene Broeckel - Star City
Dough Sculptures

Barb Hornie, Colleen Carlton and Heather Tetarenko - Tisdale
Tea Room and baking

The whole project gets started in February each year as a committee headed up by Mrs. Poggemiller sends out invitations to arts and crafts people to participate in the year's show. This gives time for a crop of unique products to be turned out for each year.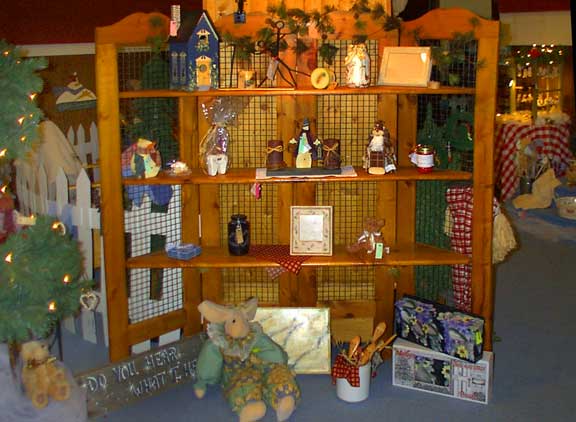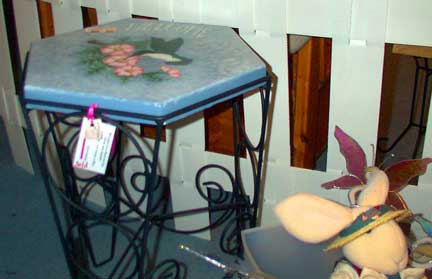 Kelvin Manton's tables are remarkable works of art (right) and were very popular at this year's show.

The Christmas tree with its decorations were real eye and camera lens catchers. The fuzzy white bear on the sled below seemed like a very special item and this picture greatly exaggerates his very tiny size.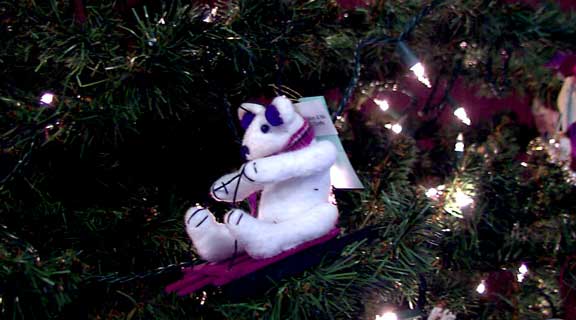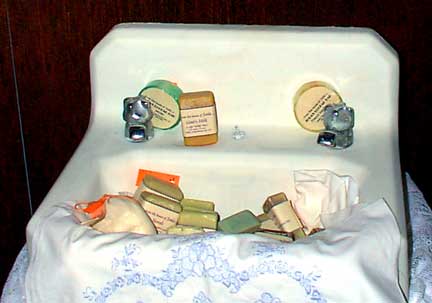 The display of soaps in this old sink was something that really contributed to this year's show as these products often are sold from tables in the mall and are very popular as gifts each year.

The baking included all the usual cakes, buns and cookies but also some very interesting looking home made chocolate.

Lunch was served in the tea room and included soup and a sandwich for $5.00.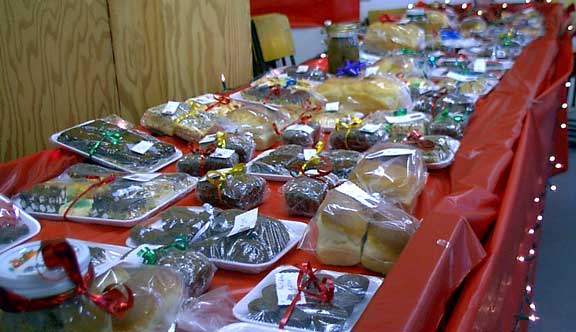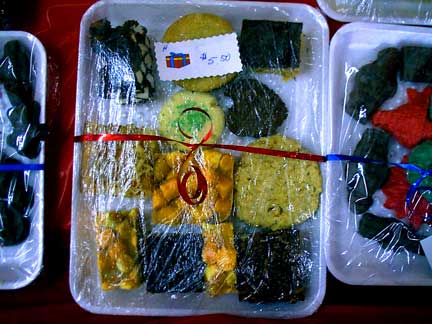 I must apologize for the pictures as I used a mixture of natural light and flash images. Last week I had tried to use only natural light and was disappointed with the number of images I had shaken into blurdom. But the harsh light of a flash burns out the light colours and reduces the subtle charm of the setting.

There were rabbits everywhere and here are a couple of examples (below).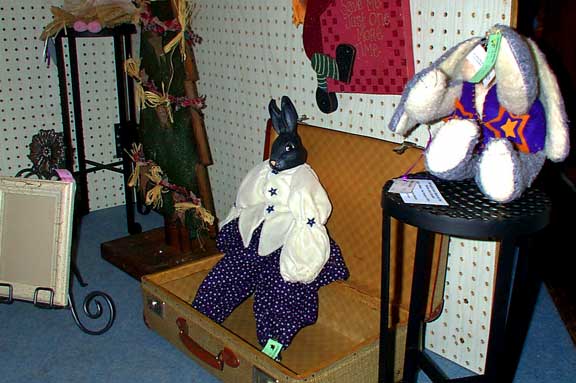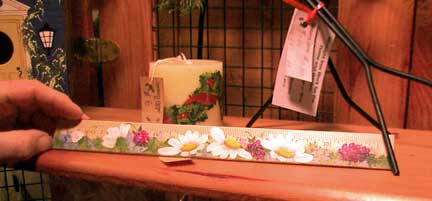 This remarkable piece of art work is an excellent gift a standard wood ruler embellished with hand painted flowers, very special.

The scene below is a good way to end this year's Cranberry Corner. Sorry about not getting this to you before the show was over but you will be ready for next year.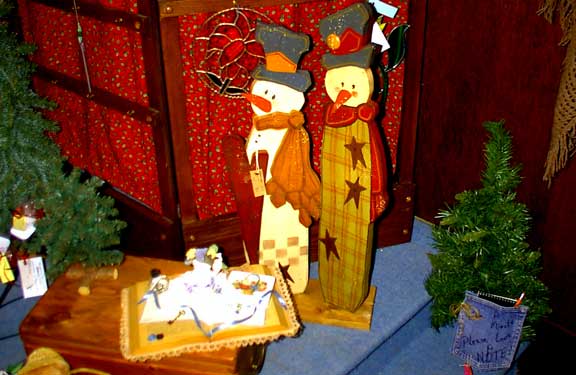 ---
Return to Ensign - Return to Saskatchewan News
This page is a story posted on Ensign and/or Saskatchewan News, both of which are daily web sites offering a variety of material from scenic images, political commentary, information and news. These publications are the work of Faster Than Light Communications . If you would like to comment on this story or you wish to contact the editor of these sites please send us email.
Editor : Timothy W. Shire
Faster Than Light Communication
Box 1776, Tisdale, Saskatchewan, Canada, S0E 1T0
306 873 2004