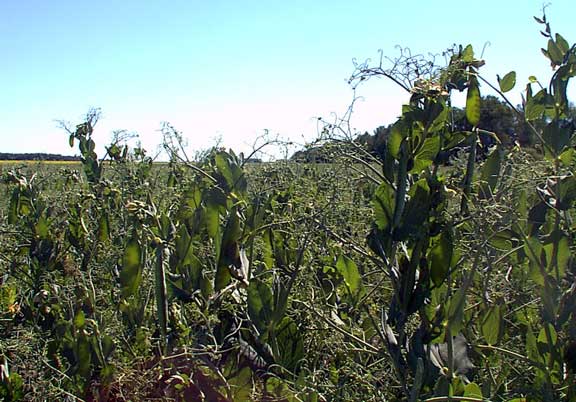 So, How's It Growin'? Part II
FTLComm - Tisdale - Sunday, July 7, 2001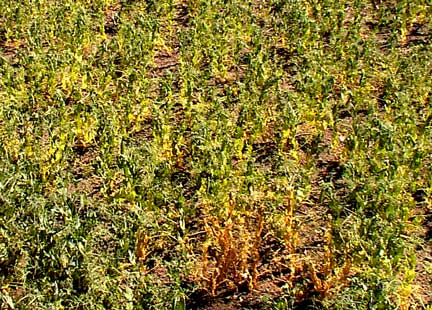 Yesterday we looked at Wheat, Barley and Canola crops.

The harsh growing conditions of 2001 have been particularly difficult for pulse crops. Yesterday we saw several crops of peas that were about three to four inches tall but did not realise how serious this crop was in jeopardy until we learned that many farmers have already begun cultivating them back into the soil as there will be nothing to harvest.

To examine this problem more closely we took a look at this fairly good looking pea crop South East of town
as seen at the top of this page.

Though from the road this looks like a normal crop as it is much larger than those seen yesterday it is only upon close inspection that you see the problem. The plants have begun to end their cycle drying off at the roots and leaving unfilled or pitifully small peas in the immature pods. This crop might be salvaged if cut for green feed but its pea yield if harvested will be small and the quality very poor. The pictures above and below show how the plants are parched and even a good rain now would be to late to save this field.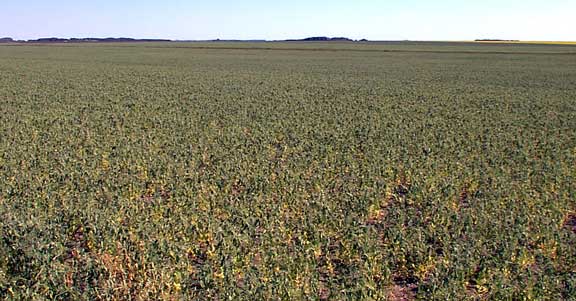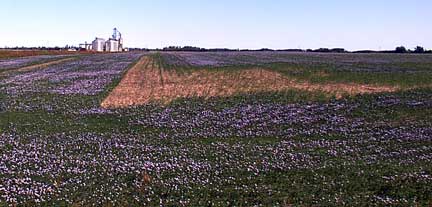 This flax crop is in bloom just beside the Louis Dreyfus terminal and is extremely spotty. It is a short crop but from the amount of flowers looks like it will produce some seed.

The possibility is that this field may have been a victim of those high soil drifting winds during the planting season.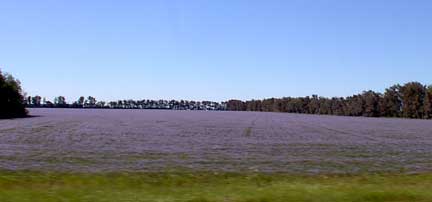 This flax crop is East of town and appears from the highway to be a lush growth and because of the shelter belt and perhaps the time it was seeded is much more uniform in appearance and growth.

Flax values have remained stable and even showing some improvement so these crops should be good cash crops for this year.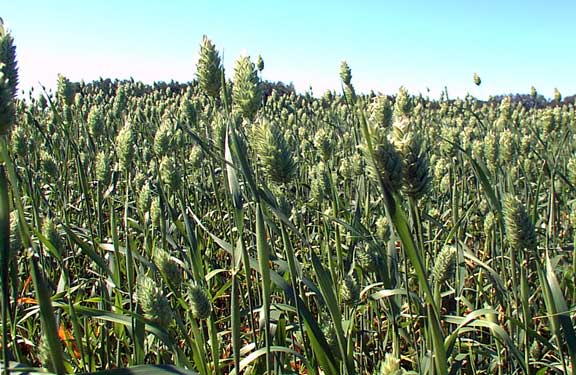 Many fields in the area have this unusual plant growing in it and it certainly puzzled this non-farmer as to what it was. However, showing a sample to some folks at 7-11 resulted in a grandmother explaining that this was "canary seed". The field below and above are just one of many very thick crops of this product in the area. The price of this product has remained quite solid compared with other grain prices.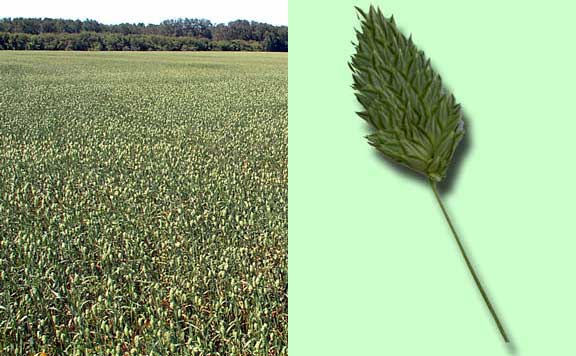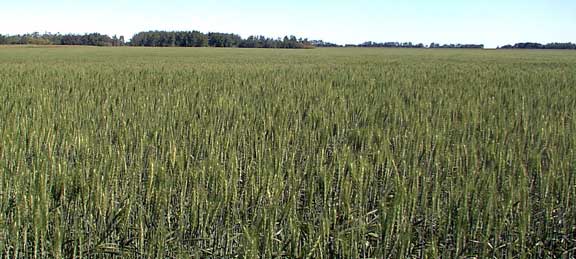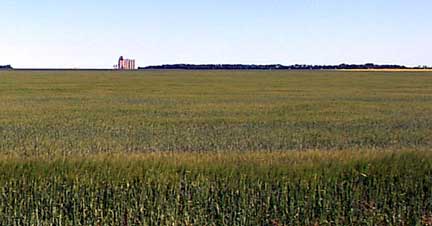 I was impressed with several outstanding crops of Barley seen South and South East of town. (above and right) These crops are taller than those seen yesterday and with much larger heads.

But one feature that surprised me was this crop on the right which is definitely in the process of ripening as you can see the golden tinge of approaching harvest on this field.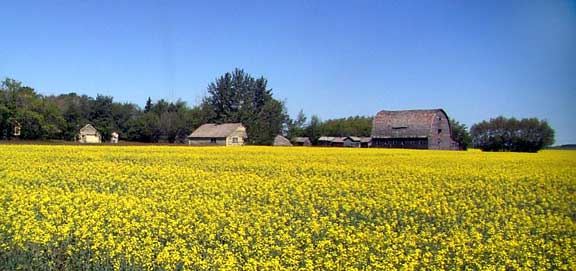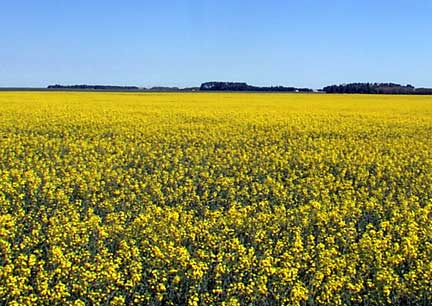 But clearly, Tisdale does not call itself the land of rape and honey for nothing. There are some truly spectacular Canola (rapeseed) crops in the area, though as mentioned yesterday they are shorter than last year some like this one are uniform and if the pods fill out can expect reasonable to good yields.

Canola in flower does not produce a noticeable aroma but this crop with such an extensive population of flowers was definitely something no nose would miss driving by windows up or not.

Canola for margarine, cooking oil, fuel and even experiments with hard surfacing roads is one of the wonder crops of this era and we can expect to see a wide range of uses of it develop including plastic making and fabrics. One day you could pull up to the pumps and fuel your hybrid fueled car with a mixture of Canola and methanol mixture.