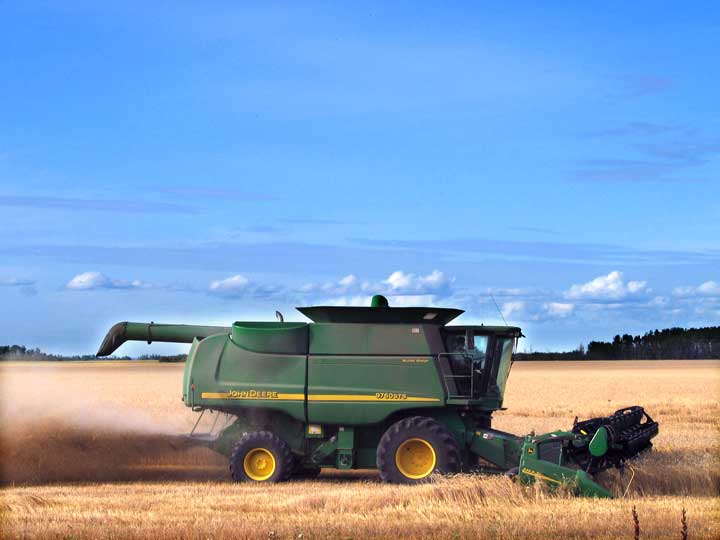 Judy Shire caught this straight combine process east of Tisdale near 5:00 this afternoon
Bringing it in
---
FTLComm - Tisdale - Thursday, June 11, 2009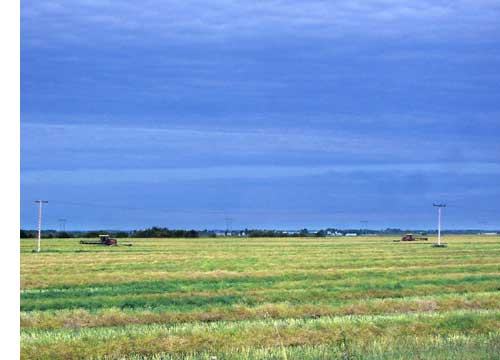 This has been a difficult harvest to capture in pictures. North of Tisdale about half of the fields have been combined with some already worked up while at the same time we can see fields like this one of Canola (right) still green, being swathed.
The barley crop below is a heavy one as two combines work their way through it this morning northeast of Tisdale while at the top of the page this wheat crop is being combined standing between Tisdale and Crooked River. The spread in time of planting and the cold have staggered this year's harvest.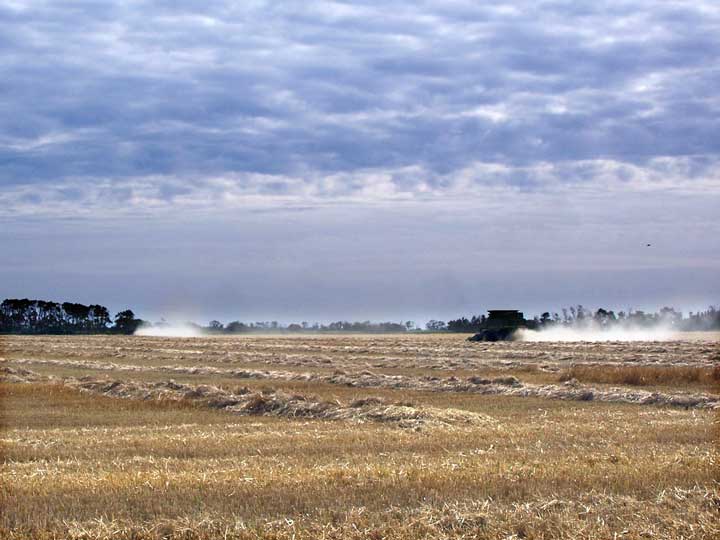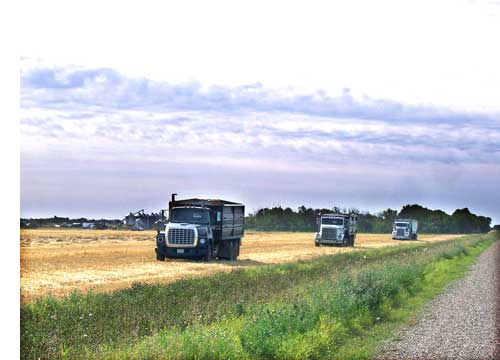 So far little is being said in the Tisdale area about yields but it looks like moderate to excellent crops are coming off. The size of the swathes suggest that this is a good crop but the cold summer will have reduced what is in the heads and pods.
One farmer in the Maple Creek area told me his rye was just excellent and the protein in his Durham was very high but the cold summer seemed to have encouraged the wild oats to be very abundant and real dockage problem for that part of the province.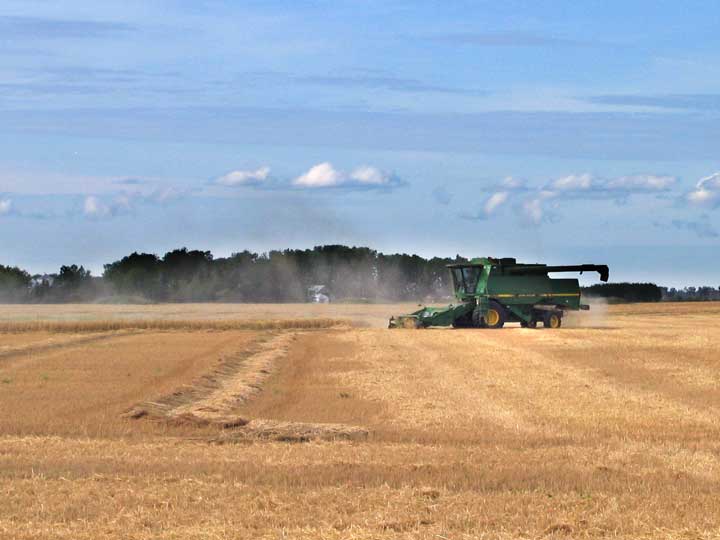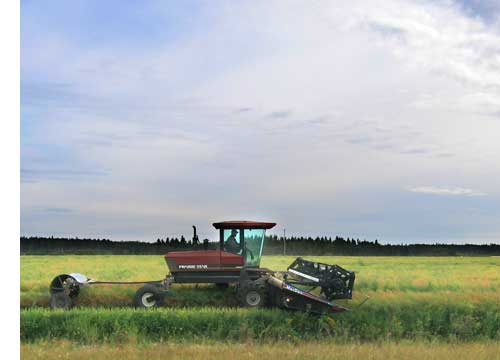 Last night I was talking to a farm lady from the Weekes area and I noted that the weather forecast looked good for the next five days and she replied that they really needed a month.
The Maple Creek farmer said that one of his neighbours has turned to a Hutterite colony who have finish their fields and he will have five of their combines in his field tomorrow.
Meanwhile the Melville / Yorkton area had showers both this morning and this evening. The Weekes farmers are not concerned about a little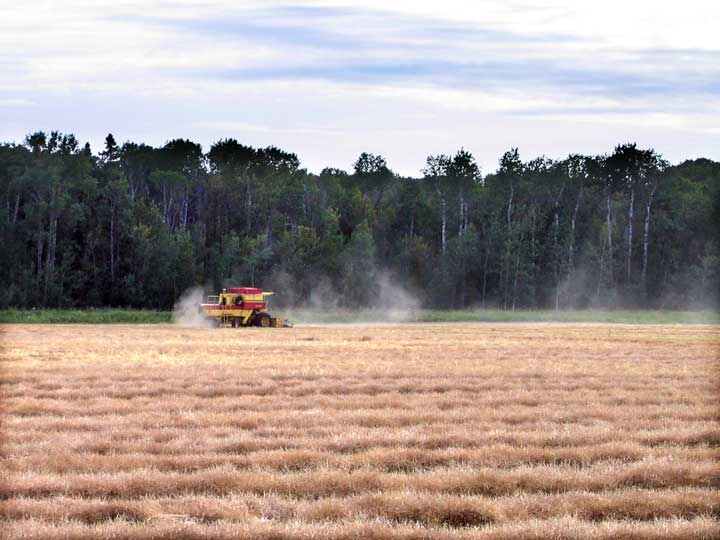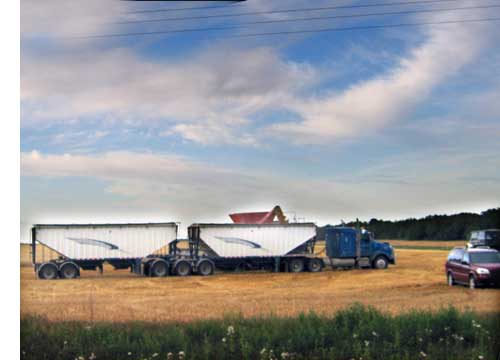 dampness as they are running everything through their drier system, 24 hours a day.
Down in the Maple Creek area farmers are busy planting fall rye with some crops already up an couple of inches.
Usually haying is wrapped up in June and July. This year that process is going along with the regular harvest and a surprising number of farmers are baling this year's straw.
Alfalfa grown for seed is still green as are most flax and uncut Canola crops.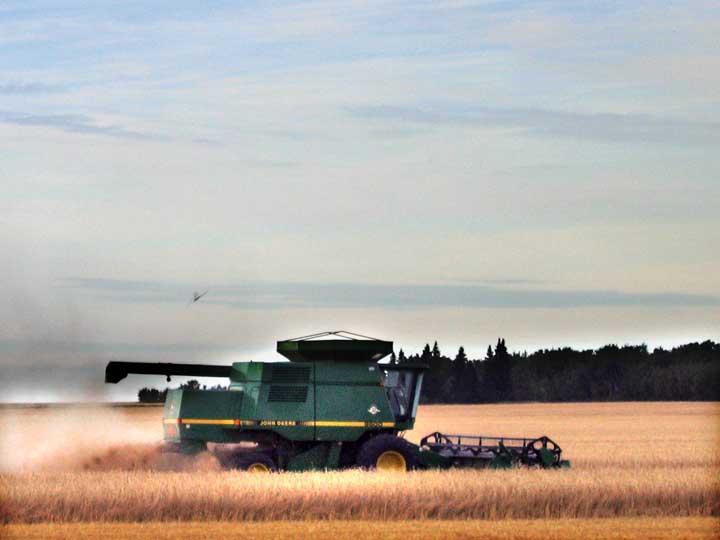 Image credits: After the top of the page picture the first three are by Timothy Shire all of the rest by Judy Shire
---
Return to Ensign or Saskatchewan News
This page is a story posted on Ensign, a daily web site offering a variety of material from scenic images, political commentary, information and news. This publication is the work of Faster Than Light Communications . If you would like to comment on this story or you wish to contact the editor of these sites please send us email.
Editor : Timothy W. Shire
Faster Than Light Communication
Box 1776, Tisdale, Saskatchewan, Canada, S0E 1T0
306 873 2004