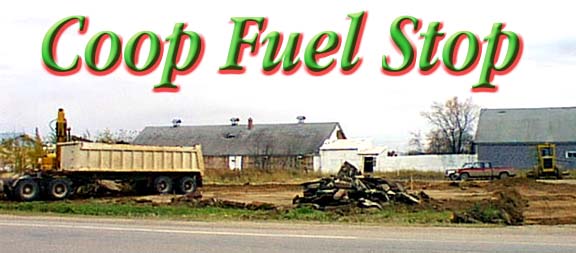 FTLComm - Tisdale - October 2, 1999
As we mentioned yesterday morning, work had not yet begun on this project located just West of the 7-11 and the junction of highways # 3 and # 35. Ensign first announced this project June 4, 1999 but aside from the clearing of gas lines and some staking little had been done in preparation for the project to begin. However, Friday afternoon this large back hoe and patrol set to work clearing the site. Two former businesses that once had operated here had left behind their concrete work and that material has to be removed.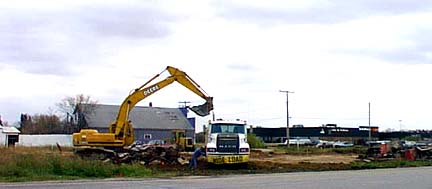 Melfort Coop has just about completed the construction of a similar facility focus primarily on the trucking industry. Here in Tisdale with the huge flow of heavy trucks through the intersection a few hundred yards to the East of this site, this is the ideal location for a major fueling stop catering to heavy trucks and their driver's needs. The Beeland Coop has a large piece of land here for development so it should be interesting to see this project take shape.
If this facility follows the procedure we saw in the installation at Melfort the first work will be a large excavation for the underground storage tanks. With those in place and their associated plumbing the footings for the main building would proceed, then its construction followed by concrete work to firm up the surface to hand the loads that will come on to the site as the interior of the building is completed. The Melfort project has been underway for only two months so if things go well on this site it is possible for it to open in December.