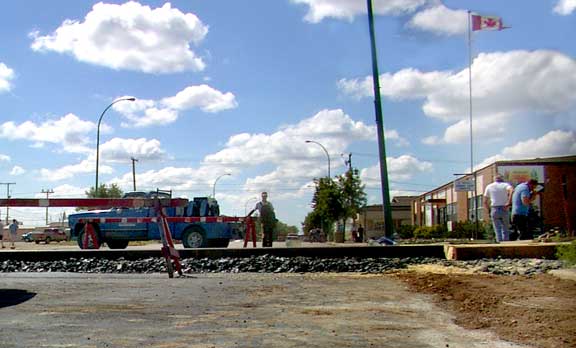 To High, Detour Still In Effect
FTLComm - Tisdale - Tuesday, July 24, 2001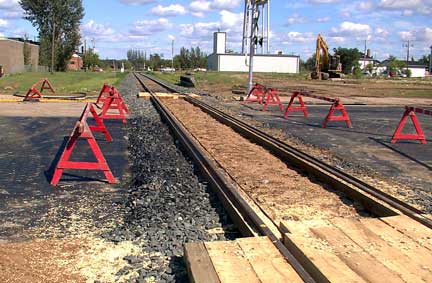 Work began Wednesday on the railway crossing on 100th Street which forms Tisdale's main street and is also higway #35. The traffic on this route is steady twenty -four hours a day so since then a detour has shunted the "B" trains and motorhomes, pickups and passenger cars a block East.

The project should have been complete Wednesday afternoon but a CN supervisor decided that instead of the inch and a half raising of the track way they might as well go up eight inches. A project that was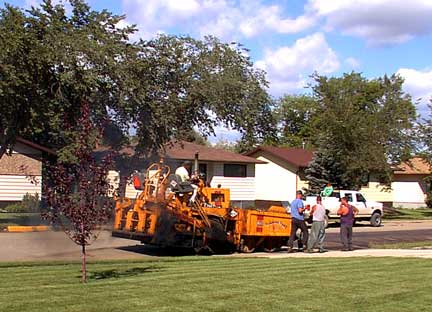 expected to cost Tisdale about $8,000 suddenly became more like $25,000 for the paving alone. CN says its the Towns problem and the Saskatchewan Department of Highways is not participating in sharing the costs of this project.

The lift was so great that it actually changes the flow of water in the drainage system designed to look after the area.

Despite the set back this morning Tisdale's work crew with the help of Patterson welding has finsihed up the curbs of the crossing and this afternoon it will be time to start applying that eight inches of pavement. Traffic should be flowing over this crossing by tomorrow.