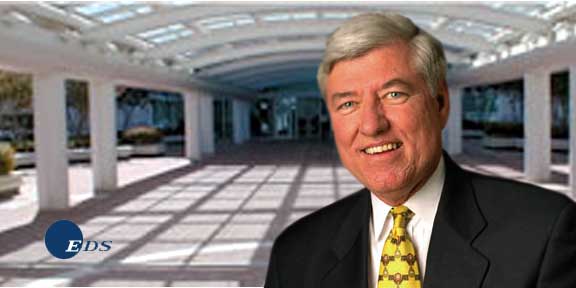 Richard H. "Dick" Brown CEO of EDS
Saskatchewan Government turns to EDS to look after the computer stuff
Regina - Friday, October 25, 2002 - By: Stu Innes
Consider the money pit known as SHIN Crown Corporation (Saskatchewan Health Information Network)
The government created SHIN with the supposed intention of improving the inefficiencies in our healthcare system and saving the taxpayer from higher healthcare costs.
After spending unknown millions they finally made the SHIN budget public and continued to spend $40 million and who knows how much more with the end result being that SHIN has become little more than a "middle man" who arranges for private business like Medi Solutions (see article by Mario De Santis - Corporate Big Brother, - from the fall of the year 2000) to profit at taxpayers and patients expense. Interestingly, this same company Medi Solutions reports a net business loss of over 50 millions dollars for the year ending March 2002. See - http://www.medisolution.com/en/index.html
MediSolution Announces Year End Results in Line with Previous Guidance
MONTREAL, July 24 /CNW/ - MediSolution Ltd. (TSX:MSH), a leading Canadian healthcare information technology company, announced today the results for its year ended March 31, 2002. Revenue for the fiscal 2002 year was $39.0 million compared to $62.7 million in fiscal 2001. The company experienced losses from continuing operations of $9.6 million before depreciation and amortization of fixed assets and technology, the amortization and write-off of goodwill, special and restructuring charges and other non-operating items. The company reported a net loss of $50.5 million, or $1.34 per share for the year ended March 31, 2002 after recording losses of $13.0 million from discontinued operations. This compares to net earnings of $3.4 million, or $0.10 per share in fiscal 2001
What will Sask Health do when Medi Solutions fails and there is no longer support for its products?
How does this new "behind the scenes" move toward (yet another American IT provider - remember DigiCare - (http://www3.sk.sympatico.ca/desam/paper-SHIN.htm) relate to the ongoing fiasco at Land Titles and multi- million dollar over run of dollars there?
It is true that SHIN has setup e-mail between some health facilities and a certain level of telehealth capability with several northern facilities but the fact remains that they spent far more than was needed, they have been at it for at least 6 years and the patient management software that has been introduced to several facilities was simply purchased from commercial software providers with the SHIN Crown Corporation acting as middlemen.
Perhaps the NDP plan to bring this American based company onboard to repair all the damage that they have done over the last five to six years or perhaps they are planning to blame them for all the problems after another year or so passes?
It seems remarkable to me that the NDP have become so determined that technology is the answer to the taxpayers problems here in Saskatchewan that they have created the Information Services and Technology Crown Corporation to primarily bring the Land Titles Registry into the digital age but they go on to try and convince voters that -
" the corporation will be in a position, because of its ability to deliver services and information securely and efficiently over the Internet, to partner with other companies and government organizations to deliver an array of services to customers."
Who are they trying to convince? the voters or themselves? Find their mandate here - http://www.isc-online.ca/isc_public/scripts/isc.asp?cfgpage=ABOUT
In addition, to the SHIN Crown Corporation we have IT departments in all the other crowns including SaskTel which ultimately ended up hosting the SHIN system of health records - which is another whole story involving questionable privacy legislation and our digital health records - yes folks I do believe that your personal and private health records are being hosted on the SaskTel server!
In any case voters may want to take a look at this and the related items found here at Ensign.
From my viewpoint the NDP appear to have paid hundreds of millions of good hard earned tax dollars to bring a perfectly good working system of healthcare and land titles in the digital age while ignoring the fact that voters, patients and the staff of these services are being starved out of the province and cheated out of basic front line service in the name of progress. It would also appear that they are positioning themselves to repeat the same mistake again in the name of efficiency and improving the system!
Perhaps they intend put even great Information Technology expenses into motion before they lose the next election in the hope that Sask Party will look bad while dealing with the problem and only last for one political term?
I just wish I had the resources afforded the Leader Post, Star Phoenix or Canada.Com so I could offer your readers a clearer and broader picture of what seems to be total confusion, waste and mismanagement.
PS:

I was just reading the Leader Post today and see that the Texas outfit that the NDP are considering for all the IT work in the province are the same jokers that did the Land Titles stuff - unbelieveable! I guess its true that those who do not know history are doomed to repeat it but what do we make of those who know the history and repeat it anyway?
References:
Mandryk, Murray, Gov't jobs may go south, October 24, 2002, Regina Leader Post
deSantis, Mario, Corporate Big Brother, November 1, 2000, Ensign
Electronic Data Systems, Plano, Texas, fact sheet
Perez, Juan Carlos, EDS defends accounting practices, February 13, 2002, IDG Ne3ws Service
Netwrok & Client Server EDS/Enron 1991-Present
Kobel, Marcus, EDS Earnings Up 20 Percent, Friday, February 8, Reuters

DS officials and several analysts have said there is no parallel between Enron's off-balance sheet deals and EDS, which arranges bank financing for some of its outsourcing customers to buy equipment that EDS then operates. The bank, not EDS, carries the credit risk unless EDS fails to perform and the contract is canceled, company officials have said.
Interesting work experience found in the resume of Jennifer Lowry. Ms. Lowry worked for EDS at Enron in the Houston office. She explains the work she did for Enron as an EDS employee.
---
Return to Ensign - Return to Saskatchewan News
This page is a story posted on Ensign and/or Saskatchewan News, both of which are daily web sites offering a variety of material from scenic images, political commentary, information and news. These publications are the work of Faster Than Light Communications . If you would like to comment on this story or you wish to contact the editor of these sites please send us email.
Editor : Timothy W. Shire
Faster Than Light Communication
Box 1776, Tisdale, Saskatchewan, Canada, S0E 1T0
306 873 2004