On Wednesday we proudly posted an outstanding image of a coyote eating a crab apple, it seems pretty ironic to post these pictures taken yesterday between Carrigana and Porcupine Plain of a pickup truck with fourteen dead coyotes that had been either snared or shot. You will notice in the pictures that the animals do not have feet. In order to collect the $20 bounty on each animal from the provinces Department of Agriculture and participating Royal Municipalities the hunter/trapper must turn in all four feet of the dead animal.
The coyote control program was announced on November 10th, 2009 and ends on March 31 2010. Under this program 18,000 coyotes have been killed and claimed for bounty. The CBC reports that in an average year about 21,000 coyotes are taken by trappers and hunters for their coats. It would seem that Saskatchewan tax payers are putting out a fair amount of money when this many animals would normally be killed anyway. Saskatchewan's Green Party makes this argument and says that the program is not effective in achieving its goals anyway.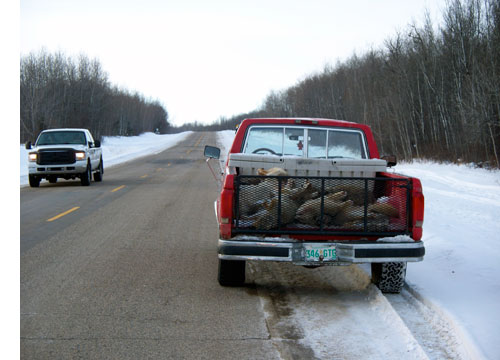 Preditors like the coyote do their job and that is to hunt and kill other animals and most of those animals are various species of rodents which are far more a nusiance than the coyotes themselves. In every ecology there are preditors and hunting them upsets the balance of things and if you kill the preditors pretty soon you find yourself up to your knees in diseased rabbits or ground squirrels.
However, the government of Saskatchewan (Saskatchewan Party) depends for its voter support almost entirely on Saskatchewan's rural population and in some areas of the province there are a few farmers who blame coyotes for their lack of farming success. Mostly this has been sheep ranchers who are so few in number in the province that they are hardly worth mentioning. But a vote is a vote and coyotes don't get a vote but it does appear that gophers and rabbits are being taken care of by the badly informed politicians.
We have seen time after time in this country politically popular culls of wild animals without much reference to research and old fashioned science. When we were in the Yukon the territorial government decided to have a massive cull of timber wolves who were blamed for a reduction in the moose population. After the program was carried out it was discovered that just as many moose calves were being killed by preditors as before the massive reduction in wolves. The scientists discovered that the real culprit wasn't wolves at all but black bears were killing the moose calves and the wolves had been given a bad rap.
Saskatchewan's scientists do not support the government program because it is simply unfounded by research and will actually, if successful cause far more problems then it is intended to solve.
In talking with the trapper who had taken these coyotes he said that only a few of the pelts would be sold because this year the fur market is just so depressed that he would be lucky to get $5.00 for a good coyote pelt. So the $280 he would get from the government was all these animals were worth to him. That strikes me as an enormous waste.