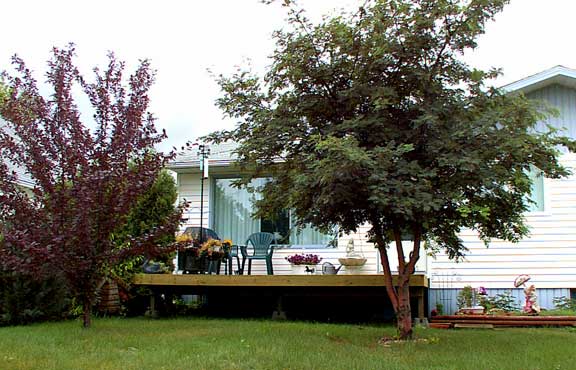 Out Front
FTLComm - Tisdale - Sunday, July 21, 2002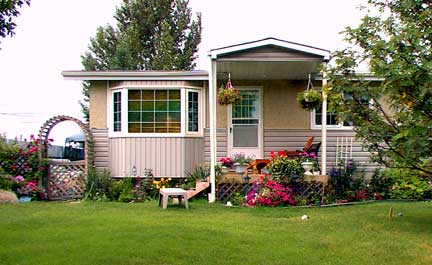 On June 10 we did a little story on our neighbours who decided to take off the front step on their house and replace it with a deck. (Above) Less than a block away another neighbour (right) had done the same thing and replaced the front step with a covered mini deck. This house has a covered deck in its back yard.

So today I took an hour or so and drove around town and photographed all the houses I could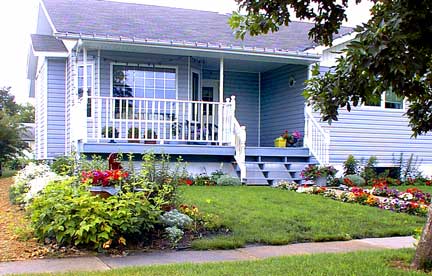 find that have a place in front to enjoy the outdoors.

I was surprised to see how many home owners either have homes that were originally designed with a front verandah or have added a deck to the front of their home. This one was built only a year ago facing the park on 100th street.

Others have kept it simple with a space to use at the front of their home.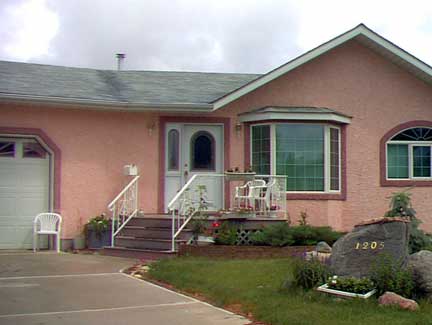 Many homes like this one have simply created a little extra space at their front door for a couple of chairs.

It was in the 1950s that the United States fad of cooking outdoors made a come back. A front porch was a main feature of houses decades earlier but the barbecue produced the "patio". Saskatchewan people began fashioning these outdoor areas in the late sixties as the barbecue became more popular.

My parents build pleasant patios in their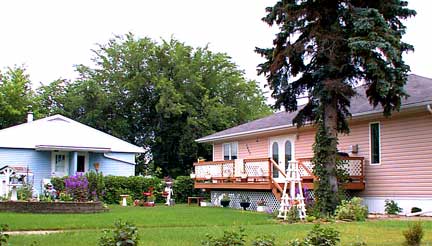 yards in Kipling and two in two different homes in Moose Jaw.

In the seventies the idea of having a wooden structure to enjoy outdoor living developed and soon most houses had one. We had a trailer out at Weekes in 1974 and built a 10 x 24 deck that was designed to be moved with the trailer and it did from Weekes to Imperial and then to Carlyle.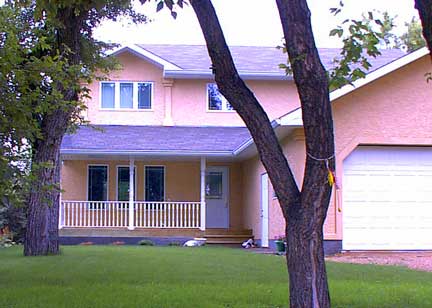 But as you can see in these pictures the deck out back and almost all of the houses in these pictures have a back yard deck for barbecuing has now been supplemented with a front sitting area.

Both new homes and older ones are being adapted as people are making use of that space in front of the house as well as in the back.

The one below left is really impressive as the front yard is surrounded by towering thick spruce trees and this home owner has a huge front yard deck.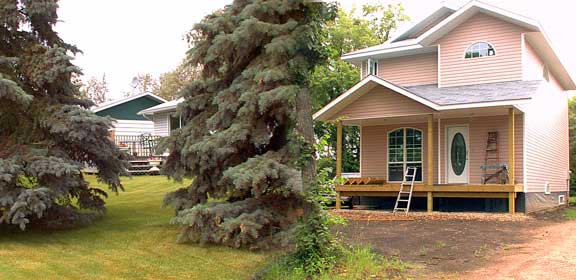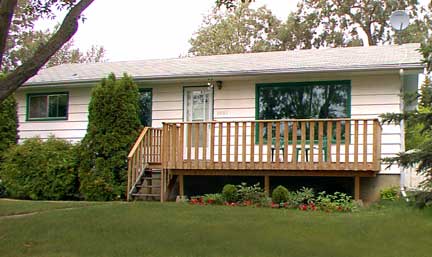 This is the conventional retrofit that is becoming very common here in Tisdale. A house built in the seventies with a new deck out front.

Some houses really lend themselves to this arrangement. The two below especially where it seems natural to have a clean dry area to use on the street side of the house.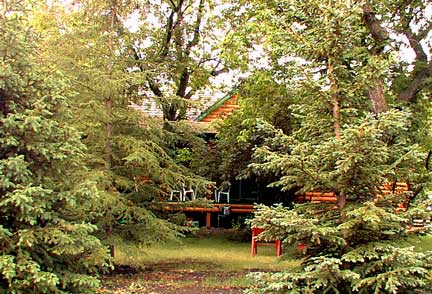 This house just was give a little fresh air when some of the trees on the South side of the huge lot were thinned out a bit but this deck looks like a special spot in the lives of its owners.

The house below left seems to have developed a bit of protected privacy around their front area and the new house on Newmarket, still unsold (right) had its front and back decks built with the rest of the house by "Rise Construction".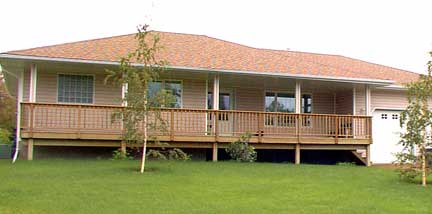 This home is on a very large corner lot and like the new house above included both a back and front deck when it was constructed.

Besides providing for a nice place to sit these front areas are ideal for the green thumb crowd as they offer an excellent location for potted plants and surrounding planters.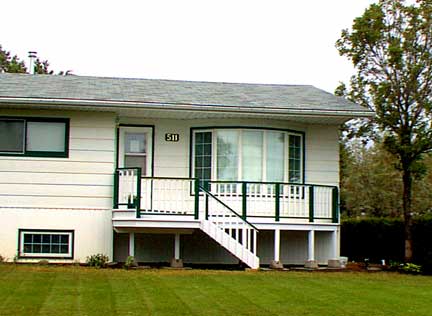 This house once had no basement and its owner lifted it and has continued to upgrade the house and yard with a new huge deck in the back yard and this creative front deck that sets off the charm of the bay window.

The two houses below included in their original design ground level front space and both of these home owners take advantage of the area. The house on the left has used shrubs to create a private but attractive front entrance.

These four houses below are all in sight of one another. The most interesting one is the upper left house where its former garage (this house was moved into town from its original location) has been converted into a interesting multilevel front deck. The concrete has already been poured for the garage that will go on the right side of the house.