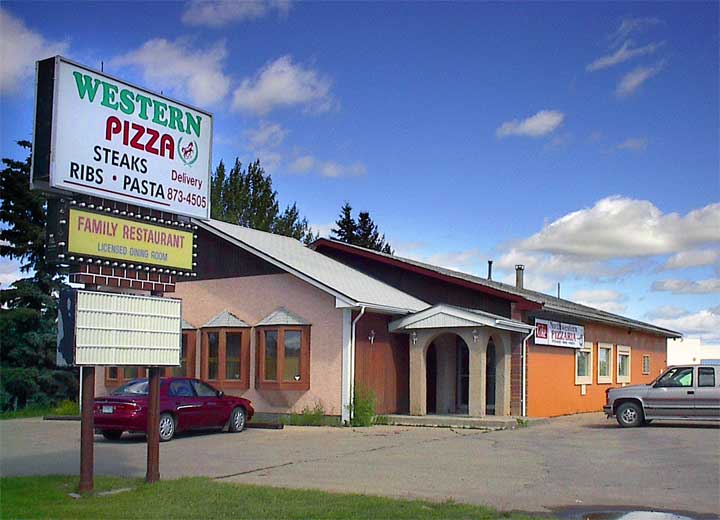 What about lunch?
FTLComm - Tisdale - Thursday, August 26, 2004

Readers of this web site will remember my quest for breakfast so it will come as no shock to anyone that the quest for lunch is going to take a while.

When it comes to lunch in Naicam we solved that problem but in Tisdale its a little more complicated. It looks like a toss up between Mr. Ribs and Chicken Delight when it comes to those folks who make a regular habit of "doing lunch". Both have loyal customers, I have often enjoyed Chicken Delight's soup and sandwich lunch and never found it lacking. But there are many other contenders.

The Co-op tries hard with their limited space and also have some pretty loyal customers.

My way has a nice reasonable menu and Wolfers and The China Wall can get you through the afternoon. Sweet Aroma is special and its outstanding atmosphere make it an excellent choice.

A safe and filling lunch is served up at Subway and the strong coffee and a few smokers make A&W a definite no go for me. Similarly, NIbblers is totally off limits it simply "takes your breath away."

Western Pizza is a new business in Tisdale and last Thursday I dropped in for lunch. It is definitely a contender for several reasons. The menu is varied enough that you will find something to your liking. I chose the $5.49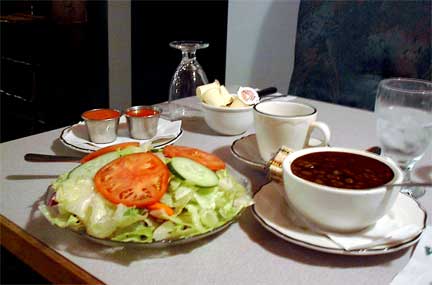 soup and tossed salade. The service was first rate with real ice water, excellent coffee and smiles. It was only a few minutes from the time I placed my order until my soup arrived and what a soup.

Now when it comes to soup in Tisdale, Chicken Delight is very very good and of course Sweet Aroma has absolutely superior flavours, but the Western Pizza's beef and barley soup gets a round of applause from this taster. Rich beef broth, great chunks of first rate beef and the temperature, just right. Actually, when you get a soup like that it doesn't matter what comes next, the soup said it all.

However, my salade was just fine and in a good quantity. The atmosphere in Western Pizza is great for any size group and its definitely on my recommendation list.
Return to Ensign - Return to Saskatchewan News
This page is a story posted on Ensign and/or Saskatchewan News, both of which are daily web sites offering a variety of material from scenic images, political commentary, information and news. These publications are the work of Faster Than Light Communications . If you would like to comment on this story or you wish to contact the editor of these sites please send us e-mail.
Editor : Timothy W. Shire
Faster Than Light Communication
Box 1776, Tisdale, Saskatchewan, Canada, S0E 1T0
306 873 2004