Tisdale Superannuated Teachers Meet with Provincial President
Tisdale - Monday, November 1, 2010 by: Darlene McCullough

Tisdale Chapter of the Superannuated Teachers of Saskatchewan met on Monday, October 18 in the Anglican Church Hall with the Provincial President, Margaret Martin of Saskatoon, as their guest speaker.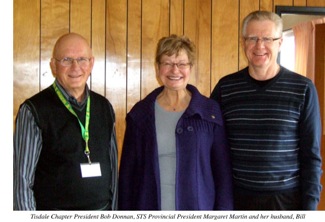 Following a delicious pot luck lunch, Tisdale Chapter President, Bob Donnan, called the meeting to order. He welcomed everyone and introduced STS Provincial President Margaret Martin and her husband Bill of Saskatoon.

In her presentation, Provincial President Margaret Martin brought the Tisdale Chapter members up to date on business at the provincial level. Our STS membership is now 9,399 in our 43 chapters with the Tisdale Chapter having 102 members.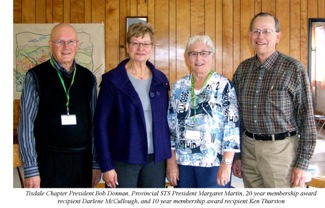 She dealt extensively on the Benefit Plans that are so important to many of our members with explanations regarding the recently introduced use of the card for submitting prescription costs, what happens regarding benefit payments if a superannuate returns to teaching, as well as the travel insurance that is included in our Benefit Plan. She also shared information regarding the STS publication "Outreach", our pension plans, the duties of the provincial executive members and then left time for questions. Bob Donnan then presented Margaret with a gift of honey in appreciation of her visit to the Tisdale Chapter.


A short business meeting included the presentation of membership awards. Margaret presented a ten year membership pen award to Ken Thurston and a 20 year membership key fob award to Darlene McCullough. Other members who had earned ten year awards but were not present at this meeting were: Winnifred Anderson, Gwenne Degenstein, and Bob Price. Other members who had earned a twenty year award but were not present were: Audrey Dahlsjo, Therese Mahussier and Earl McNair.