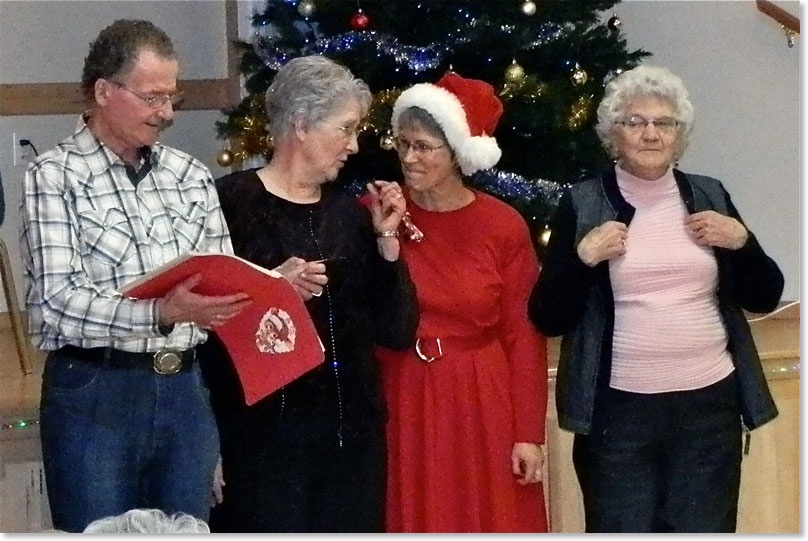 Superannuates enjoy Christmas social

Tisdale - Thursday, December 15, 2011 by: Darlene McCullough
Over seventy members of the Tisdale and Melfort chapters of the
Superannuated Teachers of Saskatchewan
met in the
Golden Age Centre
in Tisdale on Tuesday, December 6. Tisdale superannuates hosted the event with
Melfort
members as their guests. President of the Tisdale chapter,
Bob Donnan,
welcomed everyone and then
Dennis Dahlsjo
asked the blessing before they all enjoyed a delicious turkey dinner with all the trimmings. Thanks to
Kristie MacDonald
of
Archerwill
for preparing this feast!

The afternoon program began with a short adaptation of the familiar story of
Cinderella
.
Karen Scammell
played Cinderella,
Deanna Gruending
played her stepsister,
Steve Holowaty
played
Prince Charming
,
Fran Tatlow
played the
Fairy Godmother
with
Darlene McCullough
as the narrator.
Karen
,
Deanna
and
Darlene
are members of the
Tisdale Chapter
while
Steve
and
Fran
are members of the
Melfort Chapter
.

Next item on the program was a mime about family activities at the Christmas season with
Bob Donnan
as the father,
Maureen Donald
as the mother,
Alice Hoffart
as the daughter, and
Uffe Vors
as the tree. After all, what would Christmas be without the tree?
Deanna Gruending
narrated the story while
Jim Hoffart
provided the background music.

Another delight of the Christmas season is the special music at this time of year. As
Audrey Dahlsjo
accompanied them on the piano, the members enjoyed singing the familiar and favourite carols of the season.

Tisdale Chapter members had brought wrapped Christmas gifts and throughout the afternoon numbers were drawn and the members were able to select a gift off the gift table.

With a final Christmas greeting, everyone left for home having enjoyed the meal, the entertainment, the music, and the socializing.




I
mages by: Darlene McCullough, Mrs. Donnan and Timothy Shire
Video by: Timothy Shire