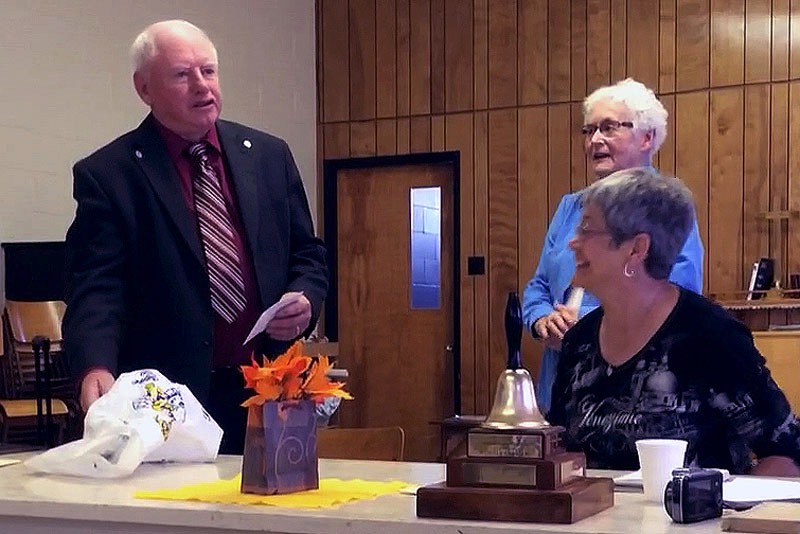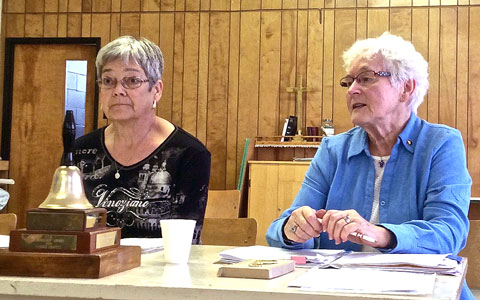 Provincial President visits Tisdale superannuated teachers
Thursday,October 23, 2014
by Darlene McCullough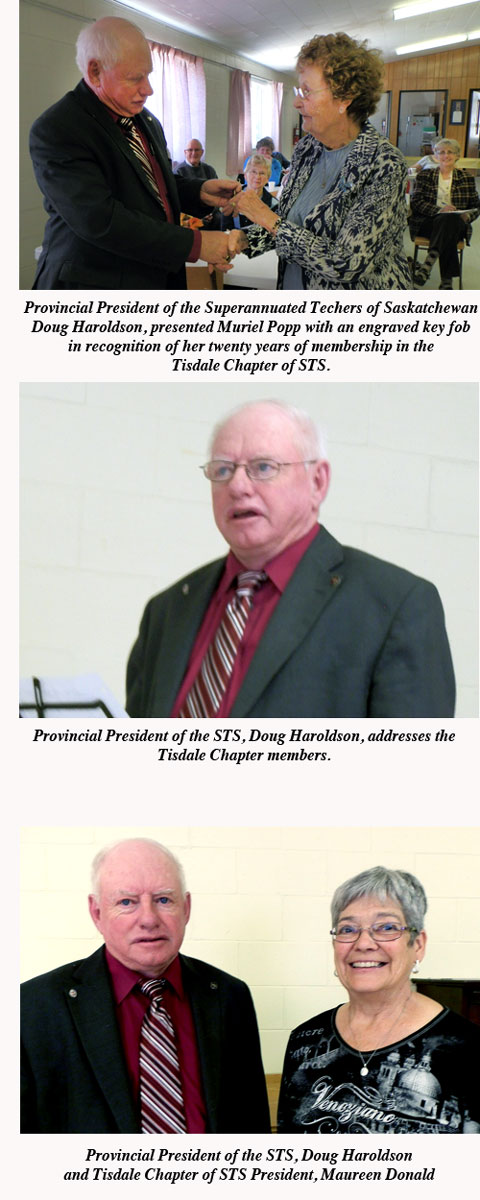 Doug Haroldson
of
Maple Creek
, Provincial President of the Superannuated Teachers of Saskatchewan, visited the Tisdale Chapter of Superannuated Teachers on Monday, October 20.


Twenty-five members of the Tisdale Chapter plus four guests met in the Anglican Church Hall at noon. They enjoyed pizza and salad while doing some socialising. A short business meeting followed the lunch. Doug Haroldson presented
Muriel Popp
with a key fob in recognition of her twenty years of membership in the Tisdale Chapter of STS. Tisdale Chapter President,
Maureen Donald
, introduced the guests: Doug Haroldson, his wife
Cheryle
,
Kate McCorriston
of Nipawin, who is the provincial executive liaison for the Tisdale Chapter and
Lynda Gudjonson
, the President of the
Red Deer River Valley Chapter
of STS.

In his presentation, Doug Haroldson spoke on the role of the STS, the direction of the STS, the
Health Plans
, the importance of policy and the
Retirement LifeStyle Planning Seminars
. He announced that the Chapter Presidents' Meeting will be held in Saskatoon on October 29. The STS will be moving to offices in the Teachers' Credit Union building which is next door to the STF building. It is hoped that that change will be completed by December 1. To assist with the move, an additional part-time office assistant has been hired. Doug then answered questions posed by the Tisdale members.


Darlene McCullough
, Secretary-Treasurer of the Tisdale Chapter, thanked Doug for sharing this information with the Tisdale members and presented him with a gift of honey as a reminder of his trip to the "Land of Rape and Honey".

Below is a video of Mr. Haroldson's speech which is just under fifteen minutes in length..