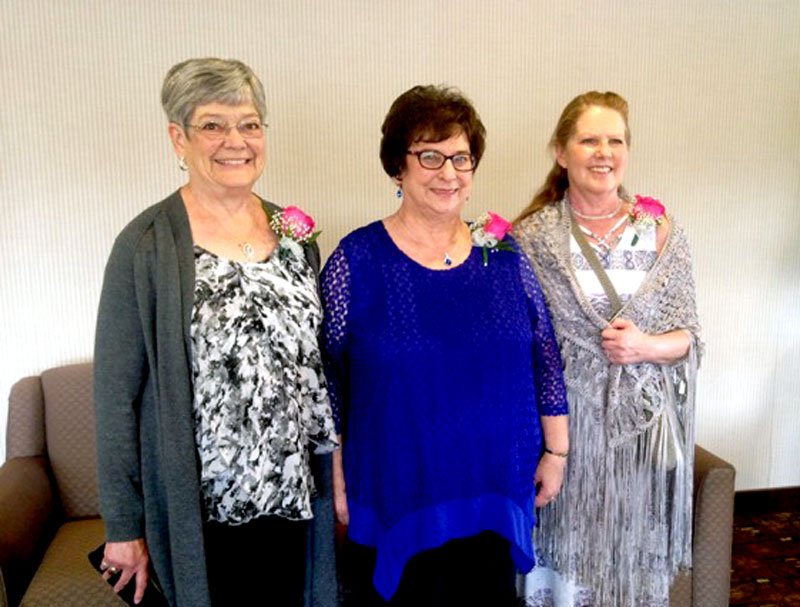 Maureen Donald, Stella Shulhan and Kate McCorriston, recipients of 2017 Honourary Life Memberships in the STS
Tisdale
Monday,June 5, 2017
by: Deanna Gruending
The ballroom of the Travelodge Hotel in Saskatoon was hushed, and banquet attendees stood as three long-standing members of the Superannuated Teachers of Saskatchewan entered. The three to be honoured with Honourary Life Memberships were Kate McCorriston of Nipawin, Stella Shulhan of Saskatoon, and Maureen Donald of Tisdale. Each one has made significant contributions to retired teachers in their local community and at the provincial level.

For Maureen Donald, it was a double honour, because she is the second in her family to receive an honourary life membership with the STS. Her father, Ralph Coffey, was similarly honoured in 1981. Maureen joins the likes of well-known educators like Dr. Stirling McDowell, Sylvia Birnie, Siegrid Schergel and Darlene McCullough in achieving this recognition.

Maureen was born in Whitewood, SK and attended mostly rural schools, graduating in Kinistino. Her post-secondary education started at the University of Saskatchewan with a two-year Education program. She began teaching in Choiceland in 1962. Adding a summer school at the Universite de Quebec and off-campus classes, Maureen completed her Bachelor of Education in 1989. Though retirement came in 1993, she continued to teach until 2003 in the Tisdale School Division.

Immediately after retiring, Maureen became active in the STS. By 1995, she was phoning, hosting and attending the STS AGM on behalf of the Tisdale Chapter, as well as promoting STS membership to retiring teachers in the Tisdale School Division. She has been president or vice-president for five two-year terms, has judged the Legion poster and writing contests for the STS, organised retired teachers to sell pie and coffee at the three-day Doghide River Festival, and has been joint-coordinator/compiler of the
Tisdale Division Schools History Book
.
She played a key role in the Chapter's 30 year anniversary celebration in 2013. Maureen has continued to attend the AGM almost without a break since 1995 and is presently leading the chapter through major transition as president in 2016/2017.

Maureen's community involvements are extensive: leading the Cancer Society's Daffodil campaign seven years, contributing to the
Tisdale History Book
, and being a board member of the Tisdale Housing Authority Board eleven years, chairing from 2013 to 2017. Her involvement with her church spans all aspects –finance, Christian Education, Presbytery, JNAC, Search Committees, and transition teams. In addition, she raised three children and had a hand in raising six grandchildren. In November 2016, the Town of Tisdale named her
"Volunteer of the Year"
.

Maureen is certainly a worthy recipient of this honour. It was bestowed May 10 in Saskatoon.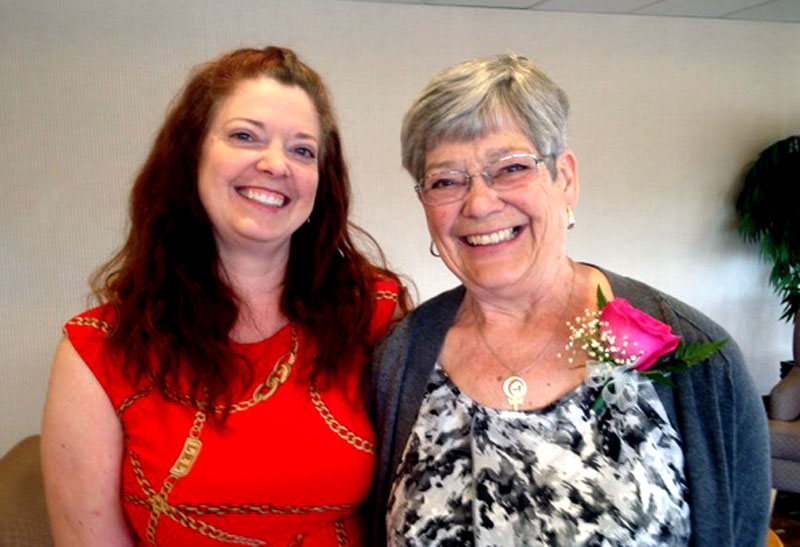 Maureen Donald and her daughter, Terri at the STS AGM in Saskatoon