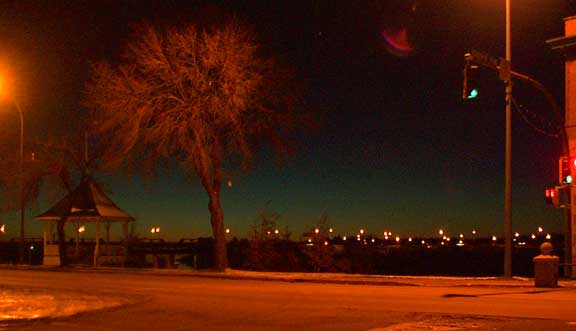 Prince Albert at 7:00 Sunday night
FTLComm -Prince Albert - Monday, October 21, 2002
Saskatchewan's third largest city and one of the oldest in the province. The city has a rich heritage of beautiful old structures and a remarkable history to go with the buildings that give it both charm and character.

On Sunday night I stopped at the main banking corner, one block South of the City hall and created the QuickTime Virtual Reality panorama that you can see below.

Prince Albert has been undergoing some major changes in its structure as a new mall/shopping complex has developed on the East end of the city so that Prince Albert now has three large shopping centres. Its massive downtown mall which includes SEARS, Staples, Zellers and the Brick then the South Mall which has Safeway, a new Winners and other shops. The newest shopping area called the Cornerstone includes Wallmart, IGA and a host of other outlets a block from the Superstore.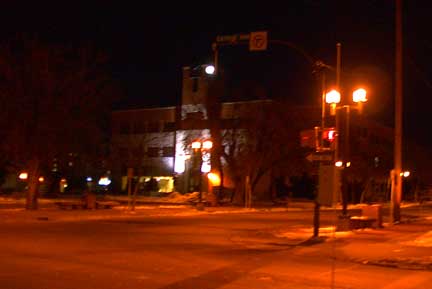 This huge shift in retail has done immense damage to the core of the city. Many of the downtown Central Avenue stores are for rent or closed and the streets have a shabby unkempt look.

Prince Albert relies heavily on the large rural population of Northern Saskatchewan and for this reason has gone all out to attract trade to its retail outlets but in doing so the core of the city has been left to die. With at least seven prisons in or around the community and a significant urban unemployed population the city has an over all run down appearance and this is probably not the making of its residents or even its local government.

The concentration of unemployed people from the province's Northern communities is an attempt by the people from the North to find themselves better lives but with so many caught in the same location the makings of a ghetto with all that it involves seems inevitable. Beggars and street prostitutes are major feature of the city but also a serious sign of the underlying issues that plague its population.

Situated on the banks of the Saskatchewan River beside a remarkable forest with recreational areas all around, Prince Albert should be one of the choice spots in the province but instead it is a sad fearsome place with signs of neglect and poverty everywhere for one to see.

To view the scene below your computer must have QuickTime, the extensive and detailed image will not display using Window's media player. QuickTime is a free enhancement and can be downloaded and installed easily on any computer.
---
Return to Ensign - Return to Saskatchewan News
This page is a story posted on Ensign and/or Saskatchewan News, both of which are daily web sites offering a variety of material from scenic images, political commentary, information and news. These publications are the work of Faster Than Light Communications . If you would like to comment on this story or you wish to contact the editor of these sites please send us email.
Editor : Timothy W. Shire
Faster Than Light Communication
Box 1776, Tisdale, Saskatchewan, Canada, S0E 1T0
306 873 2004