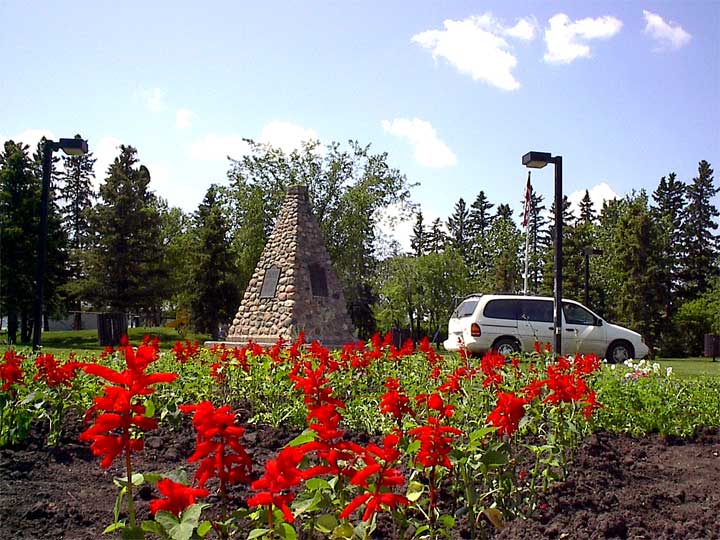 Flower beds being planted
FTLComm - Tisdale - Saturday, June 11, 2005
Each year the flower beds in the Cenotaph park and some other public places are decorated with plants that will bloom through the summer months. Several years these projects have had a tough time of it with frost in early June. This year it is about two weeks later than years before that the flower beds are getting dressed up.

With this being the centennial year for the province and for the town of Tisdale this year's display will be depict some important symbols.

The front display closest to the street is being laid out with a design to put in flowers the Saskatchewan emblem for this year's Centennial celebration.

The second display (right) is portraying Saskatchewan's flower emblem the prairie lily.

The work was going all all day today and we should see the main project completed early in the coming week.

The gentle rain and temperatures that have stayed above freezing have contributed to Saskatchewan look very lush and green. Lawns here in town are definitely enjoying the weather and have the dark green that can been seen in the park lawns. The town Parks and Recreation people have been working hard keeping up with the growth and everywhere you go in town the lawns are much better than the streets and definitely better than the sidewalks.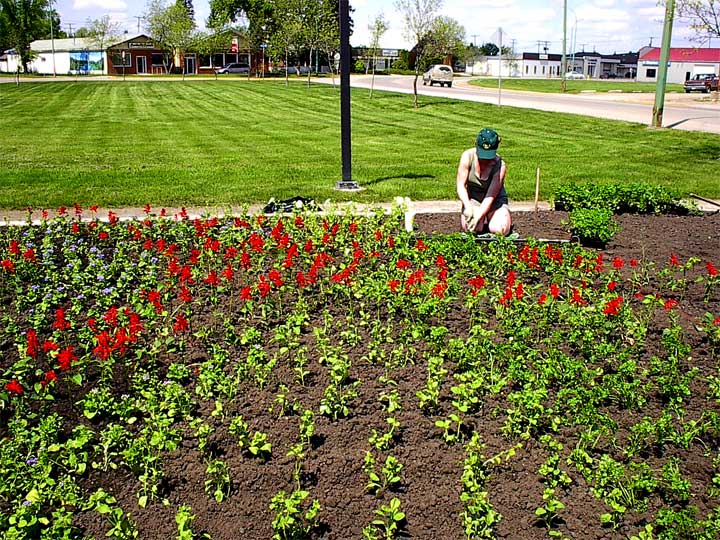 Return to Ensign - Return to Saskatchewan News
This page is a story posted on Ensign and/or Saskatchewan News, both of which are daily web sites offering a variety of material from scenic images, political commentary, information and news. These publications are the work of Faster Than Light Communications . If you would like to comment on this story or you wish to contact the editor of these sites please send us email.
Editor : Timothy W. Shire
Faster Than Light Communication
Box 1776, Tisdale, Saskatchewan, Canada, S0E 1T0
306 873 2004