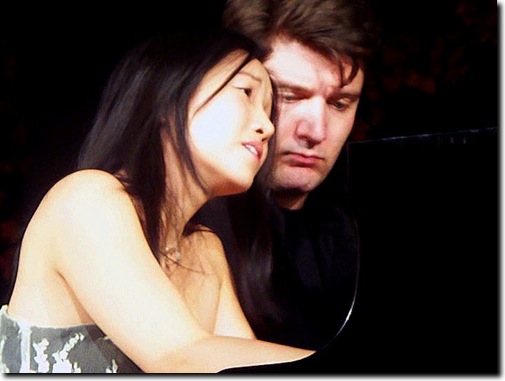 Bax & Chung

FTLComm - Tisdale - Monday, November 1, 2010

Sometimes you just get a feeling inside that tells you that you were very lucky to have had this experience. That's how I felt as we got up from our seats Saturday, October 30th in the RECPlex theatre after enjoying the first concert of this season of the
Tisdale Arts Council
.
Lucille Chung
and
Alessio Bax
had just transported us through a magnificent experience using only a piano to give me that warm, "gosh its good to have been here," moment in my life.

This married couple are each accomplished world class concert pianists who have performed all over the world and make their home, for what must be only a few weeks of the year, in New York, as they seem to be on the road touring through really hectic schedule.


Lucille Chung
is thirty and was born in
Montreal
, speaks French, English, Korean, Italian, German and Russian all that besides being a dramatically gifted and emotional virtuoso. She began to show explaining a bit about what they were going to perform and from the image above you can see she is wearing the dress seen on the cover of her latest album.


Alession Bax
is thirty-three and was born in Bari Italy graduating from the conservatory of music there when he was 14 and went on to study in Dallas Texas. Speaking after his wife he explained the programme up to intermission then sat down at the piano and we were gone into the world of Mozart.


Mozart
is a very precise form of music and it is its precision that captivates the listener and sets up expectations for what the recurring theme of the
Sonata in C Major
delivered. Though Mozart did a number of very popular Sonatas in C Major this one
"K. 521"
was written specifically for four hands.

With Mozart out of the way the couple moved on to the romantic composer
Johannes Brahms
with a series of
sixteen almost linked waltzes
. The last one hinting at the most famous lullaby tune we all associate with the composer. The neat thing about these pieces is that they too were written specifically for a four handed presentation.

I truly love Mozart but the emotional nature of the couple blending their talent together with such a wide range in emphasis and volume was truly winning and along with the rest of the audience I was swept into another world.

After intermission the duo presented
Calgary
composer and pianist
Heather Schmidt's
Centurus A
and M
s. Chung
read a greeting from the composer to the audience. Together they played the ten minute piece composed specifically for four hands though normally presented on two pianos. Contemporary music is not something most people are used to as it is filled with clashing dissonant sounds and a crashing rhythm. The delivery was outstanding but Mozart and Brahms are more to my liking.


Mr. Bax
introduced the last portion of the show a series of five dramatic and emotional tangos. These five pieces written by the late
Astor Piazzolla
an
Argentinian
composer who put jazz and classical sounds into the haunting rhythm of the Tango. These pieces were not arranged by the composer to be performed as duets and the arrangements were made by our amazing performers. The numbers went from dreamy to steamy in a fraction of a second and I couldn't help feeling I was watching a mysterious European movie as the music seemed to be elevating the conscious mind to the realm of images and feelings from joy to remorse, again one instant after another. These fine numbers were the highlight of the show and the last one was a killer.

Though the audience responded with an enthusiastic and prolonged standing ovation the couple came back on stage for another bow but did not present an encore.

Three video clips are with this story to give you a feel for the evening's performance. Since the main part of these clips is the wonderful music for easy of downloading they have been trims so that the video quality is very poor.


Bax & Chung
went on to perform in
Rosthern
on Sunday night, tonight they are in
Watrous
, Tuesday in
Weyburn
, Saturday, December 4 in
Winnipeg
and on and on through December performing in
Snow Lake
,
Kipling
,
Langenburg
,
Yorkton
and
Wynyard.