Another Tuesday, Another Market Day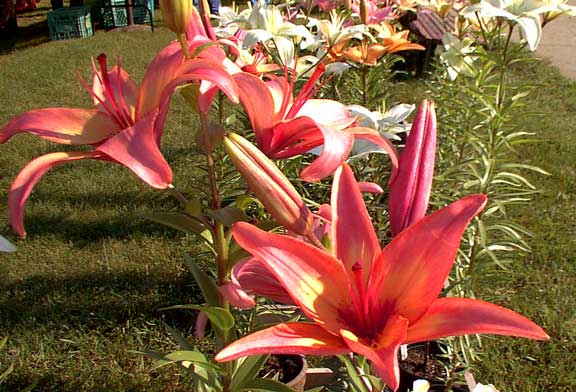 FTLComm - Tisdale - July 25, 2000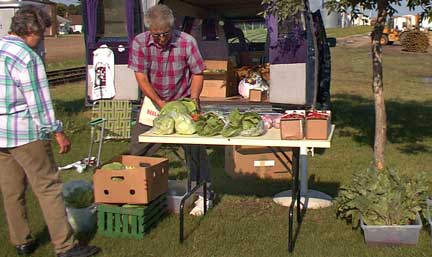 Contrast the chilly ten degree weather of a week ago today with the brilliant sun and warm temperatures of today. This week's market in Tisdale has more vendors and of course that means more diversity in the products available.

This morning Rudy's strawberries were utterly amazing, ideally sized and ripe to perfection. A minute after this picture was taken Rudy moved his umbrella around to provide some shade for the produce on the sales table. He really didn't need to as the goods were being sold at the rate he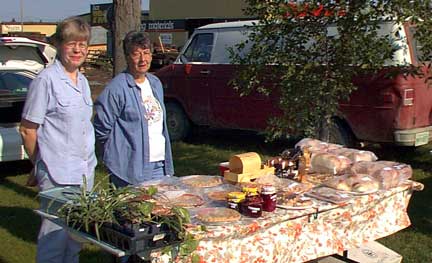 could set them out.

Pies, buns, fresh bread, cakes, tarts and home made jellies made this a table to visit. Fortunately I had just finished breakfast but on an empty stomach this one would have been a definite pocket cleaner.

The flow of customers up to the market site was quick as people either walked or stopped their vehicles and scooped up bargains and excellent values. The farmers market is open every Tuesday in Tisdale from nine til noon.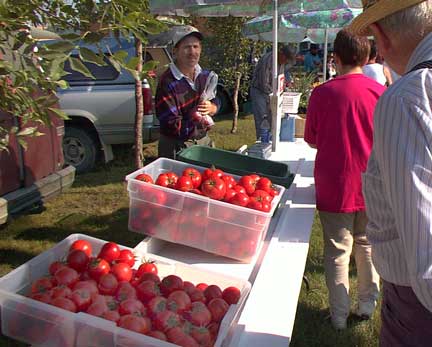 Right from the hot house to the market table, the most impressive display of first quality tomatoes is just simply stunning. This producer is situated in Carrot River and his tomatoes were truly remarkable.

As I was gazing at the bright red globes I pointed out to a friend that my tomatoes were still green, well not exactly the tomatoes, just the plants. Lovely stocks and leaves now adorn the place where the tomatoes are suppose to be but they have not even flowered yet so the chance of seeing a tomato in our back yard is pretty slight this year.

Putting a crop of tomatoes in a green house makes excellent sense, not just because of this year's cool temperatures but because so many growing factors can be controlled to produce really
excellent products.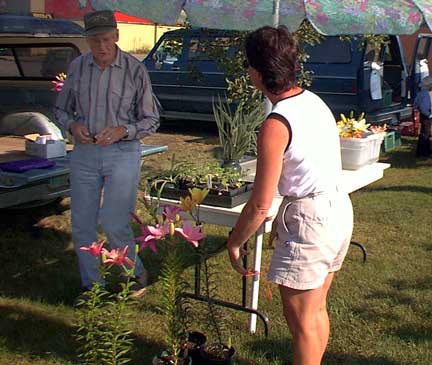 And, speaking of excellent products, this producers brought these really wonderful lilies to market today ready to take home and enjoy or transplant into a flower plot. The close up at the top of the page shows the wide variety of colours available and the vigour of these suggest that a plant like this native to our climate will do well despite adverse conditions like those we have experienced this year through June.

But the star attraction at this week's farmers market is once again the Star City Hutterite colonies booth with vegetables in bunches, a dollar a piece. To keep the pricing simple everything on this table sold in dollar lots be that bread, buckwheat flower, onions, eggs, or honey. My questions about buckwheat were partly answered when the vendor pointed out that buckwheat sells for $12 a bushel, Dave explained to me that the stuff grows in the field like weeds and the vendor said that wave an ice cream cone near it and it will freeze. Dave also pointed out that it produces black seeds and that the bagged lots on sale here had already been shelled. We are definitely going to have to find a crop of this stuff to show you what it is like. Dave said he grew some one year and was not impressed, there was no chemical that could be safely used with it so the field was messed up with it and he had trouble with frost.

Speaking of chemicals, the wheat midge which was a big threat to wheat crops last year is not that seriously affecting crops this year and the aerial spraying for it will be over today as the last fields ordered for spraying will be finished. The insecticide used for controlling the wheat midge is a really serious poison that will affect all animals, insects, dogs and humans so its a good thing not to much of that is having to be applied this year.