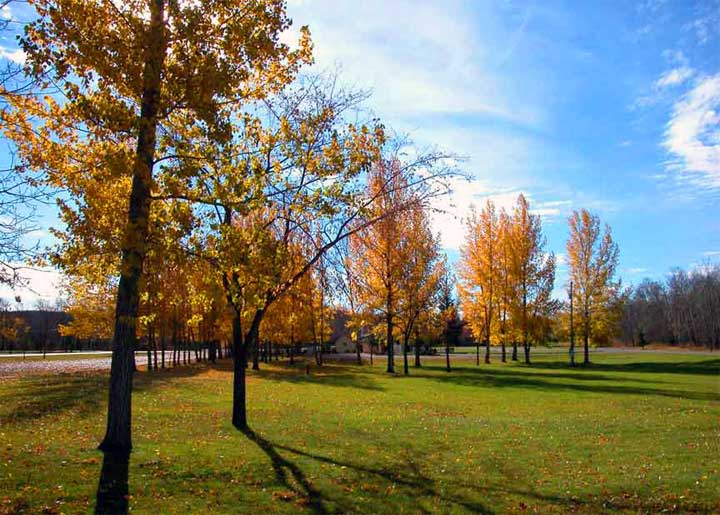 The Greenwater Report for October 13, 2004
October 10th, 2004: Another lovely day! Not as warm as yesterday, but sunny and breezy. Itís Sunday evening; we just had our thanksgiving supper with twelve of our family - Mike and Marg, Aaron and Danny from Hudson Bay, and Lloyd and Louise, Scott and Laura from Saskatoon. Yes, I said Scott - he managed to get home from China for a couple of weeks and has been keeping us fascinated with tales of China. He is going back again to teach for a year but figures that will be the last time.

Spent the week combining at Grimsonís, with a brief break on Wednesday to come home and make up the program for the Ducks Unlimited Banquet, which was last night. I talked to Arlene Teale and she said it was a very pleasant evening - not as well attended as in other years because of harvesting and the change of location, but lots of fun. The auction items didnít go as high as other years either, so there were bargains to be had.

The weather was fantastic for harvesting; it would be fantastic if it came in September, or even August. We were able to get going every morning by ten; I usually quit about eight or nine, but the others ran well into the night. The canola and barley were good quality; some of the wheat might go #3 or even #2, but most of it is feed grade. We havenít combined any oats yet, but everyone is dreading it - huge swaths with tons of hay and little grain. Ted and Dan had lots of fun swathing it, as there was quite a bit of lodging. The swaths are too big to feed into the baler, so Bryan has to decide whether to process it through the combine, a slow, frustrating experience, or just pile and burn it.
It must be terribly disappointing to see a beautiful crop reduced to near-trash levels by frost; there might be just as many kernels in a field, but small and with much frost damage. Instead of fifty or sixty bushels per acre of #1 or #2 wheat, they get twenty five or thirty bushels of feed grade. It amazes me how their spirits and sense of humor hold up - I guess after a lifetime of almost annual disappointments, one learns to cope.
I got an e-mail fro Joan Eyolfson Cadham in response to my remarks about the memorial at Elfros. She writes in part:
ďI was devastated to discover that you hadn't heard about our Elfros statue. It was unveiled in July 1998, much admired by President Olafur Grimsson in 1999, subsequently much admired by two Icelandic Ambassadors, three Consuls General, Gail and Ted Bowen, the Icelandic choir that toured through here, and all my visitors. We even have a little brochure available at the Foam Lake and Wynyard tourism offices. It's $60,000 worth of memorial, all the money raised in Saskatchewan and all spent here.
ďSculptor is Dutch Canadian from Saskatoon - his wife is from Wynyard.
The statue design was developed during a Vatnabyggd meeting in Wynyard.
The concrete work was done by a First Nations craftsman from Elfros.
The bronze plates on the statue are from a little foundry in Nimo, SK.
The information area was built by an Icelandic carpenter in Wynyard.
The names were all calligraphied by a Ukrainian Canadian from Foam Lake.
The murals were created by an Irish Canadian from Wishart.
The text was created by an Icelandic Canadian from Foam Lake.
And we are all so proud of the final product that we are sickening.Ē

Thanks, Joan!
On our way home from Kelvington yesterday, I noticed several fields of canola in swath, but no cereal grains until we got over Skiptonís Hill, at the gravel pit. Then we saw a few fields of grain and one of canola. Obviously, harvesting is well advanced, for what the crop is worth.
Doreen & Jerry Crawford
Box 1000, Porcupine Plain, SK, S0E 1H0
telephone (306) 278-2249
fax (306) 278-3423
http://www.greenwaterreport.com/
---
Retrun to Ensign - Return to Saskatchewan News
This page is a story posted on Ensign and/or Saskatchewan News, both of which are daily web sites offering a variety of material from scenic images, political commentary, information and news. These publications are the work of Faster Than Light Communications . If you would like to comment on this story or you wish to contact the editor of these sites please send us email.
Editor : Timothy W. Shire
Faster Than Light Communication
Box 1776, Tisdale, Saskatchewan, Canada, S0E 1T0
306 873 2004