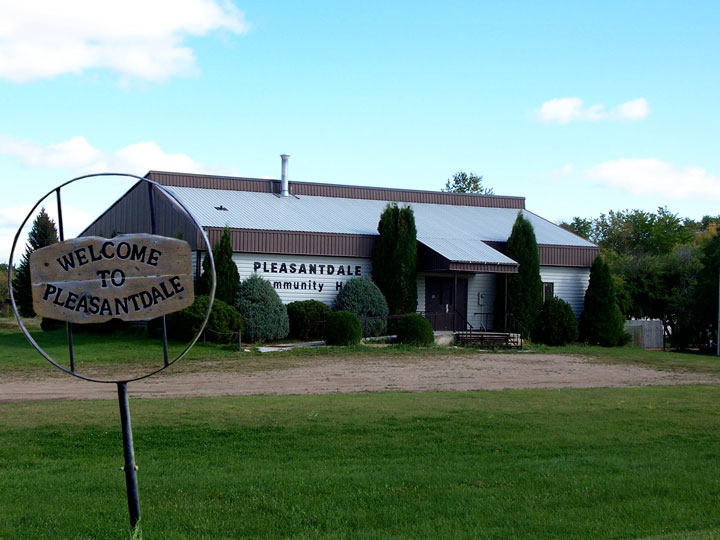 Composite image of Pleasantdale Community centre 2:20 Monday afternoon
Pleasantdale eleven years later
---
FTLComm - Pleasantdale - Tuesday, September 22, 2009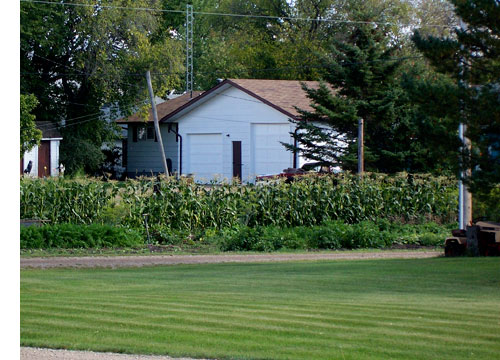 It was June 23rd 1998, the last time I was in Pleasantdale and took many of the same scenes seen here. Naturally the trees have grown taller, the town square in the centre of town where the church once stood and the entrance to the now closed school is an industrial area now as it appears the school building is being used as a sort of factory of some kind.
The community remains as neat and green as it did eleven years ago with the residential area looking extremely attractive and well looked after.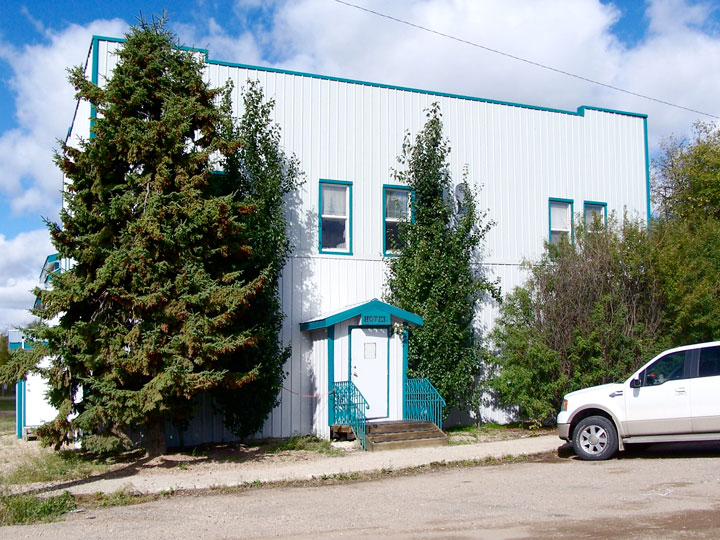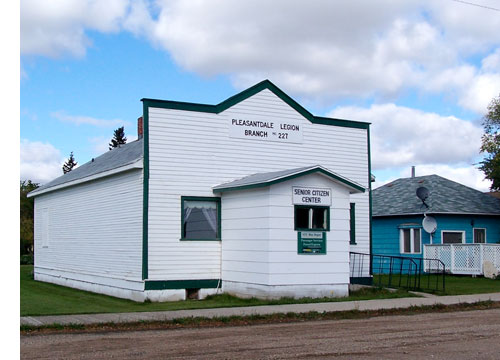 The Co-op store is a thing of the past but the hotel seems to be in operation and the Legion Hall (right) has the Senior Citizens Centre sign on it but still looks after being the bus depot just as it did eleven years ago.
It looks like they still use the curling rink and the metal structure for a closed in skating area looks to be serving the community.
Below is a creative looking wood pile/work of art. It looks like over the years there has been a nasty hail storm or two as several buildings like this one show sign of one.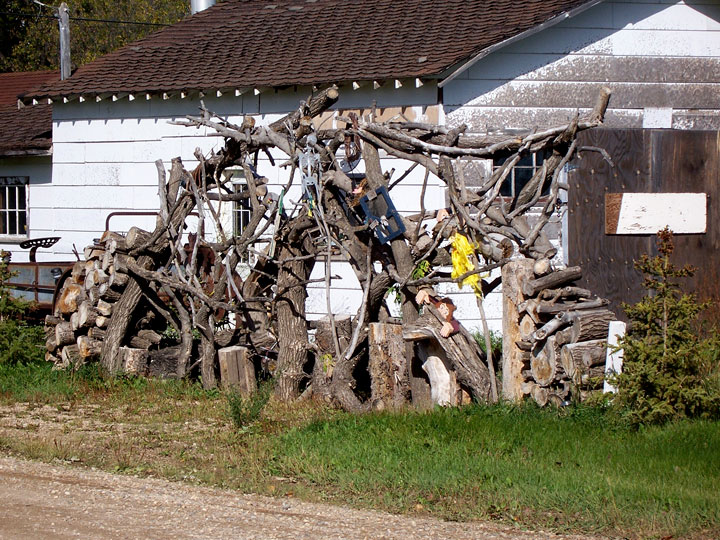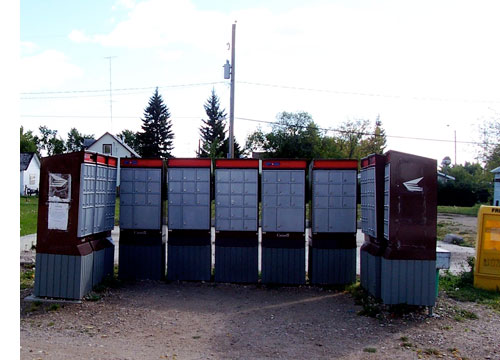 Pleasantdale no longer has a post office but has these infamous post boxes that rural Canadians view with such disgust.
As mentioned the school (below) looks to be some sort of fabricating plant and there were several worker owned vehicles park in what was once the beauty spot and pride of the little community.
It also looks like there is a cafe and convenience store located in part of the school building, though it was closed at the time of our visit, it still looks to be in business.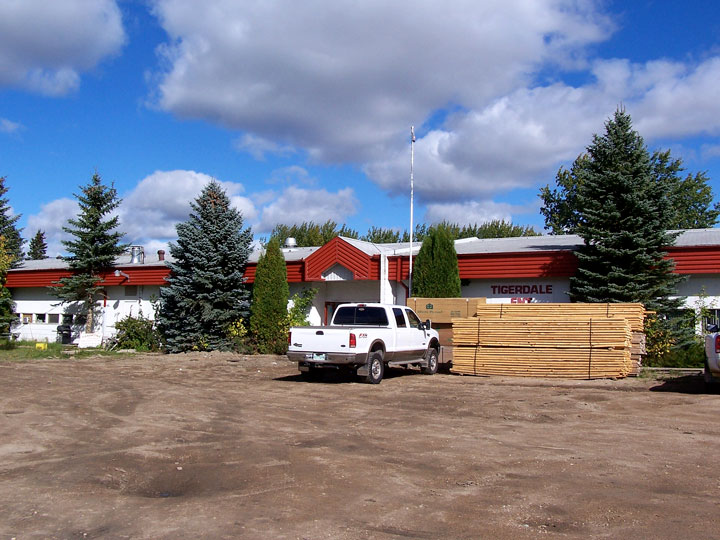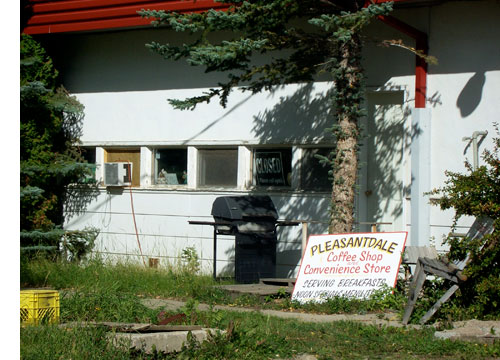 I have no details to share with you about the serious accusation against the RCMP on a building just on the road from #6 highway to the village. I spent a good deal of time attempting to dig something up using Google but to no avail. The sign alone tells the tale of someone who felt extreme injustice and yet I could find no story linked to a complaint about police brutality in the area. If you happen to know some details be sure and send me an e-mail message even a name to search for would be a big help.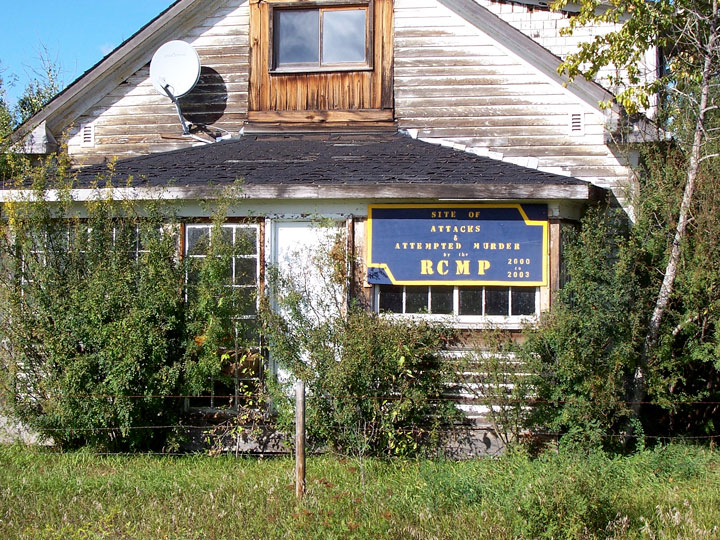 ---
Return to Ensign or Saskatchewan News
This page is a story posted on Ensign, a daily web site offering a variety of material from scenic images, political commentary, information and news. This publication is the work of Faster Than Light Communications . If you would like to comment on this story or you wish to contact the editor of these sites please send us email.
Editor : Timothy W. Shire
Faster Than Light Communication
Box 1776, Tisdale, Saskatchewan, Canada, S0E 1T0
306 873 2004