These stunning pictures were taken by Bill McVicar who worked in the Fudge factor in Moosomin making the propellers for these machines. The machine pictured above was powered by a Chrysler "L" head industrial engine that from the thirties until the mid fifties could be found on Massey Harris combines, stationary welders and a host of other applications.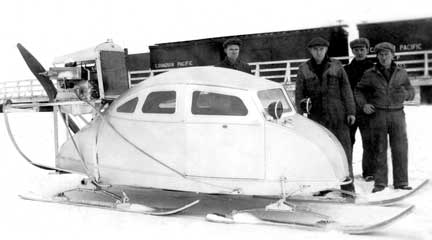 The Fudge machines were produced in several different models as the two below are different.

In discussing these pictures with my father who discovered the pictures in his uncle Bill's collection only yesterday he pointed out that they were refined machines but as far as he knows most of the people who were involved in their manufacture are now passed on. He said that they only time he visited the factory in Moosomin was on December 4, 1944.

In various discussions with people about these interesting machines one common element among all versions, either factory made like these by Fudge, the Lorch machines or those made from plans or put together in farm shops all had the same ski width. Because these machines had a problem overcoming inertia (getting going from a stop) they had to be able to travel on trails and at the time the trails in the wilds of Saskatchewan and elsewhere were horse sleigh and cutter trails. So these machines all were made so that their tracks were the same width as the bunks on horse drawn sleighs.