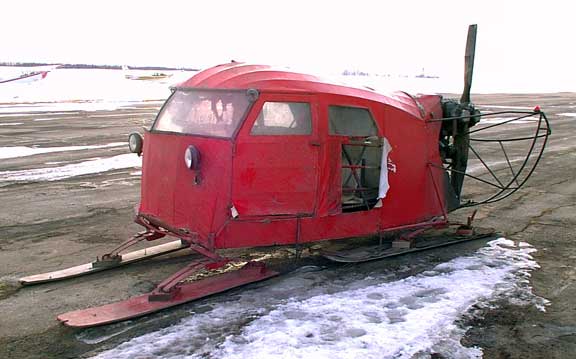 Lorch Snowplane
FTLComm - Tisdale - Tuesday, February 19, 2002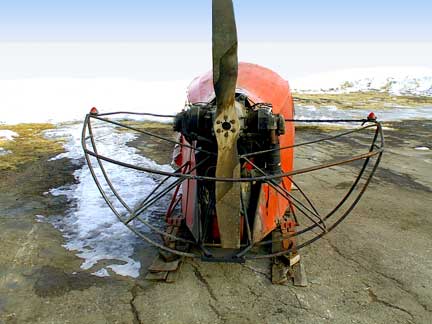 When I spotted this machine parked in front of the main hangar at Tisdale airport yesterday I merely assumed that it was a "Fudge Snowplane" built in Moosomin Saskatchewan. The reason for my assumption is that this was the only manufacturer I knew of who made such machines.

Up until 1956 Mr. Fudge, a mechanic and inventor from Moosomine operated a small factory and built aircraft engine powered snow machines. As a kid I had seen them in use and remember one driving up to the Co-op store in Langbank to refuel from the pumps in front. We lived across the street and the noise and flying snow from a machine like this was something to behold. But now as I think about it that one was at least twice the size of this one. However, since it was the only one I knew of I assumed this one was just a small version.

When I did a little research on the "snowplane" the only reference I found to a Fudge Snowplane was in the Canadian Medical Association Journal where they mention a Fillmore, Saskatchewan Dr. Argue who bought a Fudge Snowplane and used it to see patients in his area during the harsh winters of the late forties.

As it turned out, what we have here is a snowplane built by Karl Lorch of Spy Hill, Saskatchewan a community Northeast of Moosomin and Southeast of Yorkton. Karl Lorch began building snowplanes at age 19 in 1929 and continued production from his garage until the mid fifties. This history of this project is well explained at the Western Development Museum web site including the picture shown below.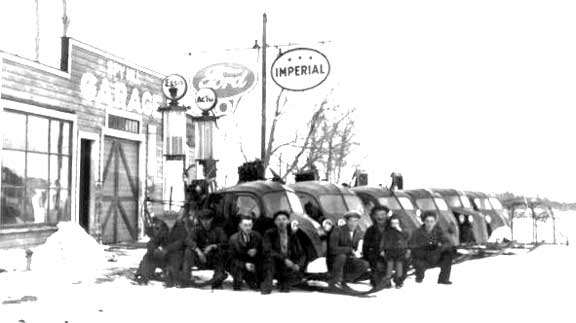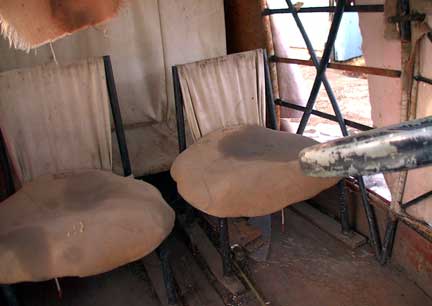 It appears that Mr. Lorch used the aviation technology of the era with steel tubing welded into a frame, then using wood for the floor and runners and made the skin of the craft from dopped fabric. This particular model has a small Continental four cylinder aircraft engine and there was a need to keep the machine as light as possible to achieve reasonable working performance. This one is showing its age in these pictures but overall is a worthwhile restoration project.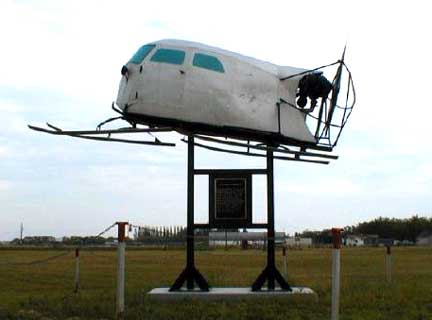 The people of Spy Hill honoured Mr. Lorch before he died in the 1980s by putting one of his machines on a pilon where it still stands in recognition of his amazing achievement. This picture was borrowed from the Spy Hill web site that has a page set asside to acknowledge Mr. Lorch.

The concept of a propeller driven snow vehicle makes sense in that such a machine can travel at car speed over snow without sinking in. The early tracked snow machines first appeared on the prairies in the mid fifties when a Winnipeg manufacturer which became Polaris began making wood contraptions with a seat about two feet wide and the whole thing was about eight feet long. They were a bright red and were the same basic design as the modern snowmobile with two front steerable skiis and a track. The early machine had wood runners for the canvas metal cleated track and Wilfred McKillop who bought his to deliver mail on his rural mail route, spent all of his time repairing the parts which wore out at an astonishing speed.

But the snowplane was something a clever mechanic could whip up and all across the snow covered parts of North America there were individuals and small companies who made variations on this idea. In looking for this machine I discovered Price Snowplanes of Durango Colorado which were made in the fifties using aluminum. Another fellow, Leland McCracken owned and built fifteen machines at his home at Jackson Hole.

It appears that they were particularly popular around both Yellowstone and Grand Teton National Parks in the United States which banned them for environmental reasons (noise) in December of 2000.

Here in Saskatchewan these machines were not initially built for recreation but because travel in the winter in Saskatchewan has never been easy, these things were utilitarian and an answer to providing medical assistance and mail to rural people. In the fifties snow plows and snow plow clubs developed and the need for a noisy snow skimming machine ended. Some were used for recreation but they were dangerous and without brakes demanded a good deal of skill to operate, their time was over.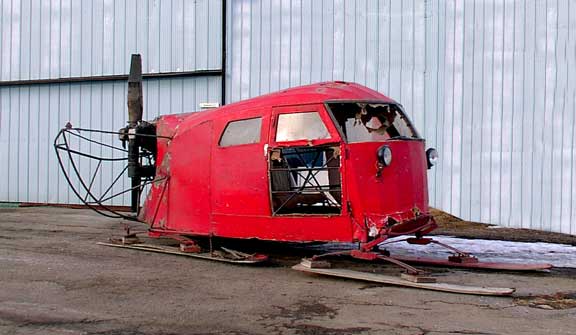 Update on this story:
The owner of this machine is from the Hudson Bay area and the first step in restoration is to get the engine running. Tisdale Aero Centre will replace the prop and get it running then plans are to proceed with restoration to running operational condition which will include the replacement of the wood runners with metal ones and of course renewing the fabric. This machine does not have fabric covered framework. Most machines made by Lorch had fabric sleeves sewen around each metal tube in the framework. Wayne Lorch, son of the manufacturer remembers as a kid spending endless hours sewing on these sleeves.
Follow on stories about snowplanes: