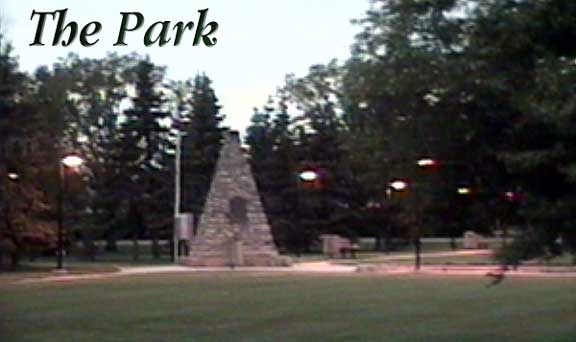 FTLComm - Tisdale - June 16, 2000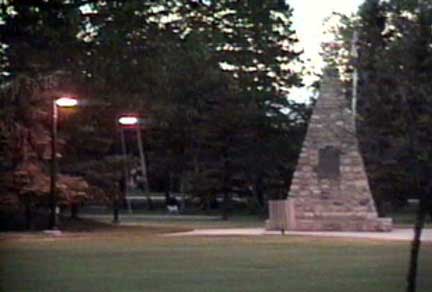 When land is set asside for a park planners never really know how the location will be used as this is a long term kind of thing. Tisdale's planners had the good sense to locate a park right on the main street of the town close to the businesses and ultimately close to the centre of so much of the community's activities.

The town shows pride in itself as this park is maintained throughout the year and people use the park and enjoy it in every season. Its well lit walkways, clean lawns, freshly planted flower beds and the sheltered children's play area and picnic locations make this one of the town's most
pleasing places. Since the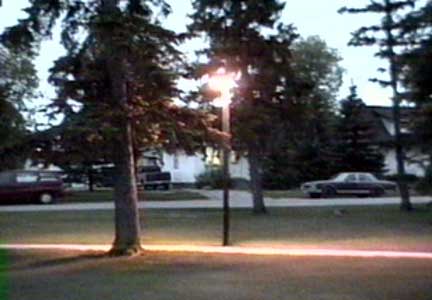 park has to be driven by no
matter what your destination may be motorists get to enjoy the scene just as pedestrians on their way to and from work or school, or just out for an evening's stroll.

These pictures were taken Thursday night at 10:00 and because of Tisdale's latitude and the time of the year the sky is still brightly lit. Though even Tisdale though it is not that far North, still enjoys considerably more day light than Regina which is only three hours drive to the South, the difference in noticable. Having lived around the 60th parallel for many year during this time of the year there is no true darkness as twilight arrives around eleven and the sun
is back in the sky by 4:00 AM.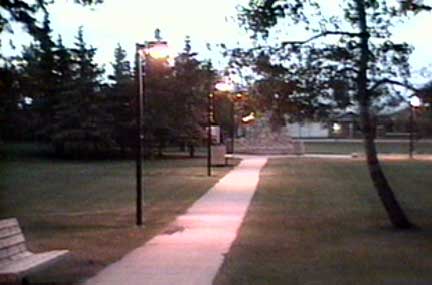 In places like Dawson City Yukon and points North of it the sun does not set at this time of the year at all. Just as one can never get used to the continous darkness of December one can never truly adjust to the continuous light. When living in the Yukon children and their parents would be enjoying a baseball game after ten at night and after a week or two everyone seems more than a little sleepy. Even though it comes every year each time you have help your body adjust to the increased daylight hours. In four days time it will be the longest day of the year.

The picture below shows the great stand of evergreen
trees that provide shade for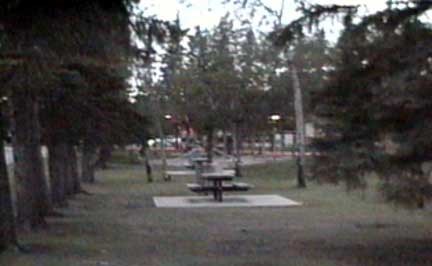 the picnic tables and the
children's playground. This part of the park is heavily used and appreciated by residents and visitors alike.

The picture below shows the twilight image of the main entrance to the RecPlex and TMSS as it can be seen only a short block from the town's pleasant park. It seems so fitting to have the facilities and the park so close together, definitely a credit to those who planned this setting.

This telephoto image shows the new parking lot that is now nearly completed in the foreground.