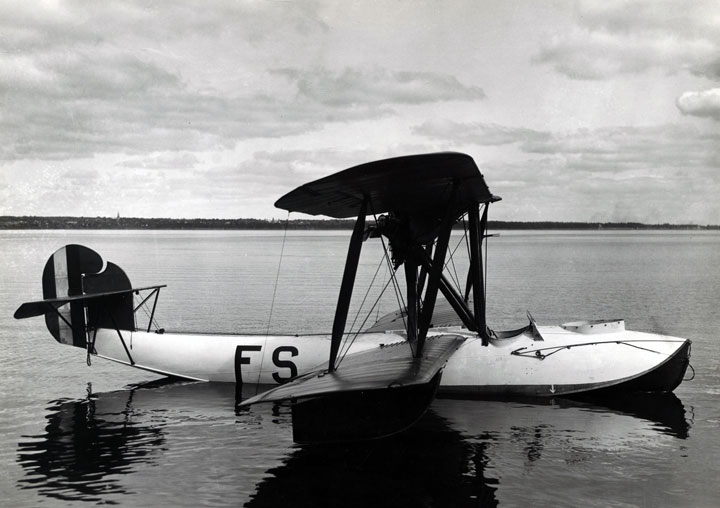 Vickers Vedette MkII

FTLComm - Tisdale - Friday, June 17, 2011
In their various forms the Montreal based Vickers Aircraft company turned out about sixty machines similar to this one. Designed in 1924-25 and into the air in 1926 almost every one of the machines were one of a kind. Vickers made use of a wide range of engines and with the last version built the little water bird with an enclosed cabin and a metal hull. The most common variant was this the Mark II with its wood hull. Though it looks sort of like a modern ultra-light this was a really sturdy and durable aircraft that served the purpose of the peace time evolving Royal Canadian Airforce of the day.

The Vedette went into service in 1926 and was a part of the military until the mid 1930s. Then most of the very serviceable aircraft were sold to various provincial governments were they were used for forest fire patrol.

The mission of the RCAF in the late twenties was to document the country. map and photograph Canada stream, by lake, by hill. The work done at the time is the basis for what we know of Canada today. When the war came these aircraft and their two man crews had the topography fixed and Canada new what it had to defend and those maps and pictures would lead the way in providing the tools for resource exploration and make the north of this vast land part of the country.

A little lake just off the Hanson Lake Road some seventy kilometres north of Smeaton in the Narrow Hills Provincial park Zeden Lake is named after a Vickers Vedette MkII that was lost on the lake. Details are not readily confirmable as to the nature of the problem. The Vedette was not the sort of aircraft that went around crashing, they were outstanding aircraft but they did have a rather annoying habit of sinking. The wood hull was sometimes a bit leaky and the RCAF suffered a few loses to a Vedette inconveniently taking on water.

I regret that I am unable to give credit for the remarkable picture shown on this page. Like so many things on the Internet the source just isn't available.

However I have included some interesting reference I found that tell the story of the Vickers Vedette and they are listed on the left hand menu of this page.