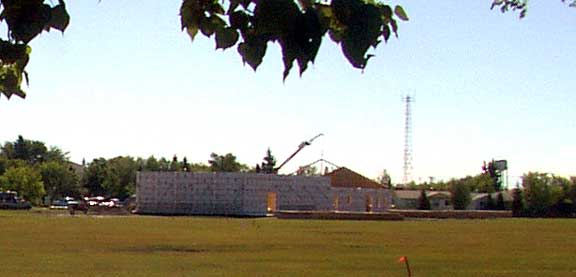 Happy Ever Raftering
FTLComm - Tisdale - Friday, July 20, 2001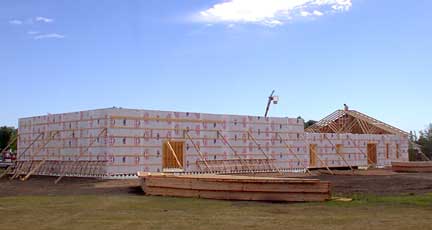 On Wednesday work shut down on the Golden Age Centre project as we received a pleasant rainfall, but the crew was back to work at seven on Thursday morning.

The picture at the top of the page shows the first rafter being lifted into place joining the end piece that began the roof building process. The picture on the right shows the project at 11:30 with five rafters set into position.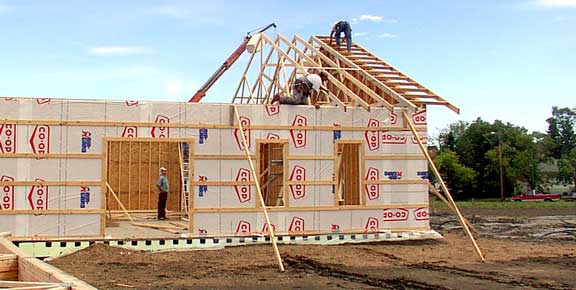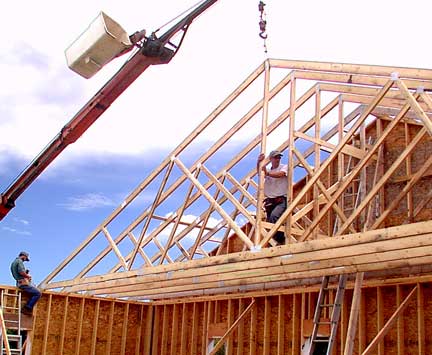 With three carpenters positioning each rafter one volunteer operated the crane and another attached the hook and steadied the rafter with a rope, while Art Smith can be seen above anxiously overseeing the operation.

At 11:45 it seemed like a good time to go to lunch and work shut down with a good beginning having been made.

One of the fascinating things about positioning rafters is the cherished carpenter's art of "toenailing"(seen below). It is a skill that this photographer never mastered and because of the name was always more willing to hold things than try to drive what would soon become a bent nail in at an angle to jam the structure into place.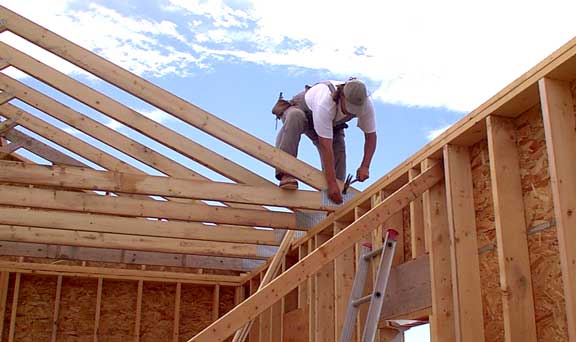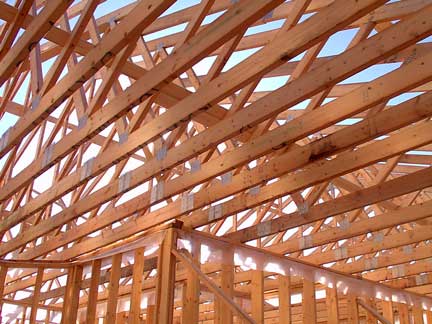 Looking up through the maze of rafters this morning we can see that half the building was covered in during Thursday afternoon and because the hall portion of the building is taller and on the windward side the rafters on the South portion of the building are spaced two feet apart for half the area and the area closest to the taller hall is expected to have to handle larger snow loads and for this reason the rafters are spaced only twelve inches apart.

Though this uses twice the material the precaution is well founded as snow can pile up very quickly and with melting conditions can develop an ice base and a staggering weight.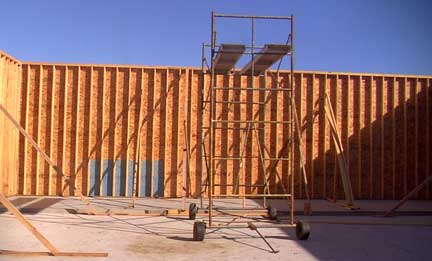 The hall portion will be remain open to the sky over the weekend as plans are for it to get its roof starting Monday.

In the mean time it was decided to sheet in the South portion today and that is what the crew was doing at 8:30 when these pictures were taken. With a chance of showers and 70% chance of rain tomorrow it just makes good sense to close up half of the building.

The really outstanding demensional lumber is now straight but exposing it to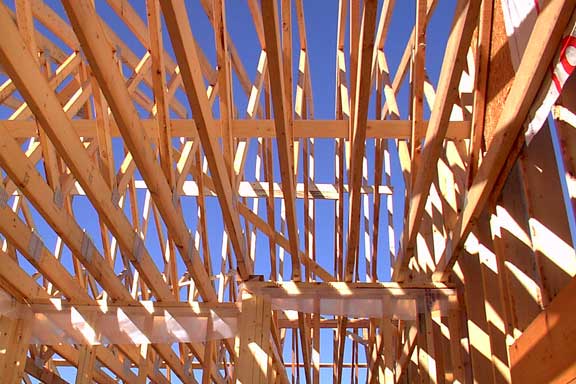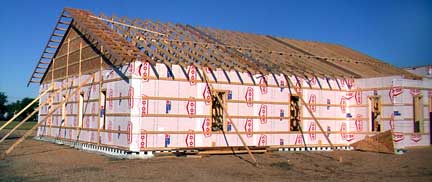 rain and cause the material to twist and put a very square job out of kilter.

At the eves cardboard baffles were first installed to hold the insulation in place prior to laying and stapling down the sheeting that will cover the roof.

So as this week ends half a roof will be in place.