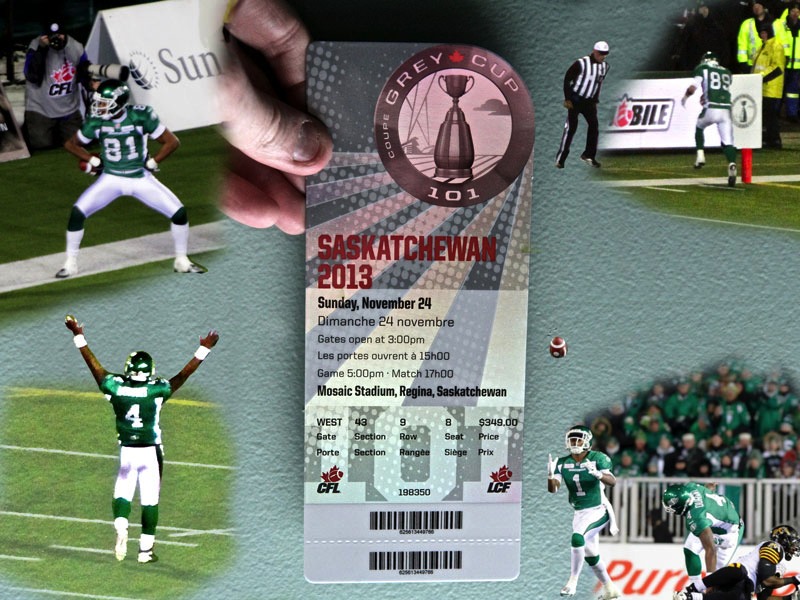 The 101 Grey Cup
Regina, November 30, 2013
Images and video by Ken Jones
Our thanks to Ken Jones for capturing the game for us using his Canon EOS 7D camera with its EF 75-300mm f/4-5.6 lens. Ken shot more than three hundred pictures of the game and in
"the pictures"
we have 83 of them. In order to get these shots from the stands, not from the side lines was tricky because of the distance, the light levels and the speed of the action. He had to adjust the ISO to improve the clarity. In processing these images we have cropped them a bit to isolate the action and thereby degraded some of the image quality.

It is important to check out the captions for each picture and you will discover that Ken shot many of their pictures with rapid fire shutter to get the sequence of the play. In one case you can see Sheets take a single step.

The Riders did a remarkable job in not only winning the Grey Cup but putting together an exciting and thorough season with its ups and downs. But it all came together in the Grey Cup and Kent Austin's Hamilton Tiger Cats we simply outclassed by the total team effort from the Riders. As you look at the pictures notice the complexity of the team effort and how Avonlea's Chris Getzlaf is crashing away making room for nearly every Kory Sheets run and how Geroy Simon "81", Dressler and Bagg work so hard to get in the clear for their passes. As Ken shot the game you can see how difficult it is to highlight the play of so many good players. Taj Smith, though he was a major factor in the game often decoying defenders to get Dressler, Getzlaf and Simon free is not featured in the pictures. One of the crimes of football is concentrating on the offensive stars. we are all guilty of that but the linemen and defensive backs play such an important role in the game and definitely did in the Rider's victory last Sunday.

Below is Ken's remarkable video of the national anthem sung by Toronto born performer Serena Ryder and the fly past of 15 Wing, the Snowbirds.