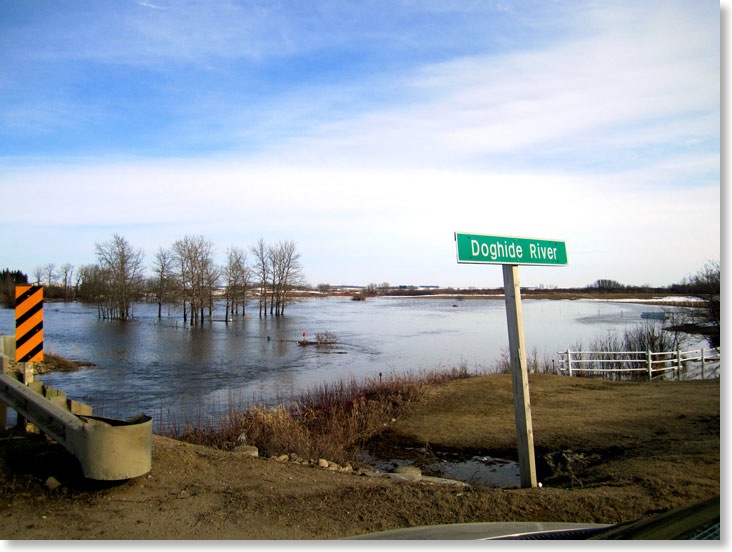 Run off appears to have peaked

FTLComm - Tisdale - Wednesday, April 13, 2011
Comparing the rate of flow and the extent of river flooding, the change from Monday until today has only been a modest increase. However, for the river to be flowing steadily at the present rate for these four or five days, that is unusual as the spring run off in most years lasts about six days in total and with the river appearing to be at a steady flow today, that would suggest a run off of about ten days. That is a lot of water but fortunately, it is being released fairly steadily by the waterways upstream. I went north of town this afternoon and discovered that the crest has not reached some areas I have seen flooded i n other years but the ice lines suggest that the levels in some creeks was about a foot above the present levels.

No properties in Tisdale or the immediate area are in danger with only the usual damage to the Riverside Golf Course and the dog Hide Trail.

The
Shand River
that flows from north of
Porcupine Plain
, north of
Weekes
and toward
Hudson Bay
is in a flood stage and well over its banks but within the range of what it does in a normal year.

When we look at the spring run off we all look at our own situation and need to realise that this year the run off is general for almost all of the province with many areas having record water levels. The water that leaves this area flows through the
Carrot River
to the massive delta south of
Cumberland House
then out the
Saskatchewan River
system to
Hudson Bay
. But, south of
Greenwater
the water makes its way into that poorly drained
Quill Lakes
area then eventually joins with all of the water south toward
Manitoba
.

On Sunday afternoon we were returning to Tisdale after a visit to the
Swift Current
area and the
Regina Plain
area is a lake for the most part and that water really has no where to go but will have to dry up right there in those fields between
Regina
and B
ell Plain
. North of
Regina
there had been a heavy snow cover, now melted but it has various routes to make its way into the
Qu'Appelle
system.

The
Qu'Appelle Valley
between
Regina
and
Southey
on Sunday is now a lake, a lake which has to drain eastward down the valley through the chain of lakes eventually getting into the
Assinaboine River
heading through
Brandon
then to
Portage la Prairie
where the diversion will send most of the water north into
Lake Winnipeg
. But, some will make its way into
Winnipeg
expected to arrive there the first week of May when the
Red River
crests in the
Manitoba
capital. The
Manitoba
experts are confident that the diversion and the
Red River
by-pass will do the trick. The only unpredictable part of the story is rain and snow that might really change the levels and speed of the water movement in the rivers and streams of western and southern Manitoba.
Live web cams
at
Brandon
,
Portage
, the floodway gates south of
Winnipeg
and at the
Forks
tell a bit of the story.

Understanding that water runs down hill and that is toward
Lake Winnipeg
the picture below is what the valley looked like on Sunday afternoon.

As of April 1 the S
askatchewan Watershed Authority produced an excellent map
that shows what was expected at that time.

The pictures with this story have the date and time showing when they were taken.