Weather broadcasters like to have catchy names for things and rapidly moving low pressure areas that bring with them precipitation have spawned a new name and are now dubbed "Alberta Clippers". The name is hardly accu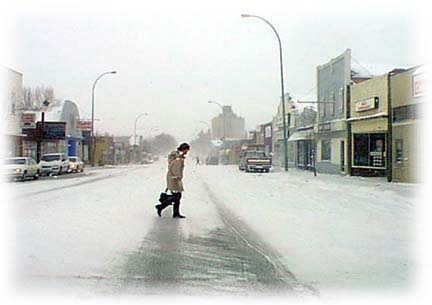 rate as these small fast moving weather disturbances are actually "Gulf of Alaska Clippers" because that is where they originate and then sweep across the country.

We began today with -25 temperatures but by mid day the temperature was up to -14 and shortly there after the snow came with the high speed West wind that reduced visibility and made driving hazardous.

This article has been broken into several pages so that each will load a little quicker so just click on the arrows at the top or bottom of the page to move through the collection.

Snow squalls like this are extremely typical of almost all of Northern North America but with them there is a certain kind of beauty as things are faded out and we can see the country through a sort of gaussian blurr. The picture at the top of this page is looking South and the one of the lady crossing the street is looking North up Tisdale's main street which is actually highway #35. The precipitation varied considerably from moments of almost total white out to scenes like these where you just have a lot of white stuff obscuring the horizon.