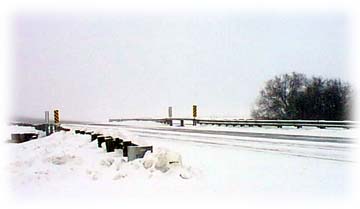 This picture was taken at the point where I decided to turn back and I like this one because the sky and the country side seem to have vanished into a single continuum Just as it has in the image lower left where the visibility has dropped to less then a quarter mile.

About a quarter mile South of the picture on the left is the one on the right. Looking toward the sun the SaskPower substation takes on a surrealistic set of lines and shadows in the snow and the poor visibility. I altered the contrast in the picture on the left but left the one on the right, this is how the Epson PhotoPC 500 seen that scene. You can also make out the vague line of the van's radio antenna which I have removed.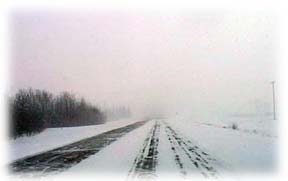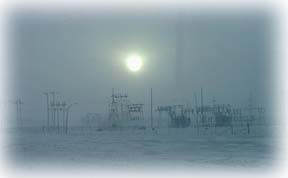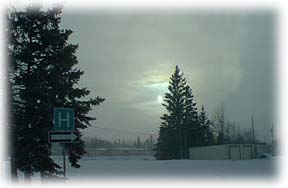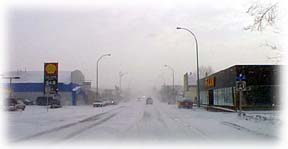 The picture on the left has a kind of drama to it and the one above shows Main street looking South.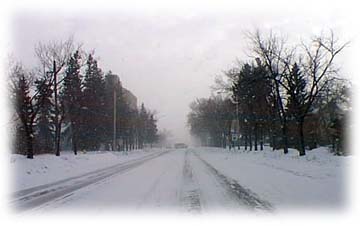 This picture is a full block North of the one above right with McKay tower just above the trees on the left side of the street. The great thing about conifers is their civil appearance in all kinds of weather conditions. Disiduous trees not only look naked and somewhat embarrassed in the winter but they also look a little fooling standing there with the limbs outspead waiting for a time when they can once again pretend to be alive once more.

The snow removal process has covered the sidewalks on both sides of the street in the part of town and pedestrians have to share the slippery road surface with motor traffic.