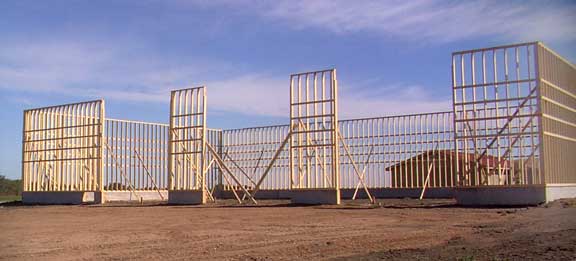 Construction Updates As The Last Week of July Begins
FTLComm - Tisdale - Sunday, July 22, 2001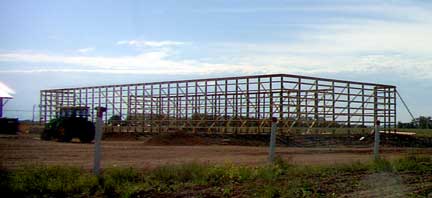 The two newest construction projects are seen here as the RM of Tisdale's new garage has foundations and the framing for its walls after only a week of work. Bruce Schpansky's Auction yard is getting an indoor facility with this 100' x 68' structure well underway after only a few days.

The Delorme building we showed you back on June 8 is now a working business.

The large duplex located on the former primary school yard has its shingles and windows and will soon have its exterior finished. Three houses are complete, the two homes that were moved into town on the South side are both getting renovations inside and out and the new house on Newmarket is in its very final stages. One basement on the South side has made little progress in the last month while below you can see the house started on June 27 by RISE construction is now awaiting windows and drywalling.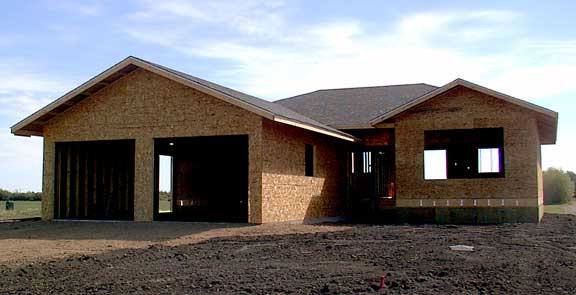 The two institutional projects have been marching along, the new offices for the Tisdale Housing Authority is closed in and work is beginning on its exterior finishing.

The Golden Age Centre got half of its roof up on Friday, though they had planned to sheet it in only two rows remain to be completed on the East side of the roof while they did finish the West side before quitting time.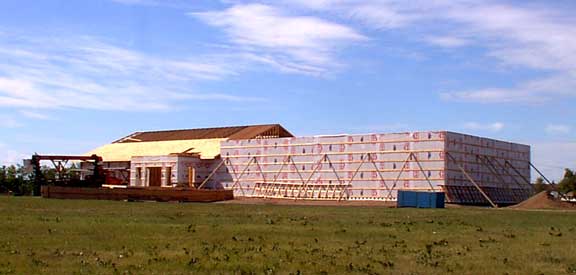 Though we have seen this construction move forward over the summer there is an ominous concern about the numbers of houses for sale. By this time last year most houses had been bought up but this year a large number are still on the market. We are also seeing a lot of older homes vacant and perhaps going to be either recycled or demolished. There is a limit to the buoyancy of a community's economy and Tisdale may have reached the point where decline may begin.

When you travel around Saskatchewan, towns that a decade ago were prosperous places are not beginning the process of becoming former communities. This is a regrettable process and we have documented it in Crooked River, Star City, Ridgedale and other nearby towns. However, up until now Tisdale seems to have been holding its own. This resilience may have come to an end as we begin a similar slump that so many other rural communities long ago experienced.

We are going to watch very closely to see if harvest brings any improvement to the community's economy. Four store front on Tisdale's Main street stand empty, although this is far better than conditions in both Nipawin and Melfort it is down from last year when Tisdale's main street was fully occupied. Schpansky's move to his own property